Plenty of talent hits Fort Worth NIKE Camp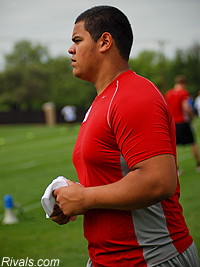 That talent wasn't limited to just one position either as several players at a variety of different spots caught the eye of the position coaches and those on hand. However, the talk of the day was certainly the heated one-on-one competition between a very athletic group of both defensive backs and wide receivers.
While backing up his lofty ranking, especially early on in agility work, Lynn said he was trying to be smart not to reinjure his hamstring, but couldn't help that competitive nature coming out.
"I knew I wanted to come and get out here so everybody could see me," Lynn said. "It was good. As soon as I got here, you're adrenaline gets going and you want to go against people. There was a lot of talent out here."
Trice while only at around 5-8, 170 pounds, says he's hoping his performance, especially several big plays in one-on-ones, will help get his name out.
"I'm hoping something comes from it," Trice said. "Zero offers. I don't know what it is. With my performance, hopefully word gets around that I can ball. Whoever is interested in me, I'm interested in them."
At wide receiver, there was plenty of competition for the defensive backs on the campus of TCU.
Peace, the MVP at his position from South Grand Prairie, will be one to watch. His ability to make the tough catch despite going against a very aggressive group of DB's was impressive. With just two offers in hand from Kansas and SMU, things should continue to grow in the recruiting arena.
At the running back position, there were certainly several bright spots.
Burkhead, a hard worker on and off the field, showed his quickness in several position drills. The humble player showed why he was productive for his team this past season as a do-it-all athlete.
"Well, he's just unbelievably athletic and as fast, and quick as anybody I've seen in a couple of years," Spaulding said. "His upside is tremendous because he's a guy, that his frame is so big, he's so tall that if he wanted to gain 40 pounds, there is no limit to what this guy can do."
Though Rodriguez was only working out for the first 20 minutes or so before being sidelined with a minor injury, he impressed right up to that point. Coming in well over 6-foot-5 and 291 pounds along with being built, his feet impressed as well during the early portion of agility work. He will certainly be one to watch over the course of the next two years at the high school level.
At the linebacker position, it was again the same story: Plenty of talent in all shapes and sizes.
"Honorable mention-wise, we might have a really long list from this camp," Gizzy said. "Jones just made big plays all day, dominated every drill, did great in one-on-ones – I don't know if we've ever had a guy get two interceptions in one, one-on-one period. He did fantastic."
"The underclassmen I really want to note, I hope we get a chance to coach him next year is Killens," Gizzy said. "He's athletic, smooth, and I think as he gets more confident, his upper body will loosen up a bit. He's going to have a fine career. Tharp is a very athletic kid; Allen did very well, he ran out of steam a little bit at the end, but he's moving a big body around that whole time. He did a great job in our matchup drill with the running backs, blitzing, and also in sideline tackling.
"He's going to be a force."
Last but certainly not least was the quarterback position, which was populated with many of the signal callers that came to compete at the Elite 11 event the day before.