Penn State lands 2019 quarterback Ta'Quan Roberson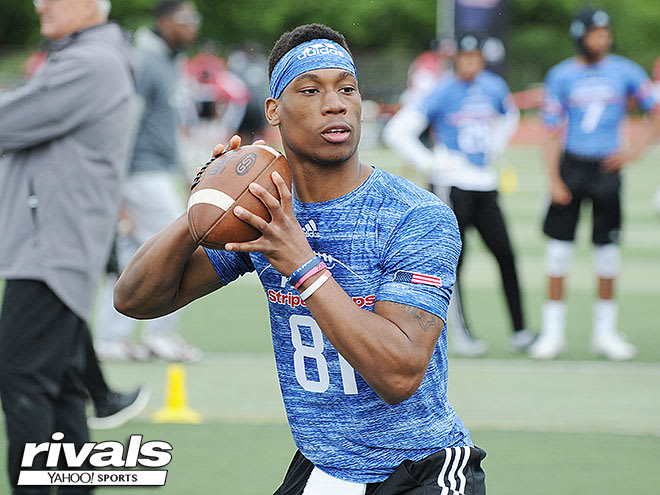 Penn State is getting ready for a huge game at Ohio State this weekend and they are loading up with some reinforcements in the form of a quarterback for the future. Junior quarterback Ta'Quan Roberson out of Wayne (N.J.) De Paul Catholic announced his commitment to the Nittany Lions after visiting for the Michigan game last weekend.
IN HIS OWN WORDS…
"Outside of football Penn State fits me very well," Roberson said. "It's not far from home so my dad can come to the games. Coach Moorhead runs that offense perfectly. When I went to Penn State it was a beautiful atmosphere and I just felt like I was at home.
"Usually when coach Moorhead and I meet it's always film first," he said. "We watch a couple films and we break down a couple things they do on offense and we usually compare it my offense and it is very similar. Their quarterback right is very similar to me being a dual-threat guy that can run and pass.
"I met some of the recruits coming in when I was up there for my visit," said Roberson. "They're really cool people. After the game, I met some of the players that are on the team right now and we had a few conversations.
"Quarterback is very different than any other position," he said. "Usually you have to commit early and once you commit you are basically another addition to the recruiting staff. Nyquee Hawkins, Rahmir Johnson, Josh McKenzie, and Antonio Alfano are some of the guys other than Ronnie than I'm going to be recruiting."
RIVALS' REACTION
It's always important for college teams to lock in their quarterback recruit early in the process and Penn State has a good one in Roberson. The similarities between him and current Penn State starter Trace McSorley are undeniable. Both are slightly undersized mobile quarterbacks with big arms and a high football IQ. James Franklin and Joe Moorhead have found a formula that works and Roberson is the type of quarterback that they need for their system. On top of all of that, Roberson is well-known in the fertile recruiting grounds of northern New Jersey. He has a lot of connections to many other highly-rated prospects and that should help on the recruiting front.