On The Recruiting Trail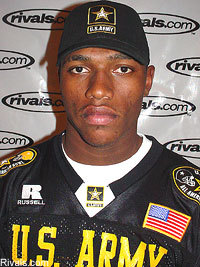 This week's edition of On The Recruiting Trail tackles the following hot topics:
1. A big consolation prize for the Sooners
2. 1, 2, 3 and 1, 2, 3…
3. "Show Me" another big verbal
4. Florida stars pick off W
5. Wideouts hold out
6. Nike schedule released
Oklahoma lands big one:
Last weekend was a bittersweet journey for Oklahoma. The Sooners saw their national championship dreams doused by LSU's dominating defense in the Sugar Bowl, but came away with a nifty consolation prize as the nation's top-rated player made his verbal commitment to Bob Stoops' program.
Adrian Peterson
, a 6-foot-2, 207-pound tailback from Texas, announced his decision during the U.S. Army All-American Bowl in San Antonio, picking the Sooners over Arkansas, Miami, USC and UCLA.
He was one of the stars of the prep all-star game, rushing for 95 yards and two touchdowns for the West squad, and will give Oklahoma a big-time weapon in the backfield the moment he sets foot on campus in Norman this summer. His eye-popping numbers as a high school senior: 2,960 yards, 11.7 yards per carry and 32 touchdowns.
Another high-profile player who used the All-American Bowl stage to go public with his college decision was Ohio defensive back
Theodore Ginn Jr.
. The 6-0, 170-pound cornerback earned game MVP honors and thrilled his home state fans by giving his commitment to Ohio State. He had also been considering Michigan, USC, Miami and Pittsburgh.
Leading the pack :
USC, LSU and Oklahoma finished 1, 2 and 3 in the final AP Poll this season, and their on-field success is being mirrored – literally – by an impressive recruiting effort.
The Trojans, Tigers and Sooners also occupy the top three spots in the current Rivals.com team recruiting rankings.
Rounding out the current Top 10 are Michigan, Texas, Ohio State, Miami, Maryland, Penn State and Georgia.
Tigers continue to reel 'em in:
Speaking of national Top 10…
Missouri continues to find itself on the doorstep of those elite rankings after reeling in one top prospect after another. The Tigers are in the not-so-unlucky No. 13 spot entering the weekend bouyed by five four-star players.
The latest standout to give his pledge to Gary Pinkel's rising program was four-star Kansas City running back
Tony Temple
, who chose the Tigers over Big 12 rival Kansas State.
Mizzou is reaping big dividends from a Dec. 12 recruiting weekend which saw them make a big impression on not only Temple, but also four-star quarterback Chase Patton and two other solid prospects.
Picking and winning:
The Sunshine State is home to some of the nation's top-rated pass defenders this season, and they showed exactly why they've earned that reputation with an dominating performance in the 5th Annual Cal-Florida All-Star Game, played last week in Los Angeles.
The Florida All-Stars picked off five passes, including two by game MVP
Brandon Siler
, en route to a 24-22 victory.
Siler, a 6-3, 220-pound linebacker from Orlando, is considering Florida, Tennessee, Maryland and Ole Miss as his top college choices.
Top receivers being patient:
Most of the nation's elite quarterback and running back prospects have announced their college decisions, but the same can't be said for their skilled position brethren at receiver.
LSU could be the big winner coming down the home stretch as both Doucet and Carter list the Tigers with high interest.
Nike Camps on tap:
Player evaluation has become almost a year-round effort for today's college coaches. Some of the best opportunities to identify and compare top talent each year is at the Nike Training Camps held at numerous campus locations in the spring.
Nike recently announced this year's slate, which includes: April 4, Miami; April 17, Ohio State; April 18, Virginia; April 24, San Diego State; May 1, Texas A&M; May 2, LSU; May 8, Georgia Tech; May 15, Penn State; May 16, Iowa; May 22, Stanford; and June 19, Oregon.