NSD 2019 Wrap-Up: SEC superlatives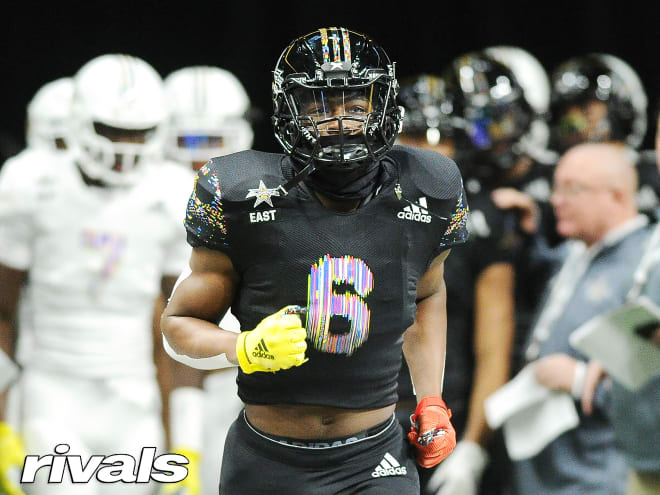 MORE: SEC winners and losers in 2019 cycle
National Signing Day is in the rear-view mirror, but it's worthwhile to take one more look at which prospects could be special in the coming years. We move to the SEC.
HIGHEST CEILING: Charles Cross, Mississippi State
Overview: Cross is just tapping his potential as an outstanding offensive tackle, someone who should fill out physically at Mississippi State and who has the phenomenal athleticism that separates him from other high-level players at his position in this class. Even though he was outweighed by some elite defensive ends at the All-American Bowl, Cross more than handled his own, showed impressive strength, excellent feet and he was competitive all week. As he develops, Cross could easily play at 300-plus pounds on his frame.
Farrell's take: Cross is built just the way you want an offensive tackle to be built out of high school. He's long, lean, has a great frame to add weight and he has those basketball feet. If he's developed properly, he could easily have a great college and NFL career.

MR. VERSATILITY: Quavaris Crouch, Tennessee
Overview: There was a time earlier in his recruitment that many believed Crouch could end up playing running back in college and that kind of versatility had to be incredibly attractive to all the college coaches recruiting him. As he developed physically, though, Crouch grew into a linebacker and that's what he was expected to play at the All-American Bowl before getting injured. Crouch is still learning the position, but he has tremendous athleticism and dynamic ability so he could be special in the Vols' defense. If it doesn't work out, a big back is always needed in an SEC offense as well.
Farrell's take: Crouch reminds me a bit of Dylan Moses from Alabama, who started as a running back and developed into a great linebacker. He has the potential to be a beast on defense if he can stay healthy or be that downhill runner Tennessee would love to have if defense doesn't work out. He could even be a hybrid guy on defense who plays with his hand in the dirt at times.

CANNON ARM: Zach Calzada, Texas A&M
Overview: On the first play of his senior season highlight tape, Calzada takes the shotgun snap and launches the ball 55 yards effortlessly, looking like he could have thrown it twice the distance if he really needed to. Calzada can fire the ball and that's one reason why more than 40 programs offered the Texas A&M signee. Under Jimbo Fisher's tutelage, Calzada should have a bright future and use that rocket arm to deliver the ball all over the field.
Farrell's take: Calzada can sling it there is no doubt about that. The one thing he needs to work on is putting more touch on the ball but when it needs to be delivered in tight spaces and with velocity, he's the guy.

MR. SANDMAN: Brian Maurer, Tennessee
Overview: At an event on signing day where the Tennessee coaches broke down each player in its new recruiting class, the group raved about Maurer, his abilities and what he would be bringing to Rocky Top. These gatherings are always filled with hype and exuberance, but the Vols coaches might be right on about Maurer, who played on a 2-8 football team his senior season but still threw for 3,572 yards with 34 touchdowns and 12 picks. Tennessee has been in dire need of star quarterback play and Maurer could be the guy.
Farrell's take: Maurer has good size and a nice frame to fill out and he could be the sleeper quarterback of this class. Once he gets acclimated to the speed of the college game and gets surrounded by more talent, he could be a good one.
FUTURE NO. 1 PICK: DeMarvin Leal, Texas A&M
Overview: Leal is a special talent and it was immediately noticeable when he walked onto the Alamodome field for his first practice at the All-American Bowl. The five-star is all of 6-foot-6 and easily 270 pounds, he moves incredibly well for someone his size. He looked like he had already been playing in the SEC for years. Under Fisher and his staff, Leal should develop nicely and he has the physical makeup of someone who could be an early contributor. It wouldn't be shocking to see his name atop draft boards in three or four years.
Farrell's take: Leal could end up as a massive defensive end or grow into an explosive, pass rushing defensive tackle, but either way, if he develops he will be special. He has a great frame, is very explosive and is excellent in pursuit. Big defensive linemen with his athleticism are hard to find and the NFL loves them.
INSTANT IMPACT: Trey Sanders, Alabama
Overview: Damien Harris had 150 carries and Josh Jacobs had 120 last season. Now both of those players are off to the NFL and while Najee Harris will assume many of those touches in Alabama's backfield next season, the Crimson Tide love having a by-committee approach at running back and Sanders is the best player at that position in the 2019 class. The five-star has a rare mix of overwhelming power and determination running the ball mixed with make-you-miss elusiveness when he gets outside.
Farrell's take: Harris will be the guy at Alabama next year but it will be hard to keep Sanders off the field the way the Tide have been splitting carries over the last couple of seasons. Sanders is physically ready to make an impact and will replace Damien Harris quite nicely.

FITS LIKE A GLOVE: John Emery, LSU
Overview: Last season, LSU ran 950 total offensive plays and 563 of them were run plays so while the Tigers are trying to change their offense in different ways, the team's identity is to run the ball and to run it hard and to run it often. That's where Emery comes in. The Destrehan, La., standout was inches away from being a five-star in this class, he knows the running back tradition in Baton Rouge and it was one reason why he ended up with the Tigers. With someone so talented in the backfield, expect Emery to be featured a lot, and for him to follow in the Leonard Fournette and Derrius Guice mold there.
Farrell's take: The running back battle at LSU will be an interesting one but Emery is expected to make a big splash because he fits the offense so well. He's a powerful, downhill runner who gets stronger as the game wears on and he should be the next great running back at LSU.

BOOM OR BUST: Ishmael Sopsher, Alabama
Overview: Sopsher has shown he could be one of the most-dominant players in this class, a massive unstoppable force at defensive tackle who can live in the backfield. But there have been times as well, maybe too many times, that Sopsher has disappeared and does not take over games like he should. He made a tough decision and picked Alabama over LSU on National Signing Day. Alabama's coaching staff doesn't play games. If Sopsher wants to be great, then focusing on his business in Tuscaloosa will be important.
Farrell's take: It's all about motor with Sopsher. He has all the talent in the world and the physical skills to be a dominant player, but he takes too many plays off and doesn't have a great motor. Can Alabama light a fire under him? If it does, we're talking about an elite defensive tackle who will go on to NFL stardom. If not? He won't make much of an impact.
EMBARRASSMENT OF RICHES: Alabama DBs Marcus Banks, Jordan Battle, Jeffery Carter, Brandon Turnage
Overview: A valid argument could be made that Texas A&M's defensive back class is just as good as Alabama's group, but we're taking the Crimson Tide here because these prospects are all legitimate game-changers in the secondary - and who's betting against coach Nick Saban in developing them as future pros? What's amazing too is that Banks, Battle and Carter were all previously committed to other schools, so it took a lot of work and diligence to get them to flip to the Crimson Tide.
Farrell's take: Carter is the interesting one here because he has a ton of talent, but he's been very injury prone over the last few years. If he can stay healthy, this is an amazing quartet overall with Banks and Battle sure to be special. It's hard to question defensive back development at Alabama.
HIGHLIGHT MAN: Mark-Antony Richards, Auburn
Overview: Auburn's top running back last season averaged only 60.5 yards per game, so an injection of playmaking ability into the Tigers' backfield should help the offense a great deal. That's where Richards comes in since he can run the ball between the tackles, catch passes out of the backfield or possibly go in motion and line up as a receiver to create mismatches in coach Gus Malzahn's offense. He will be an interesting addition to Auburn who could be used in various ways.
Farrell's take: Aside from quarterback Bo Nix, Richards could have the biggest impact on Auburn in this class because he's so versatile. Can he be the next Kerryon Johnson in the Auburn offense? There's a chance. He has that much potential.