No flipping: Early offers, de-commitments a concern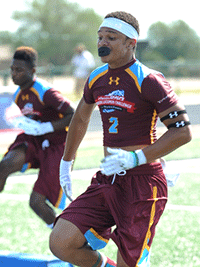 In recruiting, the word "commitment" decreases in value the farther it is used from signing day.
One year ago, the current recruiting class was represented by 34 players who had given early pledges; of those prospects, 13 have changed their college choices or opened the process to more programs.
The class of 2015 has 43 players who believe that the process is over for them. But there is a growing trend of early commitments that don't stick, and that is shaping the industry.
At the
Rivals250 Underclassman Challenge presented by Under Armour
, Lewisville (Texas) Hebron offensive lineman
Zach Rogers
said he is determined to be among the pledges who remain true to their word.
"To me, it is surprising to hear that many guys de-committed," he said. "I don't know everyone's circumstances so I don't want to judge them for it, but I was raised that once you give your word that is it."
Rogers is a 6-foot-3, 274-pound guard committed to
Arkansas
. He said he'll keep that pledge because he chose a school for the right reasons.
"Football, Coach (Sam) Pittman and the staff were only a part of the reason I picked Arkansas," he said. "Fayetteville is a place that fit my personality -- it isn't a big city but not a small, little town -- and it was a school that I would be happy to be at if I wasn't able to play.
"So much can change that you have to be able to see yourself at that spot, regardless of what happens with football."
Rivals.com national recruiting analyst Mike Farrell said he believes Rogers will stay loyal, but he understands why kids change their mind.
"Zach visited Arkansas numerous times and has a tremendous connection with them, so I think he will end up there," Farrell said. "Other kids, I think, get so wrapped up being on campus and going through the process that they feel the pressure and commit.
"Coaches like to say a commitment is like a marriage and if you are married you can't go out dating other girls. But when it is this far out, the common phrase within the industry is a 'placeholder commitment;' that is when kids don't want to lose a spot but they are still going to go on visits and stay open."
Farrell said the nearly 50 percent of flips from the class of 2014 was high, but he estimated that on average about 30 percent of kids will change their minds after giving a commitment before their junior years.
Shea Patterson
is one of just six players from the class of 2016 who has given a verbal pledge to a college, choosing
Arizona
.
The 6-foot, 179-pound, dual-threat quarterback recently moved from Hidalgo (Texas) High to Shreveport (La.) Calvary Academy.

Patterson said the move might have had a bigger impact on his recruitment than he initially thought.
"Right now I am committed to Arizona, and if I don't hear anything from any other school for the next three years I will be happy to go to Arizona, but since we moved things have been different," he said. "I have started to get some interest from
LSU
and
Alabama
and those SEC schools are very interesting.
"Right now I still love Arizona, but just like I have to keep getting better for them to want me to come there, they will have to keep me committed for those three years, too."
Farrell said Patterson falls into a category with many young players who eventually de-commit.
"When the kids commit, they believe in their heart that this is the place for them," Farrell said. "I don't believe that any of them make a commitment -- give their word -- with the hidden agenda of shocking the world and flipping at the last second and really hurting relationships that they have built.
"There is a lot more that goes into the process that the kids -- and they are just kids -- understand, and as they get older, the more they learn and the more they change."
The call for a second national signing day has been raised recently as a way to alleviate de-commitments. It might also help coaches weed out the interested from the "window shoppers."
New Mexico State coach
Doug Martin
said that while a second signing day wouldn't eliminate the problem, it would help programs such as his.
"We spend a lot of time recruiting kids in Dallas, going back and forth, building and maintaining relationships, and we would love to be able to sign kids early," he said. "What happens far too often for my liking is that a school like
Texas
will lose a guy in December and then just offer a guy that we have been on and were really invested in, and we lose out.
"There are kinds who change their minds early and some that flip late, but the difference is that there are impact guys for us that are just depth for Texas, and when we feel like we have kids locked up it would be nice to get it done and on paper."
Farrell does not believe that a second signing day would change much because there is only a small percentage of prospects who are ready to sign early. Also, many of the lower-level prospects would still be hoping for that bigger offer late in the process.
Age: url(http://vmedia.rivals.com/uploads/1146/450317.jpg); background-repeat:no-repeat;">
Age: url(http://vmedia.rivals.com/uploads/1146/450318.jpg); background-position:right bottom; background-repeat:no-repeat;">
"Right now I am committed to Arizona, and if I don't hear anything from any other school for the next three years, I will be happy to go to Arizona, but since we moved things have been different."
- Shea Patterson
He places the blame on the NCAA for making commitments as flimsy as the paper the offers are written on.

In April 2010, the NCAA changed bylaw 13.9.2.2 -- written offer of aid before Signing Day -- to push the date on which a college could send its offer, in writing, to a prospect from Sept. 1 of his junior year to Aug. 1 of his senior year.

The new bylaw reads as follows: "Prior to Aug. 1 of a prospective student-athlete's senior year in high school, an institution shall not provide a written offer of athletically related financial aid or indicate in writing to the prospective student-athlete that an athletically related grant-in-aid will be offered by the institution. On or after Aug. 1 of a prospective student-athlete's senior year in high school, an institution may indicate in writing to a prospective student-athlete that an athletically related grant-in-aid will be offered by the institution; however, the institution may not permit the prospective student-athlete to sign a form indicating his or her acceptance of such an award before the initial signing date in that sport in the National Letter of Intent program."
Farrell said that while the NCAA made the change with the belief that no prospect would commit without that written offer, it shows how out of touch the national governing board is with recruiting.
"They tried to slow down the process, but it was just poorly thought out and has really backfired," Farrell said. "The NCAA thought that there would be (fewer) offers and less commitments because it wasn't in writing, but now it completely takes away any accountability from both the kids and the coaches.
"The way it is now, anyone is free to say anything they want with no repercussions. The NCAA needs to take a look at this and go back and make the right changes."
For Farrell, that means accelerating the written offers in an attempt to slow another national trend of colleges verbally offering eighth-grade players.
"Move the written offer date up to Sept. 1 of freshman year and I guarantee there will be a lot less kids with offers, and committing, and de-commiting," he said. "Kids are smarter than they are given credit for, and when the offers used to be in writing before their junior year, they would wait for Sept. 1. If they didn't get a written offer, they would be asking why not.
"Kids could press the schools and the schools could only dodge the question for a limited amount of time. I am not blaming the kids or the schools now because they are all playing by the rules but that is the problem -- the process is broken and it needs to start holding someone accountable.
"Kids are kids, so the NCAA needs to make the schools accountable," Farrell said. "If programs knew they would have to put an offer in writing when a kid was a freshman, they would be more careful on who they were recruiting and it would slow the process back down to a more controlled situation."
As it stands, the 43 players in the class of 2015, six in 2016 and two in 2017 who claim to be committed will go about the process believing it is over.
Colorado Springs (Colo.) Pine Creek cornerback
Avery Anderson
is among them.
The son of an Air Force father, Anderson committed to
Arizona State
.

After living in England and Japan, Anderson said getting back in the United States was great and his pledge to the Sun Devils is unshakeable.
"I am happy with my choice," he said. "My family is from Arizona and was going to settle back in to the state regardless of where I chose for college, but to get that offer and make my choice it was great.
"I don't understand all the kids trying to get 30 offers. I got the one I wanted and made my choice."

With 17 months until he is forced to sign his national letter of intent, things could still change for Anderson.
"I understand the temptation, but I don't think I will fall to it."
But, as Farrell says, none of the prospects who change ever thinks it will be him.
"Until that paper is signed, anything is possible," he said. "It causes a lot of the problems that we have right now."

Click
Here
to view this Link.
[rl]