NFL Draft: Top five OL heading into the Combine
Recruiting: Nelson committed to the Irish in May prior to his senior season. Boston College, Ohio State, Penn State and Rutgers were his other finalists.
Stats: Notre Dame averaged more than 34 points per game and rushed for 3,503 yards with 35 rushing touchdowns.
Buzz: All the buzz around Nelson is incredibly positive heading into Indianapolis and he could easily be the first offensive lineman taken off the board.
Farrell's take: Nelson has become the best offensive lineman in this draft, as he has taken the next step this past season. I really liked Nelson on film, but when I first saw him in person at our New Jersey RCS Camp I remember being wowed and felt he was a five-star prospect. He was huge, had good feet and was a physical kid. It's not shocking to see him working inside, but he could play tackle as well at the NFL level. He was raw as a prospect out of high school, so he's come a long way. He was always trying to prove he should be higher ranked as a prep and he's still trying to improve his stock now and his play on the field has shown it. He should be a top 10 overall pick.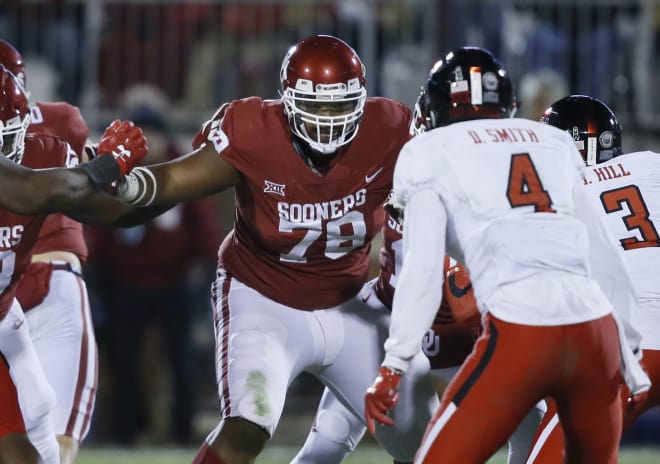 Recruiting: Initially a Tennessee commitment, Brown surprisingly flipped to Oklahoma on Signing Day. He had never taken an official visit to Norman.
Stats: Oklahoma averaged more than 45 points per game, averaged 5.6 yards per rush and the Sooners had 33 rushing touchdowns as it reached the college football playoff.

Buzz: Brown's massive frame and length will be a positive. His struggles with edge rushers could move him to right tackle or possibly inside. Can he move well enough to convince NFL execs to keep him at left tackle?
Farrell's take: Brown had an exceptional season, showing off better pass protecting skill and getting to the second level in the run game. Brown was a massive kid out of high school with great bloodlines (his dad played 11 seasons in the NFL) but lacked the footwork and discipline to be rated higher than a high three-star. If you told me back then that he'd become an All-American offensive lineman and one of the best in the country, I would have called you crazy, because he was out of shape in high school. He's done a great job putting in the work and making himself better, and deserves all the accolades he's receiving. I'm not sure if he's a first-round talent or not as this isn't a great offensive line group, but he'll probably be taken middle or late first round because of the need at the NFL level for tackles.

Recruiting: Oregon was considered the front-runner for Williams and Texas did not offer until after many other programs but the four-star still picked the Longhorns early in his senior season.
Stats: Williams started the first three games last season for Texas before being sidelined with a knee injury. He returned for the Longhorns' final two regular-season games but sat out their bowl game.
Buzz: Is he strong enough? Does Williams the length at offensive tackle necessary for the NFL? How will he look over the long term after his knee injury? There are a lot of questions around Williams that could be addressed at the combine.
Farrell's take: Williams missed time this season, but it hasn't hurt his stock that much because there aren't many elite tackles in this draft. Williams was in our Rivals250 but wasn't ranked as high as perhaps he should have been for a very good reason – he was a tight end until his senior season. A blocking tight end for sure, but he made the transition to tackle one year of high school. The results were good enough to have him ranked so high. It's clear the athleticism and footwork of playing his previous position, as well as a long frame to fill out, has helped him in college. Williams had emerged as the best offensive lineman in college football heading into the season but has slid slightly because of the injury question marks.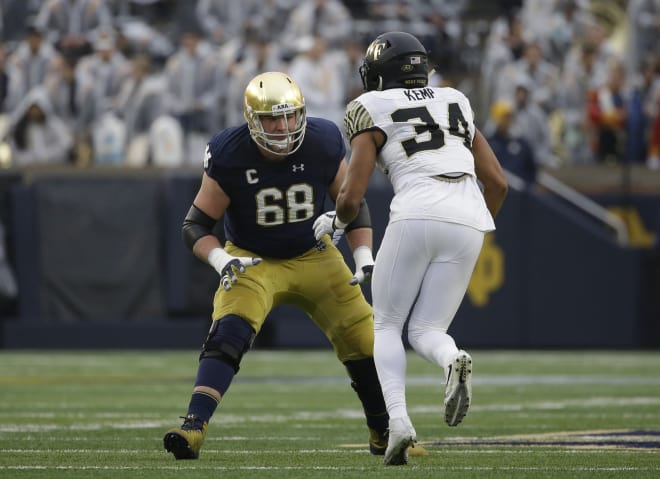 Recruiting: Minutes after taking an unofficial visit during his junior year to South Bend, McGlinchey called the Notre Dame coaches and committed. He picked the Irish over Wisconsin, Penn State, Virginia, Maryland and others. Atlanta Falcons QB and former Boston College star Matt Ryan is McGlinchey's first cousin.
Stats: The Irish averaged nearly 270 rushing yards per game led by running back Josh Adams, who had 1,430 yards and nine touchdowns this past season.
Buzz: There have been lots of good moments and some bad for McGlinchey, who will need to add mass to his frame. He's another offensive tackle who might move to right tackle, too.
Farrell's take: I'm down on McGlinchey after this past season even though many still have him projected as a first-round guy, because he has trouble with outside speed. I had a feeling about McGlinchey in high school even though he was tall and a tad awkward and felt he could emerge as a first-round talent down the line. His footwork, length and willingness to be physical made me think this could be a five-star and future first-rounder, but I went conservative and now it's up in the air whether I was right or wrong. This isn't a strong tackle draft, so he'll still be in the discussion for the top tackle taken. Some feel his footwork hasn't progressed to that of an elite left tackle, so time will tell if he can right the ship.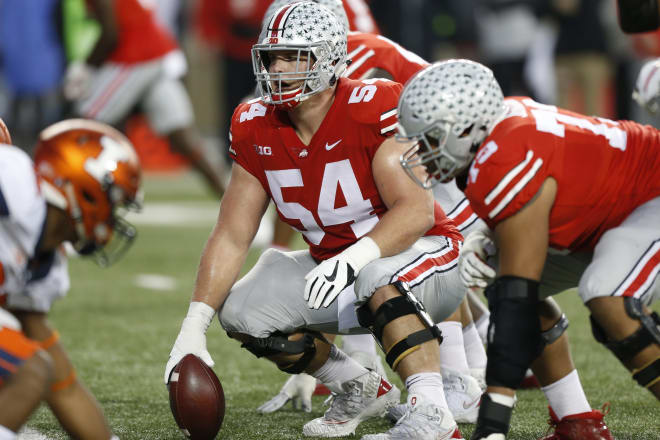 Recruiting: Rated as a four-star defensive tackle, Price committed to Ohio State a few days after visiting Columbus in February of his junior season. Michigan, Michigan State, Notre Dame and others were involved.
Stats: The Remington Trophy winner for top center in college football, Price also tied the Ohio State record with 55 straight starts. The Buckeyes averaged more than 41 points per game this season and totaled 34 rushing scores.
Buzz: Scouts love his toughness and intensity and think he could bench press really well at the combine. It will be intriguing if Price doesn't deliver there since his grit is so loved by NFL teams.
Farrell's take: Price was ranked as a defensive tackle out of high school and one we liked very much. He took that defensive mentality and applied it to the offensive line and had a great career at Ohio State. We liked his pad level, aggressive nature and willingness to mix it up on the interior out of high school as well as his smarts. He was also very strong. Center is a position coveted in the draft so he could go as high as round two.