NFL Draft: Top five RBs heading into the Combine
The NFL Scouting Combine is right around the corner. Here is a breakdown of our top five running backs heading into the event.
RELATED: Top 5 quarterbacks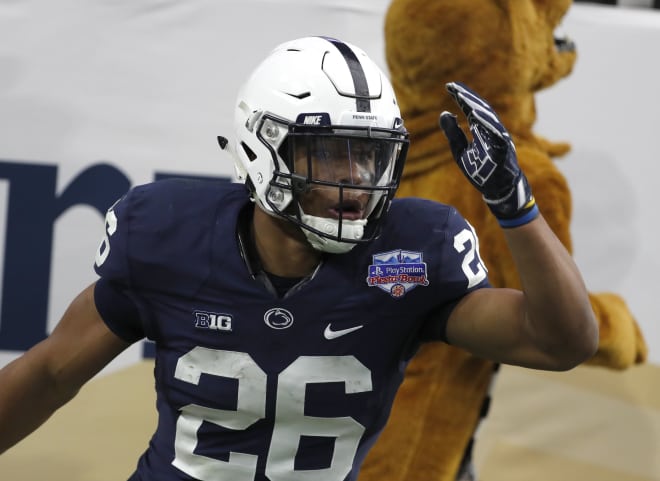 Recruiting: Barkley committed to Rutgers as a junior and called it his dream school. After a junior day visit to Penn State, where then-new coach James Franklin laid out his recruiting pitch and described how the four-star would be used, Barkley flipped to the Nittany Lions.
Career stats: On 672 carries over three seasons at Penn State, Barkley finished with 3,843 yards and 43 rushing touchdowns. He also had 1,195 receiving yards and eight scores.
Buzz: It's almost certain Barkley will be the first running back taken and almost assuredly a top-four pick, most likely to New York at No. 2 or Cleveland fourth overall.
Farrell's take: Barkley was the No. 1 running back on everyone's board entering the season and he remains on top now and it's not very close. He was an upright slasher who showed good receiving skills out of high school, so it's not a huge surprise he's made a big impact in college. But to the level he impacted? That's a bit of a surprise as he has jumped all the way to a potential No. 1 overall pick. His lower body strength and power to run through some arm tackles has improved greatly since high school. A very athletic kid, Barkley was a guy who pushed for Rivals100 status but is showing us he should have been ranked higher, much higher. Is he worth a top five pick? Yes.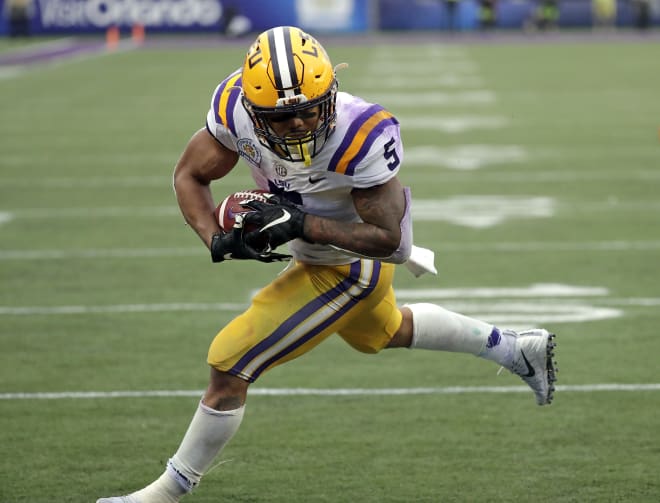 Recruiting: Guice committed to LSU in the spring prior to his senior season as the Tigers were always considered the favorite. Alabama, Texas and others were also involved.
Career stats: The former five-star finished with 3,074 rushing yards and 32 total touchdowns (29 rushing) on 471 carries at LSU.
Buzz: Only healthy for a part of the 2017 season, NFL teams could be focusing more on his 2016 film, especially if he's a take later in the first round.
Farrell's take: Injuries have hurt Guice a bit and he didn't have the breakout season many expected, so he's a borderline first-rounder. That being said, he's been very impressive at times. I loved Guice out of high school because he was mean and nasty. He was the kind of kid, similar to Eddie Lacy, who hated to be tackled and would fight hard for extra yardage and wear down defenses. He also had very good speed and vision and light feet, but it was his desire when running, something clear on tape and in person, that pushed him to five-star status. He has first-round talent.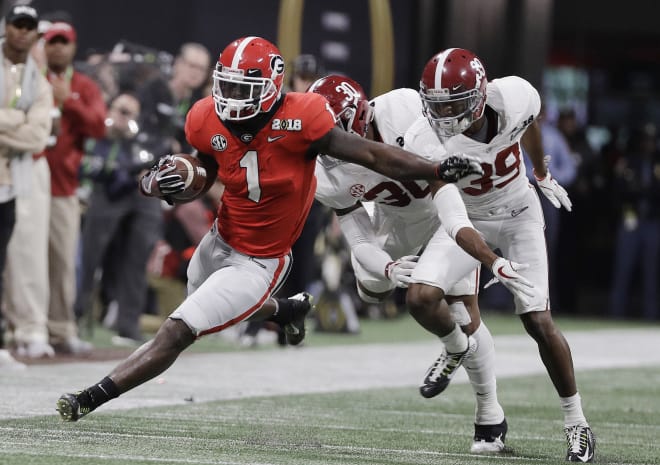 Recruiting: Georgia beat out Miami and Notre Dame for Michel's commitment in the spring before his senior season. Florida, Florida State and many others were also involved.
Career stats: On 591 career carries, Michel finished with 3,638 yards with 33 touchdowns including 1,227 yards and 16 scores this season.
Buzz: While unlikely, after Michel's excellent performances in the College Football Playoff especially in Georgia's win over Oklahoma, there has been some discussion that he could be a late first-round pick.
Farrell's take: Michel, in the same class as Nick Chubb, is the more well-rounded back of the two and that was the case out of high school. He can run inside, bounce it outside and he is a more natural pass-catcher and better blocker. A star since he was in the eighth grade, Michel has a chance to be an amazing NFL player and has a breakout playoff game against Oklahoma that has scouts excited. Michel could land in the second round.

Recruiting: Jones committed to USC over Notre Dame and others at the Under Armour All-America Game. He had originally committed to Oklahoma State.
Career stats: In three seasons at USC, Jones carried the ball 591 times for 3,619 yards and 39 touchdowns. He also caught three TD passes.
Buzz: There is talk the Tennessee Titans could make a move on Jones in the first round to provide a different look to bigger running back Derrick Henry.
Farrell's take: Jones was a speedster, awesome on film, was impressive at the Under Armour Game in high school and had a great college career. Running backs and linebackers are the hardest to evaluate in camp settings without pads, so Jones was never penalized in our rankings for not having as much of an impact as expected and it's a good thing for us. His film and Under Armour week kept him in the Rivals100 and as one of the top backs in the country. He was disappointing at the Rivals100 Five-Star Challenge, but that was the only blip on the radar during his evaluation. Now his versatility as a three-down back has many projecting him into the second round and he was the clear MVP for USC over Sam Darnold during last season.

Recruiting: In April of his junior year, Johnson committed to Auburn over Alabama and Florida State during a ceremony at his high school.
Career stats: Johnson rushed for 2,494 yards and 32 touchdowns on 519 career carries. He also caught two TD passes at Auburn. Auburn averaged 39.8 points per game in the 11 games he was healthy last season and 12.3 points in the two games he missed and the SEC championship game, where he was limited with a shoulder injury.

Buzz: Johnson could be a late first round or possible second round pick but scouts seem concerned about durability and injury issues.
Farrell's take: Johnson was a terrific athlete, as evidenced by playing defensive back during Under Armour All-America week and that versatility and athleticism made him a dangerous weapon at Auburn. He can play receiver, running back and a hybrid combo position of both and he was the most important non-quarterback to any team in the country. He's also shown his toughness and ability to handle fourth quarter carries, a question mark out of high school, and the NFL likes him because of his versatility. He could be a second-rounder.