NFL Draft: Ten players who hurt their stock at the combine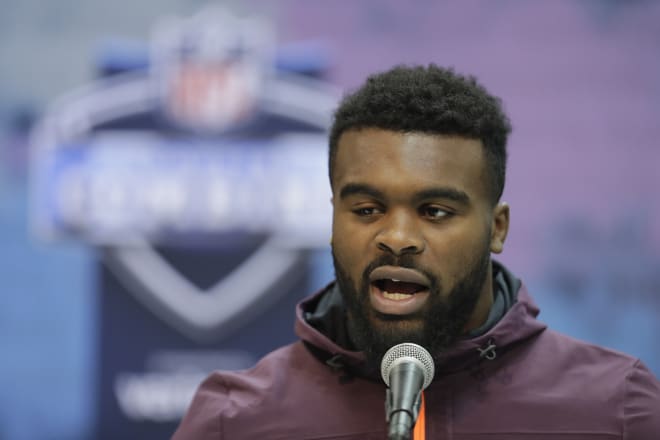 Recruiting: In the summer before his senior season, Baker committed to Georgia as his recruitment was really ramping up with offers from Clemson, Tennessee, Kentucky and others.
Combine performance: Baker ran 4.52 seconds in the 40-yard dash which was not nearly as good as Greedy Williams but was better than Byron Murphy. However, Murphy's on-field work was arguably the best among all cornerbacks. Murphy is moving up and Williams could still be the first corner taken off the board, which leaves Baker third at best and that's likely outside the first round.
Farrell's take: Did Baker fall out of first-round contention? I'm not sure of that but I know his on-field work was erratic. Baker was a mid-level three-star out of high school mainly because of questions about his strength but his speed has rarely coming into question until now.

*****
Recruiting: In early September of his senior season, Holyfield announced his commitment to Georgia with two live bulldogs at the event. Alabama, Auburn, Tennessee and South Carolina were others involved. His father is former boxing champion Evander Holyfield.
Combine performance: Holyfield passes the eye test but he ran the 40-yard dash in 4.78 seconds, the second-slowest among running backs. That was a major concern along with his on-field work that did not look all that impressive. It's not an incredibly strong running back group so Holyfield had a chance to move up but he didn't show off anything special during his workout.
Farrell's take: Holyfield was highly-regarded and just outside our Rivals100 coming out of high school. He had good size and power and was a one-cut, decisive back, but his 40 times are going to hurt his chances in the draft. Someone will still take a chance on him but he went from one of the running backs to watch to a guy with a lot to prove.
*****
Recruiting: Ranked as a three-star athlete, Humphrey committed to Texas over Wisconsin in the days leading up to National Signing Day.
Combine performance: Humphrey put up huge numbers in Texas' offense this season prompting him to leave the Longhorns early but his testing numbers will throw up some serious red flags. He ran the 40 in 4.75 seconds, the slowest of any receiver in Indianapolis. His bench press and vertical leap numbers were nothing special, either.
Farrell's take: Humphrey looks really impressive on the field and his film is solid but his testing numbers will drop him far in the draft. We had him as a high three-star coming out of high school and rated him as an athlete because he was big and could play a lot of positions. But he didn't look athletic at all at the combine.

*****
Recruiting: Jones put up huge numbers at Charlotte Latin, but received little to no recruiting interest and decided to walk-on at Duke. His Rivals profile shows interest from NC State, but that is all – with no offers.
Combine performance: There are mixed reviews on Jones. Some analysts believe his combine showing went very well especially his on-field work and others think he did not prove to be in that upper echelon of quarterbacks with Kyler Murray, Dwayne Haskins and now possibly Drew Lock. He's certainly a big QB at 6-foot-5 and 221 pounds.
Farrell's take: Jones was a walk-on out of high school who has emerged as a potential first-round quarterback but I still don't see that in him. He has size but doesn't do anything great so time will tell if someone reaches on him. I think he slid to the second round with his combine performance.

*****
Recruiting: In December of his senior season, Lawrence committed to Clemson over Alabama, Ohio State, Florida, NC State, North Carolina and others. The Gators were considered his favorite team growing up, but the Tigers won out.
Combine performance: Lawrence checked in at a good-looking 342 pounds and he ran a 5.05 in his first 40-yard dash attempt. But on that run he pulled up with a leg injury that sidelined him for the rest of the combine. That was especially unfortunate since the defensive line group is one of the best in many years and Lawrence missed his opportunity to shine against some elite defensive tackles.
Farrell's take: Lawrence could fall into the second round because of how deep this draft is at defensive tackle so missing drills at the combine hurt. He showed great strength in the bench press and his 40 time was good so his pro day will be key. But the buzz around Lawrence has slowed. He was a massive high school prospect, tall and big, who had exceptional pass-rushing moves and worked off contact extremely well for a taller interior lineman. He had light feet, always had a counter for whatever an offensive lineman threw at him and was well-coached in the nuances of the position.

*****
Recruiting: An early commitment to Texas A&M, Little decided to make his pledge to Ole Miss over Alabama and many others in mid-December of his senior season.
Combine performance: Little has been slowly falling on some draft boards and his performance in Indianapolis could hasten that fall, even though he has shown elite ability at Ole Miss. His 5.33 in the 40 was bad. His vertical was really bad. And he did not bench press at the combine which could raise some questions about his strength.
Farrell's take: This one baffles me because Little was a can't-miss prospect out of high school but he looked bad at the combine. He didn't look in shape, moved slowly and just wasn't what I expected to see. Little was a two-time participant at the Rivals100 Five-Star Challenge, making back-to-back solid performances in Baltimore in 2014 and 2015, and he always impressed me. But he had a rough combine.

*****
Recruiting: At the Army All-American Bowl, Nauta announced his commitment to Georgia over Alabama and Michigan. Upon being hired, Kirby Smart made Nauta a priority in Georgia's recruiting class and the Bulldogs landed him.
Combine performance: While Iowa's Noah Fant and T.J. Hockenson along with Alabama's Irv Smith and others looked like the cream of the crop at tight end, Nauta lumbered to a 4.91-second 40-yard dash and didn't look elite in the other testing drills, either. This is a deep group of tight ends who have shown exceptional athleticism but Nauta missed the mark. His Georgia pro day will be crucial.
Farrell's take: Nauta was a rare five-star tight end for us out of high school with athleticism and the ability to stretch the field but he didn't show enough of that at Georgia to come out early and certainly not at the combine. I think he made a big mistake. He will still be drafted but it will probably be in the late rounds.
*****
Recruiting: Miami was considered the front-runner for Polite until he camped at Florida over the summer and landed an offer from the Gators. Through the fall, Florida quickly moved up his list and he committed in November of his senior year over the Hurricanes and others.
Combine performance: Polite had average numbers at best in the 40-yard dash and the vertical and then didn't do any other drills because of an injury. But that was only half Polite's problems as he said in interviews that some teams "bashed" him when meeting with him in Indianapolis. That type of mind game is common and happens all the time in combine interviews but it seemed like Polite wasn't prepared at all for it.
Farrell's take: Polite was a mid-level three-star coming out of high school who had average size and wasn't overly explosive but made big plays when needed. He was moderately recruited and a kid with a good frame to add size and strength, but he has outplayed his ranking. However, his combine knocked him out of the first round.

*****
Recruiting: A two-star prospect out of Delray Beach (Fla.) American Heritage, Singletary flipped from Illinois to Florida Atlantic on National Signing Day.
Combine performance: There will be concerns over Singletary's size – he measured in at 5-foot-7 and 203 pounds – coupled with his speed since he ran a pedestrian 4.66 in the 40-yard dash. In games, Singletary gets the job done but it is against weaker competition and he did rush the ball 714 times in three seasons with the Owls. That's a lot of touches.
Farrell's take: Singletary was a short but powerful running back who was a two-star out of high school because of a question regarding his speed. Those questions about speed continue after a weak showing at the combine and he's sliding into the middle rounds.
*****
Recruiting: Snell committed to Kentucky in February of his junior year over Cincinnati, Toledo, Miami (Ohio) and others. About a week before Snell's pledge to the Wildcats, Iowa became his first Big Ten offer.
Combine performance: Snell did not necessarily hurt his draft stock at the combine but he didn't help it much, either, kind of proving what he is - a hard-nosed, downhill grinder. That's OK at Kentucky but in the NFL a little dynamic athleticism is needed and Snell didn't show it through the testing portion, where he ran a 4.66 40 and vertical leaped only 29.5.
Farrell's take: Snell was a low three-star prospect who had good size, but we questioned his speed and footwork, as did many other programs that passed. Those questions about speed remain after a bad 40 time and it will be interesting to see if this makes him slide.