NFL Draft: QB steals in 2021
The 2021 NFL Draft starts April 29 with round one, but there will be some key picks on Friday and Saturday as well.
We all know that Trevor Lawrence, Zach Wilson, Justin Fields and others will land in round one but what about some values for those teams who need quarterback help and want to wait? Here are my five best values.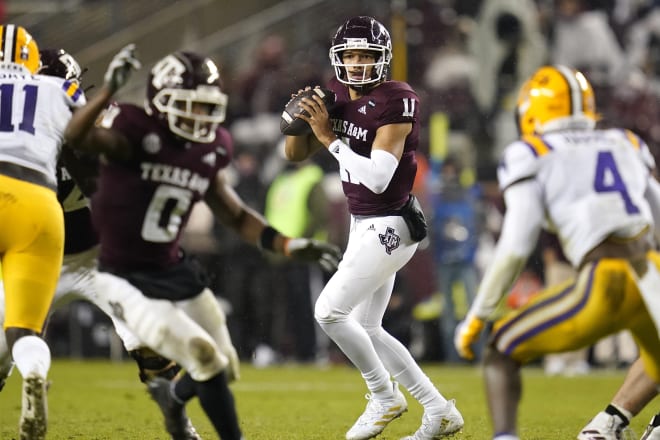 1. Kellen Mond, Texas A&M, round three
Kellen Mond isn't a surefire starter at the NFL level and more likely a career backup who will get a shot or two as a starter. But he's a reliable quarterback with mobility and leadership. His time with Texas A&M allowed him to develop in many ways but he's still inconsistent with his accuracy.
*****
2. Kyle Trask, Florida, round three
Kyle Trask lacks great arm strength so that will cause him to slide a bit but he fits the ball in well and throws an excellent 50/50 ball. He's a backup type who will also get a shot or two based on his last year at Florida.
*****
3. Jamie Newman, Wake Forest, round four
Jamie Newman is a high-risk, high-reward prospect who opted out last season. Some think it was from COVID and others because he wasn't going to win the job at Georgia but either way his size and mobility are intriguing. He could be a Dak Prescott kind of steal or a massive miss. He could be taken higher or slide out of the draft. Big mystery guy here.
*****
4. Feleipe Franks, Arkansas, round four
Feleipe Franks has a huge arm that someone will fall in love with and he can move around a bit, but he's very inconsistent and had that injury at Florida. He's as boom-or-bust guy, but showed more consistency at Arkansas.
*****
5. Davis Mills, Stanford, round five
Davis Mills looks great in every aspect but had a subpar career at Stanford, especially as a former five-star. Does he see the field well enough? Someone will take a shot on him, perhaps earlier than round five.