New five-stars in updated Rivals100
Bellamy, a 5-foot-10, 175-pounder who is one of the most dynamic prospects in the country, moves into five-star status due to a stellar senior campaign and a typical dominating performance in front of Rivals.com eyeballs. Rivals.com Senior AMP Producer/Analyst Gregg Peterson saw first-hand what Bellamy can do.
"Bellamy is a home-run hitter, plain and simple. Despite his lack of size, he has shown the ability to run between the tackles and take a pounding. He is unstoppable in the open field, and will hit you with a big run at anytime," said Peterson. "Bellamy is an instant impact guy at the next level as a return man and a running back."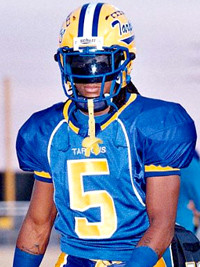 "Metoyer is a big body but much more than just a big target. He runs in and out of his cuts effortlessly and is very dangerous after the catch. He is agile enough to make quick cuts and is strong enough to break tackles and drag defenders for extra yards," Perroni said. "He has very strong hands and catches the ball at its highest point. Many people compare him to fellow East Texas standout Dez Bryant and for good reason. As for Williams, most would expect a 6-foot-1, 190-pound runner to be a power back, but he has shown that he is much more than that. He has some serious speed for his size and hits the edge as quick as any back in the country. He is a one-cut back who runs very well downhill. Williams also has very good hands and can turn a wheel route or a screen pass into a big gain as well."
"Dee Hart is the best back I have seen in person this season," said Every, who has seen many of the top backs in the country in games this year. "He is dangerous in space and catches the ball like a receiver. Hart is ideal for that Michigan offense, he's probably a better receiver than most of the guys they have already and he's perfect for the spread."
"With Westerman, we want to see him turn less to the side during pass protection, which is essentially opening the door, while going against top competition," said Every. "When he faces top defensive ends like he will at the Under Armour Game in Orlando, we will see how he does."
"Lee is fantastic on both sides of the ball and has the athletic ability to change games at wide receiver and safety. He's been so dominant at wide receiver this season that some college coaches are recruiting him as an athlete now instead of just safety," said Gorney. "On defense, he packs a serious punch when engaging receivers and he's a playmaker when coming up to stop the run. Lee is a track star but is a football player first. The nicest person off the field turns into a fierce and competitive force between the lines. He is just so fun to watch."
"Edmond has all the tools to be a five-star; he is big, physical and can run. The only knock on him at this point is that the competition he plays against is very poor," said Peterson. "We would like to see what he can do in San Antonio in January against players of equal size and ability before we can name him a five-star prospect."
New additions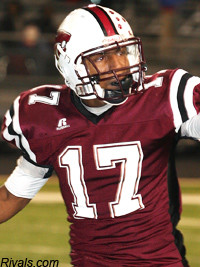 "Phillips may be the biggest athletic guy in the county," said Every. "He could almost be considered a jumbo athlete. He is off the charts athletically and he could even play tight end at nearly 300 pounds if he wanted to."
"Amaro is the prototypical athletic college tight end already. He has great size and is athletic enough to play receiver but strong enough to be a dominant blocker when he puts his hand down as an in-line tight end," said Perroni. "He has great body control and is very dangerous on the drag route across the field."
"Dawson can do it all, he can run, tackle and cover. He does a great job of keeping the play in front of him, uses his hands well and plays sideline to sideline," said Peterson. "He has a big frame and likes to play physical. Had 19 solo tackles in one game this season."
"Benjamin is a huge target and presents a difficult match-up for defensive backs. If a ball is thrown to him correctly, he is tough to stop. While some believe he may eventually grow into being a tight end, Benjamin has shown the athleticism to play wide receiver," Nee said. "Holliman has proven himself against some of the best competition in the nation. As a senior, he has racked up an area-leading 10 interceptions and routinely come up with big plays for Southridge on defense, offense, and special teams. As a safety he possesses good speed and ideal size to play either safety position. What makes him a standout defensive back though is his playmaking ability and excellent instincts that put him in position to regularly make a play on the ball."
Quarterbacks make major moves
Shifting around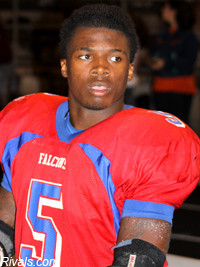 "It is no secret that Clinton-Dix is a great athlete who possesses elite athleticism and great size with the versatility to be a cornerback or safety. What moves him to the forefront of the class in Florida is his knack for regularly making plays in games for Dr. Phillips, despite limited opportunities as teams avoid him," said Nee. "He has been a key weapon for arguably the top team in the Sunshine State. With Steward being banged up this year and not being able to be consistently effective and with Wilder Jr. insisting on being a running back, where he is less effective than at linebacker, Clinton-Dix was able to move up."
"This was a tough decision and we wrestled with for a long time but after watching both players multiple times I feel Farmer has a slightly bigger impact on the game and projects as a more dominant player long term," said Gorney. "Thomas is so electric and exciting to watch especially on offense but if he plans to play cornerback in college then there still is a learning curve. Farmer can break big plays at any time and his speed is surprising and he regularly gets into open space. It was close Farmer came out on top for now."
"Grant is a dominant force who plays with passion and gives 100 percent on every play," said Farrell. "He's a tackling machine with an NFL body and he runs things down so well to the sideline it's amazing. Once he is allowed to shoot the gap more and blitz, he will be even more special in college wherever he ends up."
"Big guys are at a premium these days and all three of these players have impressed during their senior seasons," Farrell said. "It's especially a down year for defensive tackles which makes Johnson and Jernigan that much more valuable and Moore has proven to be one of the better tackles in the country and will do a great job at Nebraska. You might not hear their names called as much as the skill position guys in college, but each will make a big impact."
[rl]