Nation's No. 3 center Koby Keenum details his commitment to Kentucky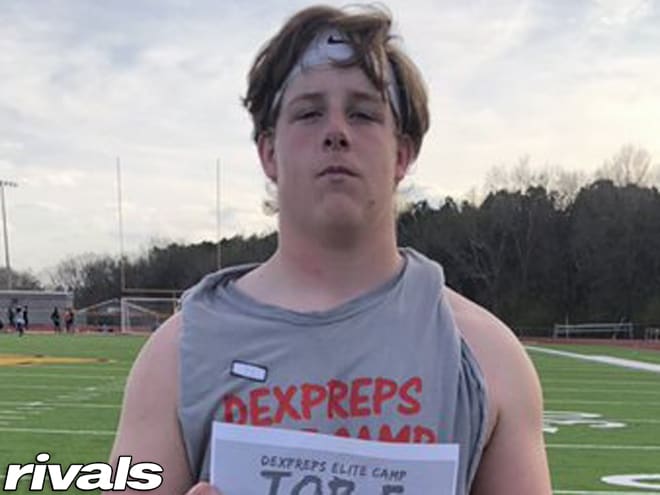 Mars Hill (Ala.) offensive lineman Koby Keenum burst onto the scene last fall and saw his recruiting stock continue to rise throughout the spring with 41 total offers on his resume. The three-star prospect cut his list to a Top 5 back on June 1st and took official visits to Louisville, Kentucky, and North Carolina last month. In the end, Keenum decided the SEC was the place for him, committing to the Wildcats on Saturday morning.
IN HIS WORDS...
"I would definitely say the coaching staff," Keenum said of the biggest factor in his decision. "Coach (Zach) Yenser has been with the 49ers the past three seasons and I love the way he coaches. I talked to the offensive linemen there and they love him. It's just more of a family aspect than football there - that's what I like to see and that's what I want to be a part of. When I started to make my pros and cons list, there were really no cons with Kentucky and that's when I knew."
"Coach Yenser loves my aggression. We were talking the other night about Trent Williams and how I remind him of Williams in terms of aggressiveness, the way I come off the ball, and he just loves the way I finish. It's fun to hear that and be compared to a guy like Trent Williams."
"Eli Cox is there now. He's a junior and will be a senior my first year there. They are thinking that I'll be behind him that first year that I'm there and when he graduates I'll be taking his role in playing and starting. It's gonna be fun."
WHAT THE WILDCATS ARE GETTING...
Keenum is a top-level prospect at his position, currently ranked the No. 3 center in the country according to Rivals.com. He's also the 24th-ranked prospect in the talent-rich state of Alabama. Keenum currently lines up at offensive tackle for his high school, he is quick off the line and does a great job of engaging with defensive lineman with correct hand placement and pad level while always driving his feet and turning his defender. His high school team has a more run-oriented offense, but his experience at tackle shows his athleticism and versatility which should translate very well at Kentucky and he could be someone that could easily slide into either guard position if needed.
WHY IT'S BIG FOR KENTUCKY...
For one, the Wildcats beat out both Louisville and North Carolina for Keenum's commitment. Both of those programs are red-hot on the recruiting trail and have classes that are ranked within the Top 30 currently. Kentucky is working on building an impressive offensive line haul in the 2023 class with Keenum being the latest addition to go along with offensive tackle pledges Malachi Wood and Austin Ramsey. Kentucky is looking to add another offensive line piece to the fold with in-state talent William Spencer being a primary option. The Wildcats are also still in the mix for wide receiver targets Anthony Brown and Devin Hyatt along with newly-offered Jakob Dixon.