MSU camp: Cooper keeps motor running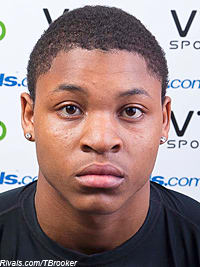 Michigan State already has its quarterback in the 2013 class, so it was no surprise that Saturday's camp had a strong underclassmen representation. Wiegers, the 6-foot-4, 190-pound in-state passer, has had a spring full of strong performances, but Saturday's showing may have been his best. He was dropping passes into spots other quarterbacks simply cannot reach. Both his velocity and accuracy were outstanding and he was fully in control of his passes all day long.

Shelton is already committed to the Spartans and he came out and backed up his lofty reputation with a strong showing on Saturday. The 5-foot-11, 185-pound Shelton is an explosive, change-of-pace back. He worked from out of the backfield and in the slot during 1-on-1s and half skeleton, showing natural receiving abilities. What you immediately notice about Shelton, though, is his quickness. He can stop and start and change directions instantly.

The 6-foot-1, 170-pound Snodgrass came into Saturday's camp with an offer from Toledo, and emerged with his first Big Ten offer after Michigan State saw enough to know they wanted the rising junior. Snodgrass has great size and is probably closer to 185 pounds. He effortlessly glides around the field and combines the speed to blow past defensive backs with the strength to outmuscle them for jump balls.

The tight end group was unusually strong for a summer camp, with a whole cast of prospects who physically fit the mold of a high Division I tight end. There were several candidates for top performer of the group, but we'll give it to the 6-foot-6, 230-pound Chmura who is coming off an ACL injury that cost him his junior season. There was no brace on his knee, though at times Chmura still looked a little tentative. Yet, his blocking technique was clearly the most developed in the group and he showed very soft hands catching the football.

We have seen the 6-foot-4, 292-pound Carr several times this offseason and he continues to improve. On Saturday, he was the only offensive tackle to stone explosive defensive end Demetrius Cooper. Carr slid out and met Cooper before could exploit the outside with his speed, then was ready when Cooper countered to the inside. Several MAC schools have already offered Carr, but we expect BCS schools to start taking notice soon.

Despite working out Wednesday and Thursday at the Adidas Sound Mind Sound Body Football Academy, the 6-foot-5, 220-pound Cooper still looked fresh on Saturday and tore a path through the offensive tackles in attendance. Cooper immediately stands out from the crowd because of his long and athletic frame. He has the speed to blow by all but the quickest offensive tackles and is surprisingly strong at the point of attack despite having a lean frame that will add 20-30 pounds before he hits college.



From top to bottom, the defensive backs group was the deepest at Michigan State's camp on Saturday. Leading the group was Milano, a three-star who came all the way up from Orlando to work out for the Spartans coaches. The 6-foot-1, 202-pound Milano is a well-put-together kid who will definitely play the safety spot in college, but when he was asked to come down and check wide receivers 1-on-1 in man coverage, he showed the fluidity and speed to hang with the best.

[rl]