MJ Daniels stays home, commits to Mississippi State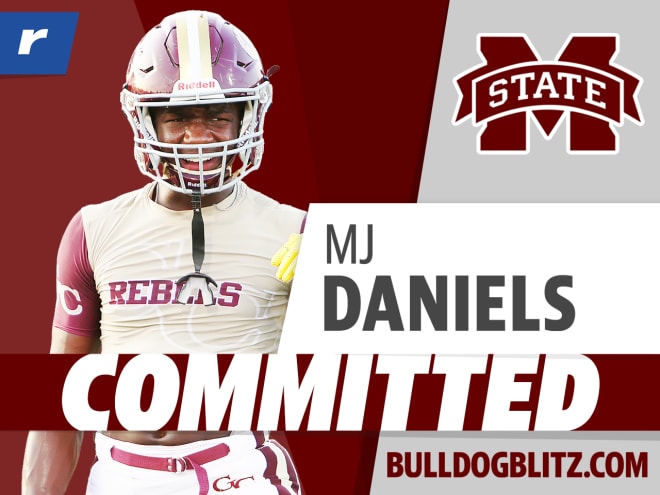 Not too long ago, MJ Daniels was committed to Ole Miss. The Lucedale (Miss.) George County backed off his pledge to the Rebels June 1, then was leaning towards leaving the state to play college football.
Georgia was looked at as a contender at one time and Texas A&M was always viewed as one of the favorites due to the connection with former teammate McKinnley Jackson, who's now in College Station.
Mississippi State never wavered. The Bulldogs stayed in pursuit of Daniels and it paid off.
"This was a tough, very tough decision," said Daniels. "It came down to Mississippi State and Texas A&M in the end. I went back and forth for a while, then last week, I woke up, had that feeling and I knew I wanted to go to Mississippi State."
The coaching staffs in Starkville and College Station made Daniels feel like a priority, but the familiarity with Mississippi State and the connection with the coaches there played a role in this decision.
"I really thought I was leaving the state. I was really thinking hard about that earlier in the summer. But I kept talking to Mississippi State, they kept recruiting me hard and I built a great relationship with coach McBath.
"I am strong with the coaches there, the locations makes it easy for my family to see me and I know I will be taken care of staying him. Nobody takes care of their players like the home-state school, so that was part of it too."
He informed Mississippi State of his decision Tuesday. Daniels thinks he surprised the Bulldog coaches. Both sides are excited about the news and the No. 5 player in Mississippi is relieved to have the recruiting process behind him.
"Recruiting was tough from the beginning," said Daniels. "It was stressful, so to make this decision, and to feel good about it now, it is really a relief.
"I thought I was ready to commit a few times the last few months. I would be close, then take another call, and my mind would change. I had to just think about it, I talked to my dad about it, and I know Mississippi State is the best school for me.
"I love it is close to home. I like their history with defensive backs and I like the coaches I will be playing for."