Mind of Mike: UCF hires Gus Malzahn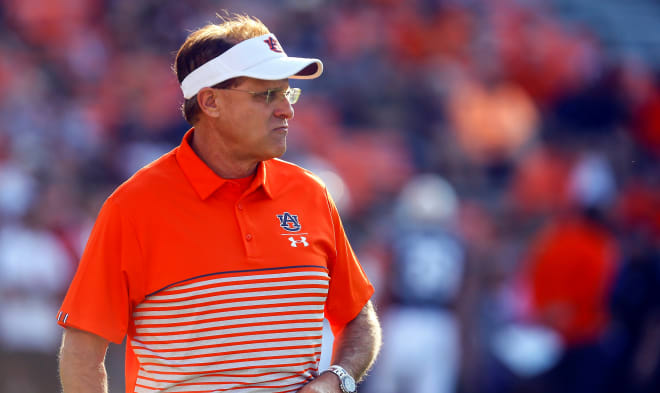 The Mind of Mike is a dangerous place. Here are National Recruiting Director Mike Farrell's thoughts on Gus Malzahn being hired by UCF.
*The initial reaction from around the country when people see the hire of former Auburn head coach Gus Malzahn by UCF is likely —- meh. But let's be clear, this is a great hire for the Knights. Not only do they get an experienced coach who has been through the SEC meat grinder and helped Auburn win one national title and led it to the title game of another, but they also get a big name that will help recruiting. Honestly, UCF likely couldn't do better than Malzahn with this hire and this could be a match made in Group of Five heaven.
*Let's start with the negatives with Malzahn and get those out of the way. Auburn was maddeningly inconsistent from season to season, especially on offense, and Malzahn likes to run a quirky offense that tends to set back passing quarterbacks and only works with great athletes under center.
*His odd recruitment of offensive linemen is actually almost criminal. In 2016, he took one offensive lineman and in 2017 he took only three. In 2018 he took two offensive linemen and followed that with three more in 2019. In 2020, he took five but followed that with two again this past recruiting year. That's 16 in six cycles with, to those in the know, is amazingly irresponsible and has led to many of the offensive issues Auburn has had. There are more negatives but most are on the offensive side of the ball.
*And now the positives. Malzahn went 68-35 at Auburn overall with a 39-27 SEC record. He won nine or more games three different times and never had a losing record at Auburn despite playing in the toughest division in the country. He also beat Alabama in 2013, 2017 and 2019. He was the offensive coordinator for Auburn in 2010 when Cam Newton led it to a national title and was the head coach in 2013 when it lost to Florida State 34-31 in the national title game. In recruiting, he finished eighth in 2013 and ninth in 2014 and followed that with two more top 10 classes in 2015 and 2016. He took a step back in 2017 with the 14th-rated class and No. 6 class in the SEC and he didn't finish higher than 10th since then, but all in all recruiting was not a huge issue aside from the puzzling lack of OL numbers.
*UCF has a very solid roster and quarterback Dillon Gabriel is a big-time talent so Malzahn has plenty to work with and is dealing with a program that has had great recent success. It's unlikely that Malzahn's offense style will change much but he will be able to recruit well in Georgia, Alabama and of course Florida, and should keep UCF near the top of the Group of Five schools.
*It will be interesting to see who Malzahn hires as he's made some great hires such as Travarous Robinson (short lived) and Rodney Garner but also some odd ones such as Chad Morris after his stint at Arkansas. Malzahn will be as successful as the staff he surrounds himself with but with the talent he is inheriting and with one of the best Group of Five recruiting classes in 2021, this all seems to bode well for UCF.