Mind of Mike: Thoughts on first college football playoff rankings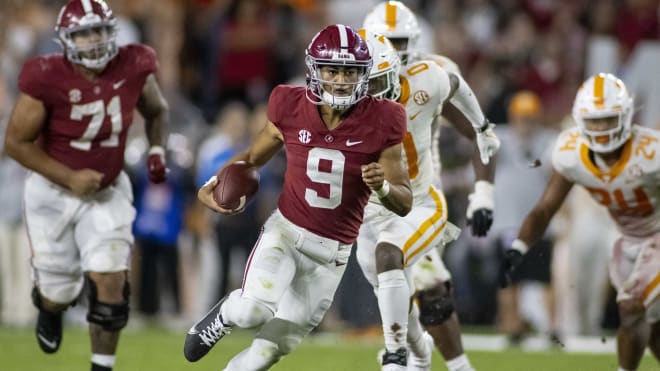 As expected, Georgia is No. 1, and there's really no debating that. The Bulldogs' defense is one of the best we've seen in a long time and they have some quality wins. The offense has been more than good enough under Stetson Bennett and the remaining schedule is easy enough to project them at No. 1 until at least the SEC title game. We knew the committee would nail this one ... but after that?
*****
Is anyone surprised that Alabama is No. 2? But it should be. It's clear that Alabama is the best team in the country not in Athens. Let's be honest: Does anyone think Michigan State, Ohio State, Oregon or Cincinnati will beat the Crimson Tide? And if Tide win out, they are in because they have a clash ahead with Georgia, so SEC haters should be happy they are so high. Imagine Alabama jumping into the top four with a win over UGA and UGA falling just a couple of spots.
*****
I'm very happy that Oregon is ahead of Ohio State in the playoff ranking because on-field results should matter. The Ducks beat the Buckeyes head to head, and despite a loss to Stanford they should be rewarded for it. How on earth could the Buckeyes be ahead of them if they lost to them on the field at home?
*****
Of course, Ohio State is ahead of Cincinnati at No. 5, and of course the Bearcats are basically out of things without some help. The Group of Five is never going to get into the playoff easily, and now not only does the SEC and Big Ten factor in their chances but if Oklahoma continues to win out they will leapfrog Cincinnati with ease. The Bearcats aren't getting in, and we knew it. Forget about it.
*****
I'm a little surprised Oklahoma was in at No. 8, I think that's too low. Personally I would have had it in this order — Georgia, Alabama, Michigan State, Oregon, Oklahoma, Cincinnati, Ohio State and then Wake Forest at No. 8.
*****
So here's how it plays out. UGA or Alabama (No. 1 and No. 2) are in if they wins out. Michigan State (No. 3) or Ohio State (No. 5) are in if they win out, and so is Oregon (No. 4). Oklahoma (No. 8) is also in, I think, if they win out as well, but there are a few things that would need to happen, and they aren't a lock. Those are my four playoff teams — UGA/Alabama, Michigan State/Ohio State, Oregon and Oklahoma. Cincinnati will likely not get in as I think the committee would take a one-loss UGA team as well as Alabama over the Bearcats, even if Oregon or Oklahoma drop a game.
*****
The takeaways? Alabama has and deserves the respect of the committee, based on its overall playoff resume, and Ohio State doesn't get all the advantages we thought it got, despite that playoff berth when Penn State won the Big Ten. Those are interesting factors to me.