Mind of Mike: Thoughts on CFP rankings as Buckeyes pass Tide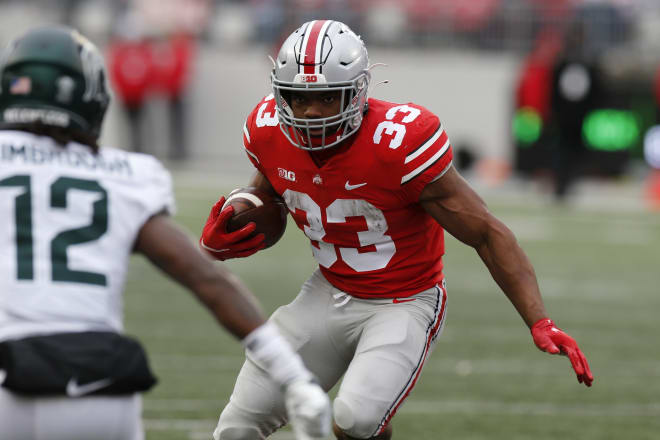 OK, we knew Georgia would remain No. 1, but the big question was whether Ohio State would leapfrog Alabama. 'Bama struggled with Arkansas and Ohio State absolutely demolished Michigan State, so there was a case to be made. Personally, I would have had the Buckeyes at No. 2, and the committee nailed this ranking. We all knew Cincinnati would move up to No. 4, so the 2-3 slot was the big question, not that it matters much. But it's pretty clear to me the Buckeyes are the biggest threat to Georgia.
*****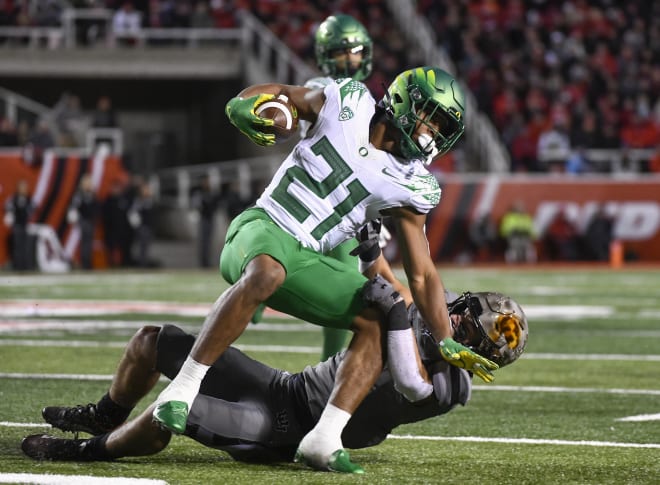 Oregon dropping to No. 11 was no surprise as this is another bad loss. Utah is a good team, unlike Stanford, but to get blown out and dominated in such a fashion should eliminate them from any playoff possibility or talk and it has. So now we have the Pac-12 and ACC eliminated and the Big 12 on life support a bit, unless Oklahoma State wins out. This could come down to whether the committee wants two SEC teams and two Big Ten teams or if they really want Cincinnati in. I'm not counting out the Big 12, but I don't see a one-loss team there after this weekend and after the Big 12 title game because Oklahoma State will probably lose one of those games. East Carolina shouldn't be a problem for the Bearcats, so a lot depends on how this weekend's Ohio State-Michigan game goes and how the SEC title game between UGA and Alabama goes. It should be interesting, but right now it looks very difficult to push Cincinnati out.
*****
Can Notre Dame make the playoff? Nope. It's just not going to happen. Lock in UGA or Alabama, and then lock in Ohio State or Michigan and there are two spots to be had if some strange things happen. Unfortunately for the Irish, they have that loss to Cincinnati, so if the Bearcats are undefeated they are in over Notre Dame and honestly should be in even with a loss, since head to head should matter. That leaves one spot. It could be a one-loss Big 12 team or a one-loss Big Ten or SEC team, and it's unlikely to be Notre Dame. Perhaps if the Bearcats lose to East Carolina the committee will plummet them and if the Big 12 winner has two losses Notre Dame could sneak in, but it just seems unlikely with the Irish at No. 6.
*****
Clemson finally arrives in the Top 25 but it doesn't matter, of course. The ACC is making a clear case for the worst Power Five conference in the country and that's saying something. Pitt at No. 17 and Wake at No. 18 are ahead of them and it's a weak group representing the conference.
*****
College Football Playoff rankings 
| Rank | Team | Overall record  |
| --- | --- | --- |
| 1. | Georgia | 11-0 |
| 2. | Ohio State | 10-1 |
| 3. | Alabama | 10-1 |
| 4. | Cincinnati | 11-0 |
| 5. | Michigan | 10-1 |
| 6. | Notre Dame | 10-1 |
| 7. | Oklahoma State | 10-1 |
| 8. | Baylor | 9-2 |
| 9. | Ole Miss | 9-2 |
| 10. | Oklahoma | 10-1 |
| 11. | Oregon | 9-2 |
| 12. | Michigan State | 9-2 |
| 13. | BYU | 9-2 |
| 14. | Wisconsin | 8-3 |
| 15. | Texas A&M | 8-3 |
| 16. | Iowa | 9-2 |
| 17. | Pittsburgh | 9-2 |
| 18. | Wake Forest | 9-2 |
| 19. | Utah | 8-3 |
| 20. | NC State | 8-3 |
| 21. | San Diego State | 10-1 |
| 22. | UTSA | 11-0 |
| 23. | Clemson | 8-3 |
| 24. | Houston | 10-1 |
| 25. | Arkansas | 7-4 |