Mind of Mike: Thoughts from a busy signing day
... The first noise of the morning came from Tuscaloosa, with Alabama flipping four-star Florida defensive back Jordan Battle away from Ohio State. While this has been rumored for a couple of weeks, it was still a nice way for the Tide to start their signing day, and Battle is a kid that Nick Saban coveted. And while new Ohio State coach Ryan Day has still put together an impressive first class, with the help of Urban Meyer, losing Battle still registers on the sting meter. I have more on Day, who had an up and down day overall, below.
... The Battle flip may have been rumored, but the re-flip of five-star Oklahoma defensive back Daxton Hill from Alabama to Michigan took many by surprise. The Tide had just flipped Hill last week, so many assumed it was a done deal. However, plenty of credit must be given to coach Jim Harbaugh and his staff for not backing down and getting him back on Wednesday. He's the kind of recruit that can really make a class with his speed and he will help Michigan increase its team speed on defense greatly. And any win over Alabama is a good one.
... Nowadays, it is not often that a five-star keeps his decision unknown until his announcement, but that was the case with running back Trey Sanders, who had everyone guessing. The one-time Alabama commit was considered a Tide and Georgia lean at several different times during the last week, but in the end decided to return to Tuscaloosa. Georgia coach Kirby Smart exacted some revenge in landing five-star linebacker Nakobe Dean and Saban responded with a commitment from five-star offensive lineman Evan Neal. The Smart-Saban battle has become epic.
... Rumors began spreading a couple of days ago that four-star Michigan quarterback Dwan Mathis, who was committed to Ohio State, may flip to Georgia. This became a reality during the morning. This is a big loss for the Buckeyes, as it was their only committed quarterback and an equally big win for the Bulldogs, who look to restock their quarterback group after the sudden loss of Justin Fields. However, if Ohio State can land Fields as a transfer it will gladly take the trade. Ohio State did land in-state five-star defensive end Zach Harrison which was new head coach Ryan Day's first five-star win over Michigan and Penn State and shows he can recruit against the big boys.
... Clemson may be losing the huge majority of its defensive line production this year, but it has also been able to reload. This continued Wednesday with the addition of four-star Florida defensive tackle Tyler Davis, who selected the Tigers over Florida State. Clemson had been pushing for this commitment for the majority of the year, so to finally be able to seal the deal was a nice morning victory for the Tigers. Clemson, as usual, proved it can recruit with anyone in the country.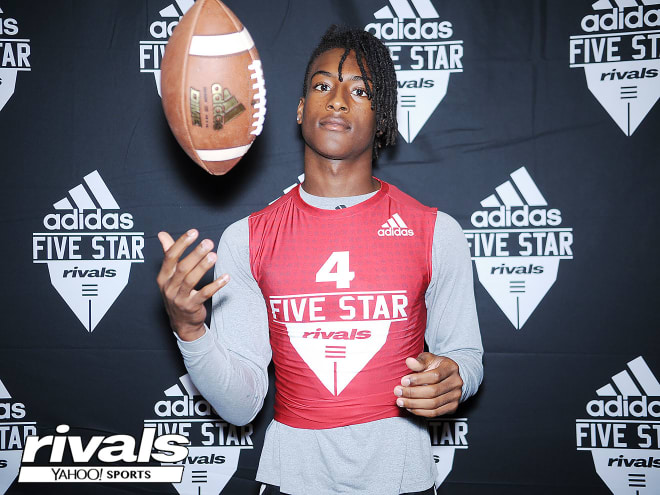 ... While he had been committed for months, Penn State's work to keep four-star Florida wide receiver John Dunmore in Happy Valley was a victory. Some expected him to flip to a Florida school, and while Miami made a long and hard push in recent months, the Canes were unable to pull Dunmore away from Penn State. Aside from keeping Dunmore, Penn State also received a commitment from four-star running back Noah Cain. Cain, who grew up in Texas and played his high school football at IMG in Florida, is a major get for the Nittany Lions, who fought off Texas, Auburn and Tennessee at the end. He also forms a dynamic duo at running back with five-star Devyn Ford, who sent in his signed papers Wednesday as well. This Penn State class is a very good one, and James Franklin continues to prove he's an elite recruiter. Ford and Cain are arguably the best running back combination in the 2019 class.
... LSU doesn't usually recruit Utah, but it did a great job closing on four-star defensive tackle Siaki Ika. While a number of West Coast programs pursued Ika, he made it known that he wanted to play in the SEC. So with this, his recruitment came down to the Tigers and Florida, where he most recently visited. The Gators were optimistic after his visit, but LSU's persistence and his established relationship with the coaching staff helped pull out the victory. LSU had a good day overall.
... The battle for four-star Mississippi linebacker Derick Hall II became a heated three-team battle between Auburn, Ole Miss and Mississippi State. Pulling Hall out of Mississippi was a very nice win on signing day for the Tigers, especially with the Bulldogs being considered the leader on several occasions and the Rebels receiving the last official visit. As much of a win as this is for the Tigers, it's an equally big loss for the Bulldogs, who put in plenty of time and effort with Hall. After Mississippi State struck out on Hall II in the morning, Ole Miss swung and missed on in-state three-star athlete Raydarious Jones. Recruited as a defensive back by LSU, Jones fell in love with the thought of playing for "DBU." So, while coach Matt Luke and his staff long made him a priority, they were not able to overcome the Tigers.
... Three-star New Jersey defensive back Connor Grieco had become one of the hotter recruiting names in the country over the last month, picking up offers from coast-to-coast. But int the end he committed to Boston College, which continued its long and successful recruiting history with the major non-public programs in New Jersey. He is a very nice late addition for the Eagles.
... Oregon has put together a very impressive class, but it suffered a loss Wednesday when four-star California defensive back Jeremiah Criddell chose Oklahoma after a previous commitment to the Ducks. Criddell helps continue the California pipeline to Norman and should add immediate help to the Sooners' secondary. Few teams recruit the state of California from a distance better than Oklahoma.
... Florida has long had a strong recruiting connection to Lakeland High Cchool, and that continued in a big way Wednesday with the commitments of four-star offensive lineman Deyavie Hammond, four-star defensive end Lloyd Sumerall and four-star tight Keon Zipperer all committed to the Gators. The Gators beat out some stiff competition for each of the three and it is always nice to pick up three four-star commitments at one press conference. Miami was rumored to be the leader for Summerall and Zipperer until the last week or so.
... Four-star California athlete Asa Turner was thought to be signing Wednesday with Washington, where he has been committed since July. However, at the school they announced that he would not be signing and will be taking some additional time to make a final decision. This puts Notre Dame into the picture, as the Irish have been working overtime to try to flip the four-star. Notre Dame has put together a very nice class and its playoff berth is helping the Irish on the recruiting trail in a big way.
... Rutgers hasn't had a ton to get excited about recently, but flipping three-star Pennsylvania running back Aaron Young from Michigan State is something that both the fans and coaching staff can get behind. Young joins his brother, Avery Young, who had an impressive true freshman season this fall for the Scarlet Knights, and gives them a big recruiting win over a Big Ten blueblood. He could be a star at Rutgers.
... Another big addition to a non-traditional Big Ten power was Illinois grabbing in-state three-star defensive end Keith Randolph. Randolph had piled up the offers in recent months, and when an offer from Florida State came in on Tuesday, many assumed he would push back his announcement until February. However, the Illini's hard work paid off Wednesday with a commitment from the promising 6-foot-5, 250-pound end.
... As with Penn State keeping John Dunmore, Arizona State did a nice job keeping three-star California quarterback Joey Yellen committed. Once Justin Fields announced his transfer, Georgia put a full-court-press on the three-star, but Yellen stuck with his word, trusted the Arizona State coaching staff, and signed with the Sun Devils. Arizona State has three very talented quarterbacks in its class, pretty much assuring the future at the position.
n While the Sun Devils did a good keeping Joey Yellen, they then lost three-star Texas athlete Ty DeArman to Oklahoma to a signing day flip. DeArman, who committed to the Sun Devils in June, has remained rather quiet over the last six months, so this decision caught most people off-guard. However, an offer from the Sooners on Wednesday quickly changed everything and resulted in his flip. Look for DeArman to play safety in Norman. Soon after finding out that they had lost DeArman to the Sooners, the Sun Devils received the news that they picked up the commitment of four-star California defensive end Stephon Wright. While Wright was rumored to be a Sun Devils lean for quite some time, it is still a big recruiting victory for the staff to pull a four-star out of Southern California.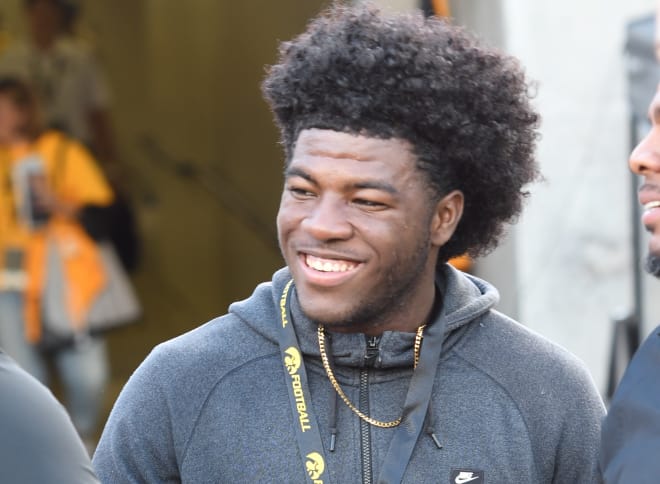 ... As with the Illinois and Rutgers additions mentioned above, Indiana proved to be yet another Big Ten non-blueblood to finish strong with the additions of in-state four-star linebacker Cameron Williams and four-star Florida defensive back Tiawan Mullen. This means that the Hoosiers have four four-stars in this class, making it a quietly surprising group.
... Nebraska pulled in two important commitments Wednesday in three-star South Carolina offensive lineman Jimmy Fritzsche and from four-star Arizona defensive end Ty Robinson. Both were treated as priorities by the coaching staff in recent months and that work and effort paid off. The entire staff actually did an in-home with Robinson recently, which may have been what put the Huskers over the top. Scott Frost has done an excellent job so far in his first year recruiting at Nebraska.
... Arkansas has put together one of the surprising classes in the country, and continued to strengthen it Wednesday by flipping four-star Louisiana defensive back Gregory Brooks from Mississippi State during the afternoon. Brooks initially committed to Mississippi State over Arkansas in June, but the Razorbacks coaching staff remained in pursuit over the next six months. An official visit to Fayetteville, which was followed by an in-home visit, seemed to solidify Brooks' choice.
... Everything seemed relatively quiet in North Carolina since Mack Brown took over until about 2:45 p.m. ET on Wednesday when four-star North Carolina quarterback Sam Howell flipped to the Tar Heels from Florida State. Since Walt Bell's departure from FSU to take the head job at UMass, rumors of Howell's de-commitment swirled. A weekend visit to Chapel Hill seemed to seal the deal for Howell, and at the same time caused a huge quarterback hole in Tallahassee. And just as North Carolina was excited about getting Howell, the Tar Heels soon found out that they lost out on in-state three-star defensive tackle Jaden McKenzie to Ohio State. For the Buckeyes, it added depth on the defensive line, while for the Tar Heels it leaves them scrambling for replacements on the interior defensive line.
... The biggest winners to me on the day – Alabama, Georgia, Oklahoma, Michigan, Penn State, Arkansas and Florida. The biggest losers? Miami, Mississippi State, Ole Miss, USC and UCLA.