Mind of Mike: Takeaways from the Early Signing Period's wild start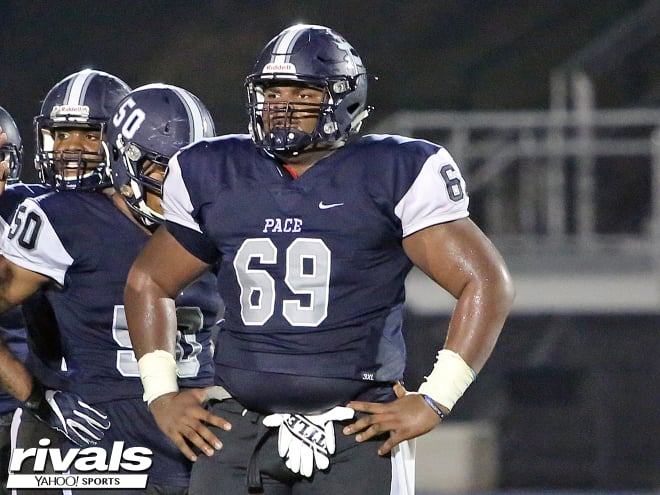 Georgia landed two powerful offensive linemen in Jamaree Salyer and Cade Mays and they could form a road-grading left or right side of the UGA line for a few years. Throw in Trey Hill and you have arguably the best 1-2-3 punch at offensive line in the country. The Bulldogs are the clear winner of the day after they also added defensive end Brenton Cox, defensive back Divaad Wilson (a Florida flip) and linebacker Channing Tindall, kept running back James Cook in the fold and flipped Alabama defensive back commitment Nadab Joseph. Kirby Smart is quickly moving into elite company as a recruiter. Joseph's sudden flip from 'Bama is probably the most surprising event of the day. I can't stress how dominant UGA was.
Jackson Carman to Clemson is one of the biggest surprises of the day as most expected him to sign with Ohio State. He and his mother loved their Clemson visit but how often do you see a five-star kid from Ohio spurn Urban Meyer and the Buckeyes to head out of state? Not often. This is the reason Dabo Swinney is one of the best recruiters in college football. Adding K.J. Henry to the defensive line was also key for the Tigers, as he's another five-star talent who will keep the program's defensive line tradition rolling. And let's not overlook running back Lyn-J Dixon, a former Tennessee commitment, who also chose Clemson on Wednesday. He may only be a three-star recruit, but so was Travis Etienne and we saw how well he did this season for the Tigers. Don't undervalue the scouting ability of the Clemson offensive staff.
Emory Jones' commitment to the Florida Gators could be the most important one of the day. Dan Mullen needs a quality quarterback after the Gators had whiffed on Justin Fields (Georgia) and lost Matt Corral (Ole Miss) and he also needed a leader. Jones fits the bill on both accounts. The Ohio State decommitment was once thought to be an Alabama lean and then Florida State made a strong push but the Gators held on and Mullen has his man. Florida added two key pieces of the puzzle with Jones and defensive back Trey Dean, two guys they really needed to close on. I think Florida recruiting will take a step up under Mullen.
Has there been a bigger re-commitment this year than that of Micah Parsons? The five-star defender decided to stick with Penn State in the end. He is as disruptive as any player in this class and will be a monster for the Nittany Lions. Georgia came on late and Oklahoma impressed but Penn State did a great job here. Parsons is the prospect Ohio State had to back off due to a recruiting violation but it probably wouldn't have mattered. James Franklin locked this one up again as Parsons had been previously committed to the Nittany Lions once before.
Ohio State had a day that can be looked at in two different ways. The Buckeyes finished the day near the top of the heap in the team rankings and signed pretty much everyone they had committed, but they did lose out on Carman to Clemson, Jones bolted for Florida and Jaiden Woodbey was still up in the air as 9 p.m. ET and likely to decommit as well according to sources. That's unusual for Urban Meyer. Ohio State did flip wide receiver Cameron Brown from Nebraska which was nice, but I guess I'm just not used to seeing Meyer lose a couple of key battles. Dropping from No. 1 to No. 2 in the team rankings won't make anyone cry, but it just had an odd feel to it.
Anthony Cook's commitment to Texas is a big one and gives the Longhorns arguably the best defensive back class in the country. A long-time lean to Ohio State, more recently this had come down to LSU and Texas with the Tigers having the momentum at different times. Now Tom Herman has Texas landing the top player in state for the first time since 2011 and the Longhorns now have the top six players in the Lone Star state on their commitment list. That's impressive.

Christian Barmore to Alabama started the day nicely for the Tide. This kid is all upside, a prospect who was being recruited (barely) as an offensive lineman who found a home at defensive tackle. He could be a star in the interior down the road for Alabama. Barmore is athletic as all get out. When you add him with five-star defensive end Eyabi Enoma, Alabama landed the best defensive line 1-2 punch of the day in my opinion.
Tennessee head coach Jeremy Pruitt was busy between trying to get kids to sign with the Vols and coaching up the Alabama defense for the playoff but he managed to pull off one big surprise by landing JUCO star tight end Dominick Wood-Anderson. Wood-Anderson was thought to be an Alabama lean before he committed to Texas and then again to be a 'Bama lean before choosing the Vols. He's been compared by some insiders at Alabama to O.J. Howard, the former Tide star tight end and first-round draft pick and he should make an instant impact.
Ole Miss added some needed speed in Elijiah Moore as he flipped from Georgia to the Rebels. This was a great get by Matt Luke. Jalen Cunningham, a four-star defensive end, was expected to wait until February and take visits but he decided to sign with Ole Miss as well, another great get. Despite the sanctions, Luke is showing that Ole Miss isn't about to lay over and quit on the recruiting trail. Quite the opposite actually.
Byron Cowart doesn't count as a recruit in the class of 2018 because he's a pure transfer who didn't stop over and play at a JUCO, but it's still big news that he signed with Maryland to try to resurrect his career. The former No. 1 player in the 2015 class has been a flop so far in his career and barely cracked the lineup at Auburn. Can he live up to his impressive potential in College Park? Time will tell.
It was important for Kansas to keep defensive back Corione Harris who was rumored to be flipping to Mississippi State and joining friend and ex-Kansas commitment Devonta Jason.
Iowa landed a key commitment from Dallas Craddieth. The Hawkeyes do as good a job at scouting and developing defensive backs as anyone in the country lately. They aren't pushing for DBU or anything like that, but they rarely whiff at that position.
So what do I think of the Early Signing Period and is it here to stay? Overall, it has to be considered an overwhelming success with so many kids signing on the first day and it will likely steal the thunder of the February Signing Period moving forward. I'd like to see it placed a bit earlier - August would be my choice - to remove it from the coaches carousel, bowl practices and early enrollment but overall it went off without incident and seems to be a good thing for college football. It will change the way schools need to recruit, especially in the month of December, but they will adjust as they do to every new rule. And the Early Signing Period means a lot fewer surprises and less pomp and circumstance, although that will change as this becomes the main event next year and beyond.