Mind of Mike: Pruitt had to go; next up should be Jerod Mayo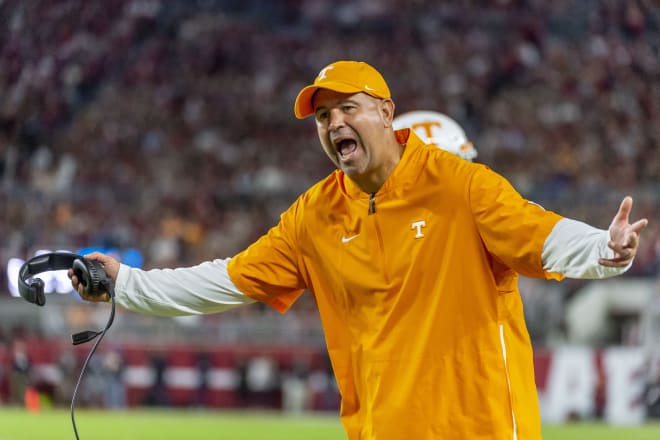 The Mind of Mike is a dangerous place. Here are the latest thoughts from Rivals National Director Mike Farrell about the firing of Jeremy Pruitt at Tennessee.

MORE: Five recruiting misses for Jeremy Pruitt | 2020 Coaching carousel
VOLQUEST.COM: Pruitt out after three years | Fulmer to retire as AD
*****
CLASS OF 2021 RANKINGS: Rivals250 | Position | Team | State
CLASS OF 2022 RANKINGS: Rivals250 | Position | Team | State
COVERAGE: Rivals Transfer Tracker | Rivals Camp Series
*****
Let's be clear. Pruitt should be fired. Between his 16-19 overall record (10-16 in conference), the bungling of the quarterback situation and the NCAA investigation, it's time for him to be gone from Knoxville. But why now? This should have been done a month ago before recruits were locked into the 2021 class and when other changes were being made.

Now it once again looks like Tennessee has zero clue what to do on any level with their football program and it's another black eye for a once proud program. You can point to many things that Pruitt failed on — quarterback development, not coaching players up as expected, recruiting and of course the NCAA stuff — but the bottom line is that I couldn't decide on whether this was a fit or not. I'd heard many things about Pruitt and his inability to get along with people, but also saw how much he developed talent at all his stops, so I was more hopeful than cautious. But this became an unmitigated disaster. And despite the embarrassment of when it happened, it's time to move forward.

Things in Knoxville started off oddly for Pruitt when it came to in-state recruiting. In fact it was kind of the opposite of his predecessor Butch Jones. Jones started off on fire in state with players like Jalen Hurd, Derek Barnett, Josh Malone, Trey Smith and others and then burned bridges as recruiting fell off. Pruitt didn't go on some elite in-state talent early and had to build bridges back up, but as he did the play on the field was poor and led to a mixed bag in recruiting.

For every Dylan Brooks he stole from the state of Alabama, there would be a Hudson Wolfe who got away. Pruitt's first recruiting class was in 2018 as he took over for Jones and finished 20th in the nation and landed in-state players like Greg Emerson and Alontae Taylor, but saw standouts like Cade Mays and Master Teague get away.

But 2019 was his first full class and that's where the state got away from him a bit. Yes they landed RB Eric Gray (although he has been rumored to be part of the NCAA investigation), but the top nine players in the state got away including Woodi Washington to Oklahoma and Trey Knox to Arkansas. The in-state class hasn't panned out that well overall, but Pruitt was resistant to recruit some of the key players and then had to do some work with high school relationships after taking so many out-of-state players. That class was ranked No. 13 in the nation led by OT Darnell Wright and LB Henry To'oto'o.

Pruitt followed that 2019 class with the No. 8 class in the country in 2020 with much better success in state and a class led by five-star quarterback Harrison Bailey and a speedy group of wide receivers. This class was supposed to be a springboard for the future, but few were able to make a big impact with no spring or fall football and an odd season caused by the COVID-19 pandemic.

The 2021 class was and is an interesting one as it could be argued that Pruitt was the best Zoom recruiter in the country during the spring after things were shut down. However, some of those key pieces like Wolfe and LB Terrence Lewis have moved on to other classes and all momentum was killed with the horrible season. The next coach will need to deal with keeping players out of the transfer portal (To'oto'o, etc.) and focusing on having a big 2022 class. The 2021 class is ranked 14th in the county after being in the top five for most of the summer.

Quarterback Jarrett Guarantano has been the poster child of blame for the Vols problems, but this team overall is not very talented. I watched very carefully for signs of life when Bailey got his first start this season and quickly realized this wasn't a quarterback issue, it was a talent issue. Sadly, the Vols are far from contending in the SEC East with this roster.

So who's next? I would hire Jerod Mayo from the New England Patriots immediately if he showed interest in the job. The Vols need a VFL coach who will speak to all the traditions and advantages of playing in Knoxville as well as someone who will bring enthusiasm and the passion only an alum can bring. Mayo was a great player at Tennessee and has learned under Bill Belichick as a player and coach for years. Hugh Freeze, Billy Napier, Bill O'Brien and others will be mentioned, but Mayo should be the first call and offer. He has the passion and skill to turn this once proud program around.