Mind of Mike: NIL and random thoughts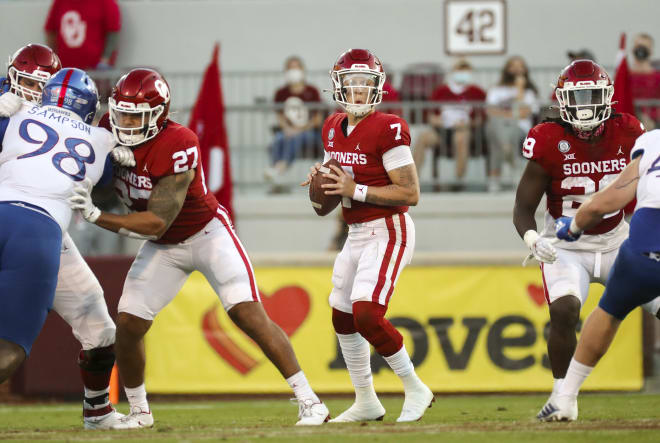 1. RATTLER IS NO. 1
Let's be clear, the No. 1 player for Name, Image, Likeness is Oklahoma QB Spencer Rattler as he is at a program that has produced No. 1 NFL Draft picks and Heisman Trophy winners at his position in Baker Mayfield and Kyler Murray. Rattler won't get rich off of NIL because it's just starting but he heads my list as the most marketable player out there.
*****
2. SKILL PLAYERS HAVE LEG UP IN MARKETABILITY
Skill position players are all the rage in college football and beyond so scoring touchdowns (or defending against them) will always be valued. Here are my 2-10 guys...
2. QB Sam Howell, North Carolina -- The North Carolina market is growing and many have him as QB1 for the NFL Draft.
3. DB Derek Stingley Jr., LSU -- The best lockdown corner since Jalen Ramsey would cash in.
4. DE Kayvon Thibodeaux, Oregon -- He could be the No. 1 overall pick in the NFL Draft and Oregon is a surprising market.
5. WR Chris Olave, Ohio State -- Garrett Wilson is also up there, but I like Olave better.
6. RB Tank Bigsby, Auburn -- The best running back in college football next season? If he stays healthy he will be.
7. RB Bijan Robinson, Texas -- Robinson is in a massive market and is the only marketable Longhorn right now.
8. QB Kedon Slovis, USC -- The QB in Los Angeles will always have opportunities.
9. QB DJ Uiagalelei, Clemson -- He's the potential No. 1 pick in the 2023 NFL Draft.
10. DB Elias Ricks, LSU -- My CB1 for the 2023 NFL Draft will continue the tradition at LSU.

*****
3. WHERE ARE THE ALABAMA PLAYERS?
*****
4. WOULD-BE NIL STARS FROM THE PAST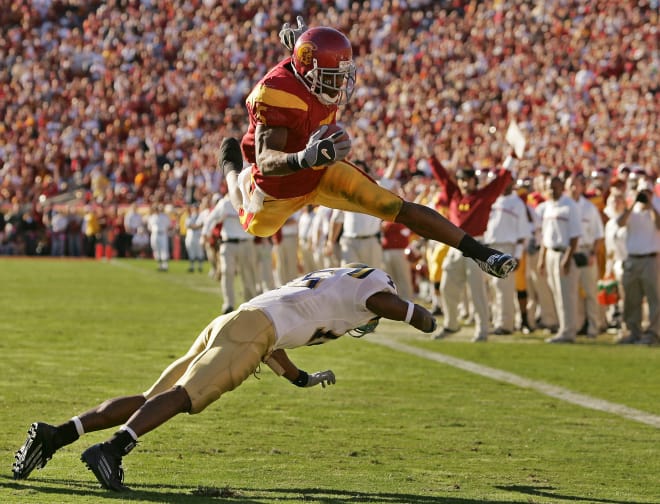 Who would be some of the most marketable players over the last 20 years or so of college football if NIL had been alive back then? Here's my list...
1. Tim Tebow, Florida -- He was a legend in college, plain and simple.
2. Reggie Bush, USC -- Arguably the most dynamic player in college football back when USC was a huge deal nationally.
3. Vince Young, Texas -- The market is massive and Young was a one-man show at times.
4. Johnny Manziel, Texas A&M -- "Money" Manziel could make a case for No. 2 on this list because he was such a sensation.
5. Cam Newton, Auburn -- It was only one year, but what an amazing year.
6. Trevor Lawrence, Clemson -- The hype out of high school and a national title in his first season? That's a combination.
7. Jimmy Clausen, Notre Dame -- What? Yep. Remember he was labeled as the LeBron James of high school football and was at Notre Dame.
8. Jadeveon Clowney, South Carolina -- Clowney was such a big name coming out of high school he would be the rare rush end to cash in.
9. Adrian Peterson, Oklahoma -- A big market and one of the best running backs in college football history.
10. Ndamukong Suh, Nebraska -- The Nebraska fan base is unmatched and Suh jerseys would have flown off the racks.
*****
5. LOOKING AT THE NFL DRAFT
Remember Evan Neal as a recruit? Remember his as a junior when he was carrying too much weight and then he slimmed down his senior season to around 360 pounds and ended up as our No. 8 prospect nationally and No. 1 offensive tackle? Well I'm here to tell you that despite his high ranking, I didn't see this coming: Neal is right now the best offensive line prospect I've seen for the NFL Draft since Orlando Pace went No. 1 overall back in 1997.
Everyone loves to throw around the term generational talent and I hate that. Trevor Lawrence is a generational talent. Chase Young is not because we've had Nick Bosa, Joey Bosa and others at the same position. But Neal, he could be a generational talent because he has very rare athleticism for a 6-foot-7, 360 pounder and he is a tireless worker in the weight room. His box and split jumps are already a thing of legend at Alabama and he shows such power in his lower body with an impossible agility and lightness of foot.
He's better at this stage than Alabama first round tackles DJ Fluker, Jonah Williams, Jedrick Wills and Alex Leatherwood and I have him ahead of Penei Sewell who was labeled as a generational talent last year. Neal has a chance, with another great season and a combine workout that will blow everyone away, to be a top-five pick and could push for No. 1 overall, a rarity for offensive linemen. He's an absolute freak.