Mind of Mike: Maize and blue for Green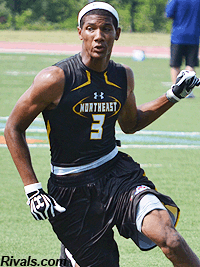 "target=new>Wednesday. Since then there have been coaching hires, de-commitments, huge commitments and a ton of intrigue surrounding many of the top prospects in the country.
I'll try to touch on as much of it as I can this week in Mind of Mike, which is quickly becoming the most popular recruiting feature on the Internet.

This week, while on the U.S. Army All-American Bowl Player of the Year Tour, Green went on the record saying that Michigan has the edge, especially with coaching changes at Auburn and Tennessee, the two teams thought to be the biggest threat.
However, this is far from a slam dunk for Michigan fans and numerous fanbases will be sweating this one out for a while.
I'm not sure where the early enrollment rumors started, but Green isn't enrolling anyplace early. That means he can and will take official visits in January and his decision could come down to Signing Day. The original plan was to decide in December or at the Army Bowl, but that doesn't appear likely. Why? Because some new schools could be jumping into the mix.
Green is certainly interested and is not concerned about competition, but we will see if this is just a fleeting notion or has some legs soon enough.
Heading into the POY Tour, I was skeptical about Green's interest in Michigan. In fact I thought the Wolverines might be on the outside looking in despite the coaching issues at Auburn and Tennessee. Now I feel they are squarely in the driver's seat, but will have to hold off many schools down the stretch.

However, it is common knowledge that his mom wants him close to home and has been in the Longhorns corner for a long time. The Robinson situation is becoming an interesting one. Anyone who has interacted with the five-star defensive tackle for more than an hour knows that he is a very low-key kid who doesn't open up easily and rarely smiles.
In fact, Cravens said that at first Robinson was hard to read on his visit to USC, but by the end he was all smiles. That description speaks volumes about the job the USC coaches did. Is his flip as imminent as some close to the USC program think?
That may be a bit premature unless mom buys in, but those Texas fans not worrying about this situation as recently as a week ago can now start stressing.

If anyone is foolish enough to think weather is a factor, forget about it. Redfield grew up in Connecticut, so he's not concerned about the cold.


So what about Nkemdiche, Foster and Redfield? Nkemdiche is all Ole Miss and the only curious thing here is why he's waiting so long to commit. He could help the Rebels recruit this class.




While Rolin's situation was odd (see above) and it was likely more impressive to steal him away as a Gamecocks legacy, Robinson could be the most important commitment in the class.


---------

[rl]