Midseason NFL Draft outlook: Running back
The college football season continues to churn on, so there's no better time to take an early look at the top five players position-by-position eligible for the 2017 NFL draft. Today we look at running backs.
RELATED: Quarterbacks
Recruiting: Fournette picked LSU at the Under Armour All-America Game over Texas and Alabama as the Tigers were considered the favorite for a long time. It got interesting late, though, as the Longhorns and Crimson Tide kept pursuing the five-star running back, but he decided to stay in-state.
Stats: Fournette has dealt with injuries this season. In three games, he has totaled 386 rushing yards and two touchdowns on 67 carries. He's also caught nine passes for 69 yards.
Farrell's take: We were obviously taken with Fournette as he was the highest-ranked running back since Bryce Brown was No. 1 in 2009. I wasn't thrilled with all the comparisons to Adrian Peterson out of high school because I wasn't sure he had the same explosion, but Fournette has obviously shown that's not an issue. After a huge start as a sophomore, teams began to game plan for him and slowed him down last season, but he still rushed for nearly 2,000 yards when everyone knew he was getting the ball. This season, he's been banged up, but the lack of carries could bode well for him heading into the NFL. LSU fans love to remind me of how I questioned his ability to break the long run in the SEC coming out of high school, but remember this, we still had him as a top 5 player. It's not like we questioned much.

Recruiting: Cook originally committed to Clemson and one main reason was because he likes how the Tigers utilized C.J. Spiller. After attending the Florida spring game, Cook switched his commitment to the Gators. His final decision came at the Under Armour game when he picked –- and stuck with -– Florida State.
Stats: Cook has rushed 134 times for 785 yards and seven touchdowns averaging 5.9 yards per attempt. The former five-star is averaging more than 130 rushing yards per game and he's second on the team with 20 catches for 345 yards and one TD.
Farrell's take: Cook has a ton of talent and was a guy who proved to us he was a five-star talent the more we watched him during that 2014 rankings cycle. He earned that fifth star during the last ranking and showed signs of living up to it early with his solid first season. Last year, he took it to the next level and was more valuable to his team than anyone else in the country, hands down. This season he has been up and down but has clearly shown, like he did this past weekend against Miami, that he's the best threat in the country as a multi-purpose back who can impact in the passing game.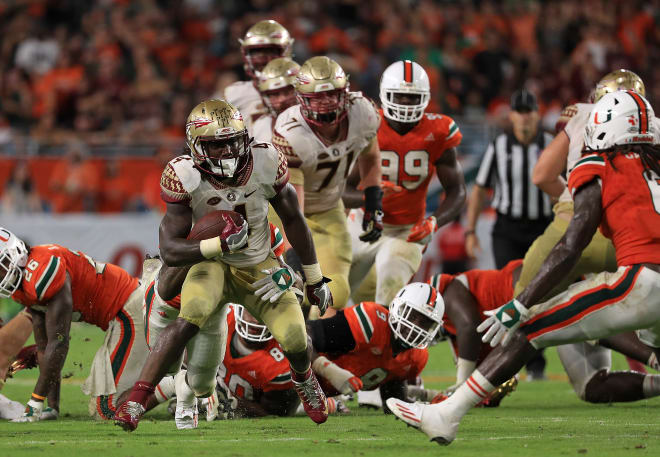 Recruiting: In May before his senior season, McCaffrey committed to Stanford, the same school where his father, Ed, played his college football. McCaffrey's mother, Lisa, played soccer for the Cardinal. Michigan, Ohio State, Florida State, Oregon and many others were also involved.
Stats: McCaffrey has 99 carries for 521 yards and three touchdowns in five games this season, averaging 104 rushing yards per outing. He leads the Cardinal with 18 receptions and is third in yards with 154 and one receiving TD.
Farrell's take: No one saw last season coming and if they say they did, they are related to McCaffrey or lying. We loved McCaffrey's versatility out of high school, but we expected him to be more of a slasher/third down guy instead of the workhorse he has been. It is a shame he doesn't get goal line carries as he should. This year, things have been up and down as teams have focused on him even more and Stanford has less weapons on offense. He's not big, but he's sneaky strong, super quick and has smarts and vision, so I'm proud of our ranking here of a kid from Colorado who played against average competition.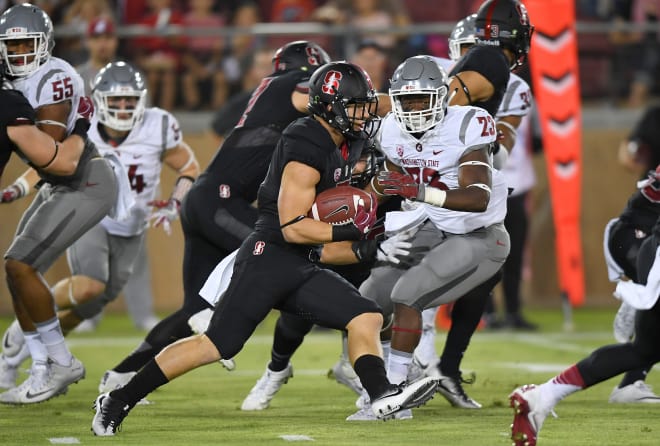 Recruiting: In the summer before his senior season, Freeman committed to Oregon over Alabama, Florida State, Florida, USC, UCLA, Stanford and many others. The high four-star was always relatively quiet about his recruitment and never named a top list.
Stats: Freeman has carried the ball 67 times for 513 yards and seven touchdowns this season, averaging 7.7 yards per touch.
Farrell's take: We knew Freeman was good as a top 60 prospect with great size, but we didn't know he'd fit so well into the speedy offense of Oregon where smaller, slashing backs tend to get the attention. He was the best player on a team that came on at the end of last season and his production on the ground and in the passing game has been invaluable. This season has been a rough one for everyone at Oregon, but that doesn't take away from his skills and potential. He has increased his quickness in college and he's tough to bring down like he was out of high school.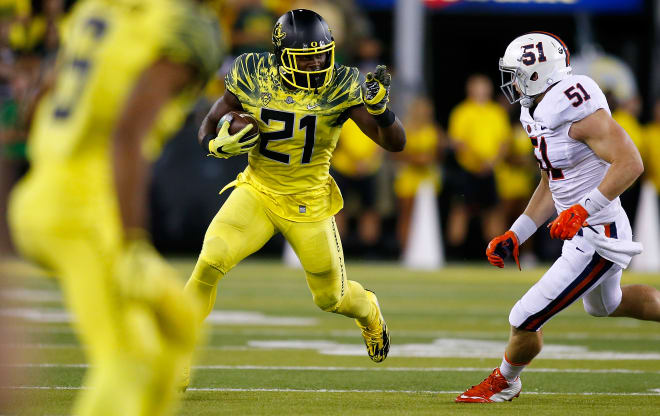 Recruiting: In June before his senior season, Chubb committed to Georgia over Auburn, South Carolina and others. He committed to the Bulldogs less than two months after Sony Michel pledged to Georgia as well.
Stats: Chubb has carried the ball 100 times for 546 yards and five touchdowns. He's averaging 91 rushing yards per outing.
Farrell's take: Chubb was only two spots away from a fifth star as a recruit. Based on the way he has played in Athens, despite the scary injury last season and some injuries this year, Chubb has clearly been a five-star college back. His injuries this season don't have anything to do with the knee issue last season, so that's good news, but he will have to answer questions about durability. He's a national top five player when healthy and perhaps ahead of Freeman or even McCaffrey if he was injury free. He should be highly coveted yet highly scrutinized as well if he comes out.
TWO TO WATCH
Recruiting: Gallman picked Clemson over Florida State and Georgia among many others in the spring before his senior season. He also went to high school with former five-star DE Robert Nkemdiche, who committed to the Tigers before flipping later to Ole Miss.
Stats: Gallman has totaled 88 carries for 475 yards and five touchdowns in six games this season. He's averaging 5.4 yards per attempt and 79.2 yards per game. He also has seven catches for 55 yards.
Farrell's take: Remember when Gallman was just Nkemdiche's teammate? As a junior he put up moderate stats and some felt he was gaining offers from schools trying to curry favor with his nationally ranked No. 1 teammate. We had Gallman as a high three-star and he has played like a high four-star and rising. He's big, hits the line of scrimmage hard and has some wiggle. But what I like the best is his toughness and durability and how he can manage to make something out of nothing at times as we've seen with some poor blocking this season.

Recruiting: Pumphrey committed to San Diego State prior to his senior season and he also had offers from Colorado, Utah, Duke and Nevada. He considered a late official visit to UNLV, but was told that might put his spot at SDSU at risk, so he decided against visiting the hometown school.
Stats: Pumphrey has rushed 129 times for 891 yards and nine touchdowns in five games. He's averaging 6.9 yards per touch and more than 178 yards per game. Pumphrey also leads the team with 18 receptions.
Farrell's take: Pumphrey was a low three-star prospect who lacked great size but had serious speed and wiggle coming out. Size was our main concern with him and his college level of competition will be the main concern for NFL scouts as he has put up some big numbers against some very poor teams. However, he's the kind of guy I could see killing it at the combine and he has the speed that will be coveted in the NFL.