Midseason NFL Draft outlook: Quarterback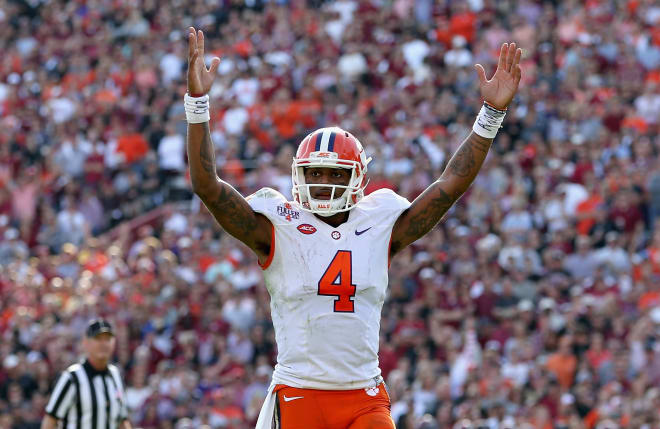 Recruiting: Watson committed to Clemson about a year before National Signing Day and he stuck with the Tigers despite pressure from many programs including Ohio State, Auburn, LSU, USC, Oregon and Georgia.
Stats: Watson is completing about 61 percent of his passes for 1,302 yards with 18 touchdowns and seven interceptions for the undefeated Tigers. He's second on the team with 239 rushing yards.
Farrell's take: Watson was a five-star dual-threat out of high school and we were the only site to give him that fifth star. We loved his run-pass ability in high school, obviously based on his ranking, and he has grown into an excellent decision-maker and arguably the most dangerous weapon in college football. His character really struck me when he was in high school and it's one of the reasons he'll be coveted as the top quarterback in the draft. He's still one of the highest character kids I've ever scouted, he's a leader, he can make all the throws and keep the play alive and he's blossomed into everything we expected so far.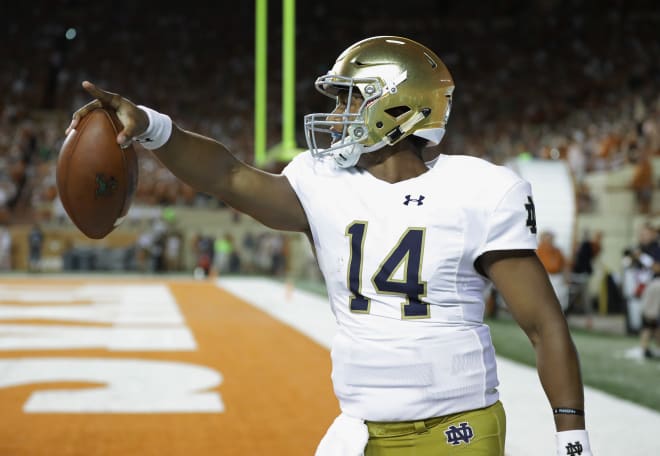 Recruiting: Less than 48 hours after visiting Notre Dame and landing his offer, Kizer committed to the Irish. Prior to that offer, Kizer had Tennessee, LSU and Alabama as his three favorites and was also keeping a close eye on whether Ohio State would offer as well.
Stats: Through six games, although one was in a torrential downpour this past Saturday, Kizer is completing about 59 percent of his passes for 1,621 yards with 14 touchdowns and five picks. He also has 202 rushing yards and six rushing TDs.
Farrell's take: Kizer was big and athletic coming out of high school but also very raw, which is why he was a four-star but didn't make our Rivals250. Amazingly, he never did receive an offer from the in-state Buckeyes as he was clearly a work in progress out of high school, sometimes throwing a perfect ball and other times wobbling it down the field. However, he could run, he stood in the pocket and handled pressure and certainly won his share of games in high school. He was also a hoops standout and played baseball at a high level, so the focus on football wasn't year-round like some others. He was a big boom-or-bust guy to us out of high school and now he's proven to be a boom guy that the NFL scouts love.

Recruiting: Kaaya committed to Miami in May before his senior season but a late push by Boise State made things interesting. UCLA and USC also stayed involved for a long time, but in the end it was a two-horse race for Kaaya between the Hurricanes and the Broncos.
Stats: Kaaya has completed 64.6 percent of his passes for 1,149 yards with 10 touchdowns and four interceptions.
Farrell's take: Kaaya made our Rivals250 and was No. 8 at the pro-style position in 2014, but what has really helped him has been his ability to develop under fire. There are many reasons to compare Kaaya to last year's No. 1, Jared Goff, out of high school as both hailed from California, had tall frames that needed filling out quite a bit and were smart decision-makers. And like Goff, Kaaya started as a freshman in college and has taken his lumps. I have never been as high on him as others, whether it was out of high school or now in college, but he's still one of the better pro-style options in this draft.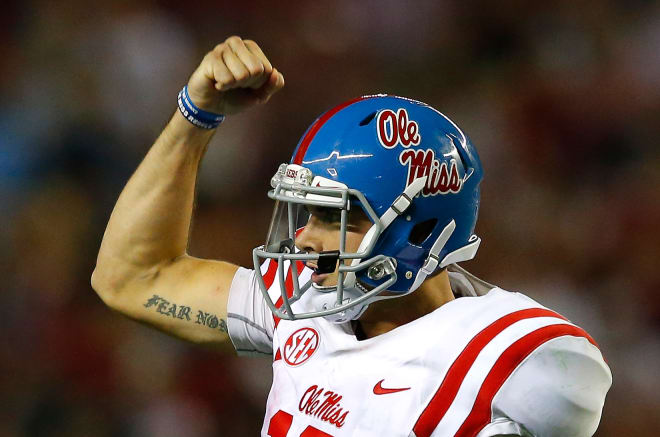 Recruiting: Kelly committed to Clemson over Alabama, Michigan State, Florida State, Purdue and others. In April 2014, Kelly was dismissed from Clemson and later that same year he was arrested following an altercation outside a Buffalo nightclub. He transferred to East Mississippi C.C. and then to Ole Miss.
Stats: Kelly is completing just more than 66 percent of his passes for 1,596 yards with 13 touchdowns and four interceptions. He's also rushed for 124 yards and a score.
Farrell's take: Kelly has been a tough evaluation at two spots, out of high school and then out of JUCO, because he's had so many different off-field issues and that continued this weekend as he went out on the field at a brawl during his brother's high school game. His play on the field, to go along with his size, mobility and accuracy, not to mention those bloodlines, make him a potentially special signal-caller, and he has shown a lot of that the last couple of years. His on-field skill has never been questioned beyond the chances he takes with the ball, something he has always done with that big arm and gunslinger attitude. He would have been ranked higher out of high school and JUCO without the other issues. Kelly might fall even farther on this list for us and for scouts as the off-field questions mount, but he's clearly a very talented quarterback.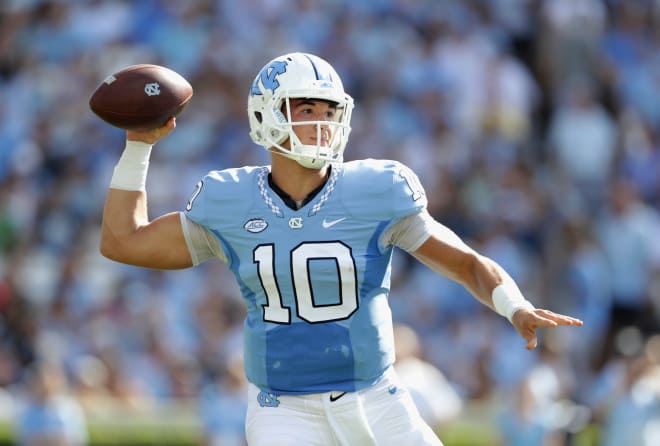 Recruiting: Shortly after a visit to North Carolina in the spring before his senior season, Trubisky committed to the Tar Heels over Tennessee, Michigan State, Ohio State, Cincinnati, Minnesota, Northwestern and others.
Stats: Trubisky is completing 70 percent of his passes for 1,769 yards with 13 touchdowns and two picks. He's also rushed for four TDs.
Farrell's Take: Trubisky's high school career was epic as he was Mr. Football for Ohio and passed for more than 9,000 career yards. As a mid-range three-star quarterback, we took a lot of abuse from North Carolina fans who felt his high school numbers should have translated to a higher ranking. As a big dual-threat, he could also move around, extend the play and gain yardage when he tucked and ran. He has proven this season after finally getting the chance to start that he's smart with the ball and those high school accolades should not have been ignored. He's emerging as a riser on this list despite a poor game in the downpour this past weekend against Virginia Tech.

TWO TO WATCH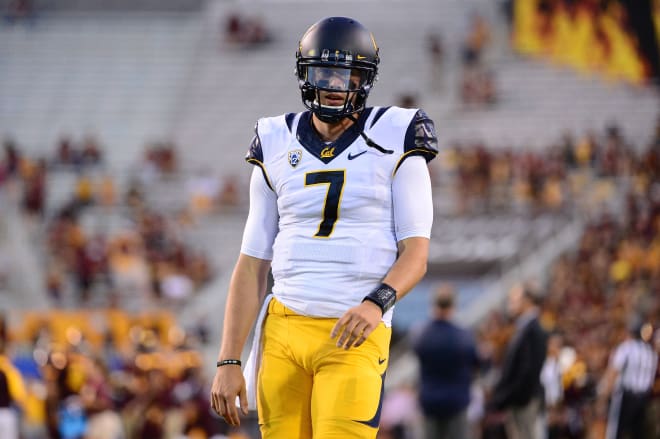 Recruiting: Webb originally committed to Texas Tech out of high school over offers from Indiana, Iowa, TCU, UTSA and Utah State. In January, Webb announced he would be a graduate transfer to Colorado but changed his mind and by the spring was headed to Cal.
Stats: Webb, who has also rushed for three scores, is completing 60.8 percent of his passes for 2,256 yards with 22 touchdowns and seven interceptions this season.
Farrell's take: I'm kicking myself a bit when I look back on Webb's high three-star ranking because I remember liking him better than that and I thought he was a great fit for a wide open, quick-decision offense. I felt that offense would be at Texas Tech but he's emerged at Cal instead. He was a lanky, awkward-looking quarterback with a good arm out of high school and after many trials and tribulations, he's finally emerging as a NFL target for scouts.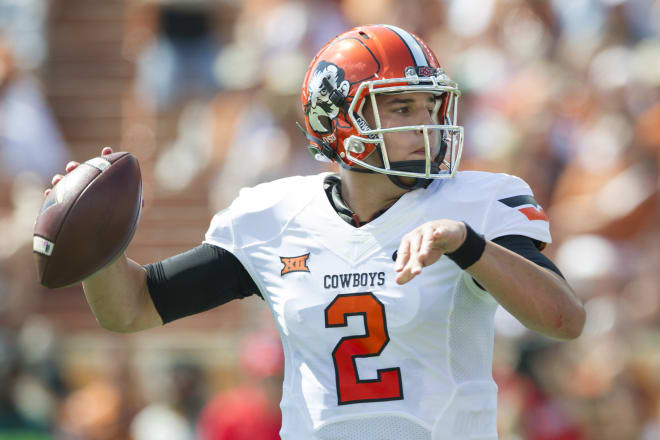 Recruiting: In the summer before his senior season, Rudolph committed to Oklahoma State over LSU, Virginia Tech and many others.
Stats: Rudolph is completing about 62 percent of his passes for 2,039 yards with 13 touchdowns and two picks. He's also rushed for one TD.
Farrell's take: Rudolph, a four-star coming out of high school, was a huge kid with a live arm who showed excellent accuracy for a signal-caller who could be tempted to just fire the ball on every throw. He chose the right offense because he's a quick decision-maker who is made for a spread, throwing offense where he can put up huge numbers. He's rising on this list as well and I could see him pushing toward the top.