Michel planning UGA official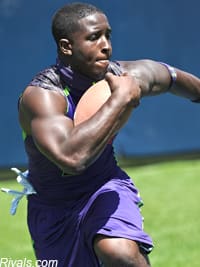 "I'm looking for the best and for them to come out on top," noted Michel. "They are going to do what they did last year, probably better. I'm hoping for great things."
Michel said he hasn't talked to many of the recruits for the Class of 2014, but he is planning to hit up a few guys.
Is UGA going to be his only official visit? Michel quickly replied, "Georgia is going to be the only one."
"Coach McClendon is a great dude," remarked Michel. "Our relationship is great. We talk a lot and we talk about anything."
Michel isn't talking to any other schools and will be in Athens either September 7 or 28 depending on his schedule.
[rl]