Miami is winner for four-star QB Jake Garcia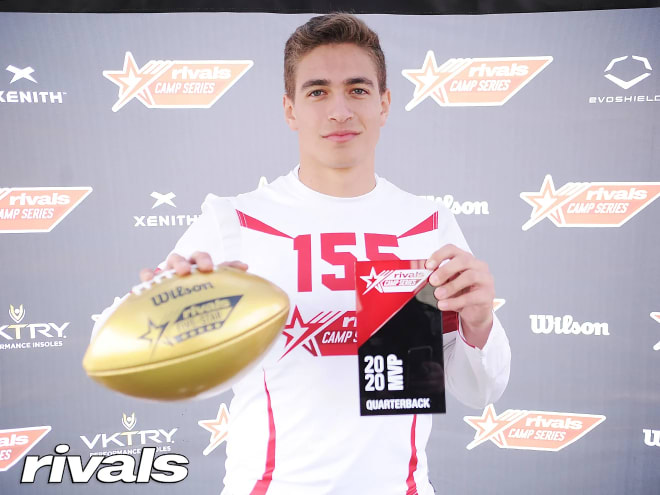 THE SITUATION: Jake Garcia was committed to USC for more than a year and it looked like he was going to stick with the Trojans even after they took a second quarterback in four-star Miller Moss. But when USC started going after a third quarterback in this class - mainly four-star Jaxson Dart - Garcia said that was enough and he decided to back off his pledge. Throughout his recruitment, the four-star was intrigued by Miami, he had already visited the school and the Hurricanes became a frontrunner to land his pledge. Florida State, Arkansas and others pursued the California native who finished out his senior season at Loganville (Ga.) Grayson but Miami had a major lead late in his recruitment and landed his signature.
WHY IT'S BIG FOR MIAMI: Garcia is one of the most talented quarterbacks in the 2021 class, he has the ability to step in right away for the Hurricanes and win the starting job and he has the confidence and self-assurance to be a leader in the locker room from early in his career. Plus, only a few weeks ago this was not expected. If USC only took two quarterbacks this recruiting cycle, Garcia was almost definitely sticking with his pledge. So for Garcia to fall in the lap of Miami this late in the process when it wasn't necessarily a flip from another school could pay off huge for the Hurricanes down the road.
WHO IT HURTS THE MOST: Florida State needs a lot of help on the offensive side of the ball and could have used a talented quarterback like Garcia especially since he already has such a strong relationship with assistant coach Kenny Dillingham. Seeing Garcia in the SEC playing alongside Treylon Burks at Arkansas would have been interesting. But this does hurt USC the most because Garcia had been committed for so long, the Trojans need depth at the position and the high four-star has all the talent to win the starting job once Kedon Slovis' career is finished.
PLAYER BREAKDOWN: Garcia has bounced around to different high schools throughout the last few years but there were some circumstances outside of his control at the programs in California and then he left to play his senior year in Georgia because California was not having a fall season. Garcia is a smooth operator with a live arm who prefers to be a pocket passer but he has the athleticism to throw on the run and escape pressure to get yards with his feet. Miami should have playmakers at receiver and Garcia is talented enough to get them the ball, move the Hurricanes down the field and make Miami's offense even more potent.