Martell's father: Hiring of Mazzone led to son's decommitment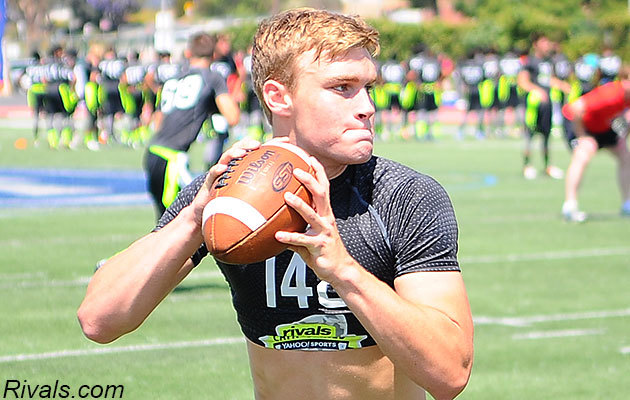 Tate Martell was committed to Texas A&M. He was recruiting other top prospects to build the Aggies' future team.
Everything looked great – and settled.
But when Texas A&M hired offensive coordinator Noel Mazzone away from UCLA in January, Martell's father, Al Martell, said there was a significant lack of communication, even on multiple visits the family took to College Station.
It was a major reason why the Las Vegas Bishop Gorman four-star quarterback decided to decommit on Wednesday night.
"Tate ran a good campaign with them and found a love affair really quick," Al Martell said. "Everybody was really comfortable with it. I was comfortable with it up until shortly after the Mazzone arrival.
"We were there at the end of January and again in February and then a third time in March after the Ohio State visit. Just making the trips and through it all, I try to keep my opinions and feelings what I see as a parent when we're on those trips, but it was different."
The top-rated dual-threat quarterback in this class, Martell continues to have a solid relationship with A&M coach Kevin Sumlin. Al Martell said his son and Sumlin talked for about 30 minutes on Wednesday night about backing off his pledge. Sumlin and the Martells remain close.
However, as Al Martell says, the relationship with Mazzone never got kickstarted and it had become a major concern.
"It was different with Mazzone with the whole communication," Al Martell said. "Mazzone had been there two weeks for our visit in January, he had been there maybe all of 10 days, so I get it. If the guy didn't want to talk a whole lot, he's still feeling out his job and his co-workers and his staff and where he fits in.
"I get that but when you go out a month later, for two days on that trip, didn't talk to him once and then when we were there in March for their scrimmage, again, we were there for four days and not once did Mazzone ever talk, and I was five feet from him. Not a handshake, not anything."
For his part, Mazzone is not allowed to talk about recruits until National Signing Day so his side of the story cannot be told at this point.
The Martell family had other concerns, too. Texas A&M had offered other quarterbacks including four-star Jack Sears from San Clemente, Calif., and then-Oregon pledge Ryan Kelley out of Chandler (Ariz.) Basha – a sign to Al Martell that maybe his son was not a top priority to Mazzone.
Both quarterbacks are well over 6 foot, while Martell is 5-foot-11. Al Martell saw that as another possible reason why Mazzone was not exactly welcoming during their trips to campus.
"In his defense, it's nothing personal, I don't think (Mazzone) dislikes Tate," Al Martell said. "In his 35-year coaching career, I don't think he's coached anybody under 6-2. That's a concern from a parent's standpoint. It would certainly be nice to have a little wherewithal or has had a little success with a quarterback who might only hit 6-foot.
"The guy has to believe in him. In Mazzone's defense maybe that's where it kind of stems from because everybody he's offered, even the kids a couple weeks ago, 6-2 and 6-4. They're your more typical, taller quarterbacks."
So over a week of conversations in the Martell household the decision was finalized to back off the commitment. According to Al Martell, there was an open dialogue, many aspects discussed, and finally everyone came to terms with the choice to open up the recruitment.
"We had a good, long talk this week almost every night and that's when I shared my opinion of, 'Tate, isn't it a little odd when you were there for two days on one trip and three days on another and your coach wouldn't want to say, 'Hey what's up, how you doing, let's talk or get together?' " Al Martell said.
"It's a first wherever we've gone. A lot of times when we go someplace it's, 'Oh yeah, come over to my office. The two of you or the whole family let's talk, let's chew it up, let's get to know each other.' I've literally went seven days of being there with Mazzone as the OC (and) I've talked to him for five minutes."
Wednesday night was difficult. Martell, rated No. 22 overall, called Sumlin to explain his decision. Al Martell said Sumlin was courteous and understanding, appreciated by the family for sure.
But later in the evening, Texas A&M wide receivers coach Aaron Moorehead went on a Twitter rant about lack of loyalty, lack of trust, lack of leadership and how "this generation flip flops like it's nothing. My dad would have whipped my ass."
On Thursday morning, Moorehead issued an apology. Mannie Netherly had already de-committed from A&M and Tyjon Lindsey, who used to live with the Martells, said he would no longer consider the Aggies. Both are four-star receivers.
"A lot of the fire back and a lot of the things that were said, (Tate) got kind of bummed," Al Martell said. "(I said) 'Turn it off, leave it alone and just do your homework.' "
As for where Martell goes from here, there are plenty of avenues, but Al Martell said nothing will be rushed.
The four-star dual-threat quarterback has an exceptional relationship with Cal offensive coordinator/quarterbacks coach Jake Spavital, formerly of Texas A&M. Kelley de-committed from Oregon this week and the Ducks might be an option, seemingly fitting Martell's dual-threat abilities.
The Las Vegas Gorman standout took an unofficial visit to Ohio State recently and seemed to absolutely love the trip to Columbus. It is also a top school for Lindsey as the two remain close. Al Martell said even Texas A&M isn't completely out of it but the concerns over Sumlin's future and Mazzone's interest level could be roadblocks. Many programs could be getting more involved soon.
"There is still another college season and there is so much change," Al Martell said. "There are so many variables."
Looking back, Al Martell was not originally sold on the Texas A&M commitment anyway. His four-star son was regrouping after backing off his Washington pledge (which he made going into eighth grade) and he wanted his son to take his time and settle down.
But that was not happening and Al Martell said he thought for the good of Martell's junior season and his own mindset that getting a pledge to Texas A&M out of the way might have been for the best.
"I wasn't all for the commit to A&M," Al Martell said. "He took one trip over the summer and said, 'I love it.' I said, 'OK, you just de-committed seven months ago and we've only been to two schools and now you love it.' You look at the timing and it was 10 days before the first regular season game of his junior year and he's going cuckoo with the process.
"He just wasn't settling down and focusing on the task at hand, which was his junior season. If that (commitment) was going to do it, fine, do it and let's put it behind you. He can put his mind at rest and move on and he did.
"Tate is very loyal when it comes to that and he wants to start building for the future immediately and it's like, 'Tate, another lesson here, just relax. When the timing is right, when everything is right, when you can foresee it in the future.' "