Making the case: Wolverines, Dawgs or Gators for Milton?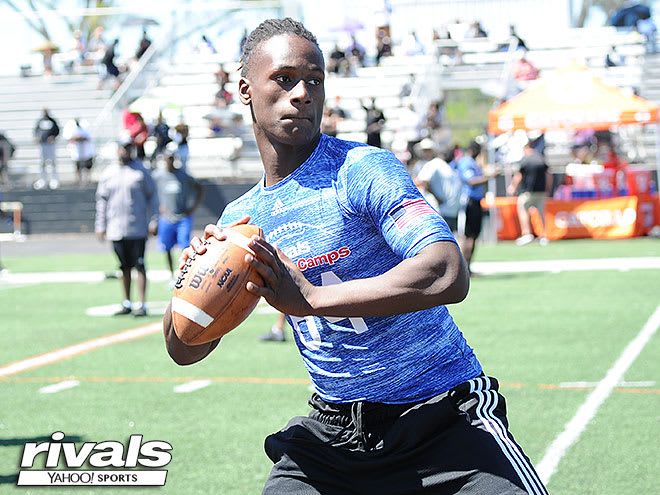 Now that the Class of 2018 is officially on the clock, several of the nation's top players have begun to cut their lists in advance of a commitment announcement.
Today, experts from the Rivals.com network examine where Rivals250 quarterback Joe Milton might end up playing his college football. The candidates are Michigan, Georgia and Florida.
MORE MAKING THE CASE: Taron Vincent | Brendan Radley-Hiles | Jamal Curie-Elliott
The Situation: Milton burst onto the scene this spring, adding several major offers and moving up the Rivals rankings. Florida was the offer he coveted most, but even after the Gators stepped up to the plate he still chose to make visits to both Georgia and Michigan. Following his trip to Ann Arbor he said he could decide as soon as next week, so where will he end up? We asked our team experts to state the case for their respective programs and let National Recruiting Director Mike Farrell issue a verdict.
MICHIGAN WOLVERINES
"Milton is a high-upside kid with all of the arm talent, size and overall athleticism in the world, but he's still raw. Who better to mold a quarterback with those attributes than Jim Harbaugh? Milton attended Michigan's spring game in mid-April and seemed to be blown away. His bond with passing game coordinator Pep Hamilton may be the deciding factor as Milton says it 'can't be broken.' He's also already looking at the big picture in terms of making it to the NFL and realizes that every coach he'd be working with at U-M has an extensive NFL background. Florida has been looming for a while but Michigan makes much more sense and it seems like Milton knows it." – Brandon Brown, TheWolverine.com
FLORIDA GATORS
"Florida's case is straight and to the point, they have not had a successful quarterback since Tim Tebow left in 2009. A quarterback from a Gator-friendly area in Orlando should be chomping at the bit to return Florida to national prominence. Milton grew up a fan of Florida, has visited Gainesville multiple times, and had two Florida coaches come by his school Tuesday. With all that said, it seems like the Florida staff is trying to keep Milton warm, as they have all their chips in on Justin Fields currently. A commitment this early from Milton likely favors Michigan." – Justin Johnson, InsideTheGators.com

GEORGIA BULLDOGS
"Given Milton's homebase, landing in Athens seems like it might be a bit of a stretch, but the four-star quarterback has been a frequent enough visitor to raise eyebrows. That the Rivals250 signal caller isn't a complete product yet makes him all the more intriguing as an option to come to Georgia, wait his turn and develop. He'd be enough of a change of pace for the Bulldogs to create a package that could suit him early, and his raw tools could be honed into a quick competitor for Jake Fromm. If he believes Jim Chaney can truly shape his game, it's not hard to see why he could end up in red and black." – Jake Reuse, UGASports.com
THE VERDICT
"I'm going to go with Michigan in what many might consider a bit of a surprise. I think he had a great relationship with Pep Hamilton, he believes that Jim Harbaugh can make him a better quarterback and take him to the next level and that he can win a national title in Ann Arbor. The depth chart at Michigan is similar to that at Florida and I just have a feeling the Wolverines might have closed him on his visit. Florida and Georgia are great options for him as well although I think following two five-star quarterbacks at Georgia is a deterrent somewhat. In the end I'll say he chooses Michigan." – Farrell