Making the Case: Offense or defense for Travis Hunter?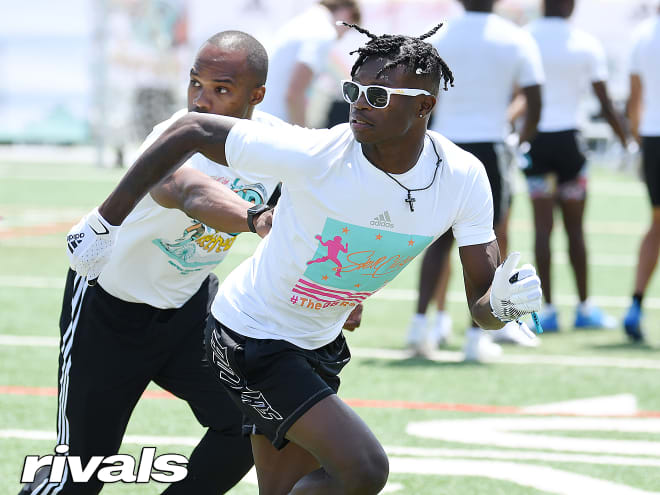 The highly anticipated 2022 rankings update is ready for the upcoming week and there were several debates at each position. Numerous players moved up and down the rankings after analysts from around the Rivals.com network were once again able to see prospects perform in-person at a variety of events.
In a preview of what is to come in the rankings, National Recruiting Director Adam Gorney and National Recruiting Analyst/Rankings Director Adam Friedman take a look at Travis Hunter, one of the best and most divisive prospects in this class. Hunter, who is listed as an athlete, can excel on either side of the ball. In today's Making The Case, the Rivals analysts make an argument for where they think Hunter should line up at the next level.
*****
MORE: NC State lands QB MJ Morris | Ohio State extends offer to four-star QB Eli Holstein | Recruiting Rumor Mill
*****
FRIEDMAN'S TAKE: OFFENSE  
Hunter is one of the more outstanding athletes we've seen in a little while. He dazzles on both sides of the ball but it's his plays on offense that really move the needle for me. The Florida State commit doesn't have a problem getting open against anybody, whether he's facing double or triple coverage.
Hunter's ball skills are ridiculous, too. At multiple events this year we've seen him make one-handed catches look routine and he has no problem playing physically. Hunter can beat defensive backs by just bullying them, but he has the speed and route-running savvy to outrun the coverage. He also has great leaping ability and length in his arms, so he wins the majority of jump ball attempts.
There's no doubt Hunter is a shutdown defender, but offenses need to score in bunches right now and he is too dynamic a playmaker to keep the ball out of his hands.
*****
GORNEY'S TAKE: DEFENSE
The best athletes are supposed to play defense - guys like Derwin James and Adoree' Jackson come to mind - and that's why Hunter should play cornerback at Florida State, even though he would be incredibly useful on offense as well.
The five-star prospect is a dynamic athlete who plays on the highest level that we've seen during 20 years of Rivals rankings. He's bouncy, he covers ground incredibly well, he has great length and he can use his physical ability to lock up receivers all over the field. Although he's lean, Hunter has strength to jam receivers, run with them and then compete for every ball thrown. He's so fast that closing speed is no problem at all.
The Seminoles' offense could definitely use Hunter all over the field - and there will be situations where his strengths could be utilized. But he's even better at cornerback, and that's where he will shine the most.