Making the Case: Ga'Quincy McKinstry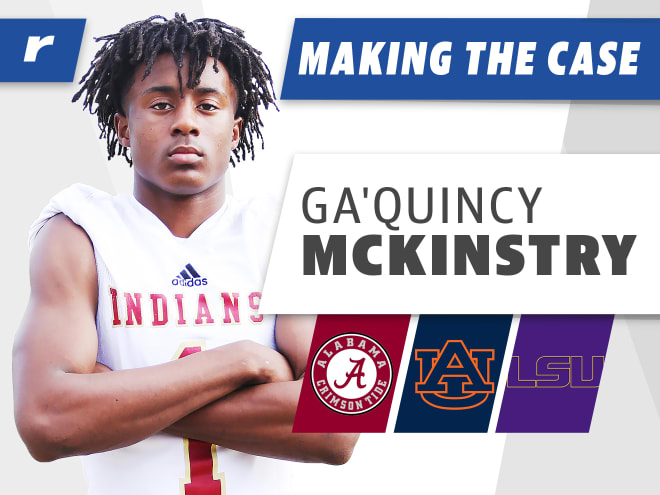 Many of the top 2021 prospects have been committed for some time, but there are some big names still out there that have decisions to make. Ga'Quincy McKinstry is one of those.
Today, experts from the Rivals.com network examine where McKinstry might end up playing his college football. The candidates are Alabama, Auburn and LSU.

THE SITUATION
McKinstry is the No. 1 player in Alabama and the No. 51 player in the country. He has well over two dozen offers, and schools have been jockeying to land his commitment for more than a year. Clemson and Georgia were once in his top five, but the Tigers and Bulldogs have been eliminated. With a commitment date of Oct. 25 approaching fast, McKinstry, known by most close to him as Kool-aid, is focused on SEC powers. With a decision coming into focus we asked our team experts to state the case for their respective programs and let National Recruiting Director Mike Farrell issue a verdict.
Alabama
"'Kool-Aid' has kept everyone guessing throughout his recruitment. Alabama was considered by most as the early favorite. There was a lot of talk regarding LSU during the summer months. Auburn was heavily considered the leader in August/September.

"The momentum seems to have shifted back to the original favorite as Alabama has continued to press hard for the state's top player. Kool-Aid has a very strong relationship with Alabama cornerbacks coach, Karl Scott, along with Nick Saban. The proximity to home, a chance to compete for championships and Alabama's strong reputation for developing elite defensive backs should be enough for the Crimson Tide to pull the victory for the highly touted recruit." — Andrew Bone, BamaInsider.com
Auburn
"Auburn has done a good job developing relationships with McKinstry and his family. It offered him early and strong bonds were able to be developed. Gus Malzahn has been heavily involved in McKinstry's recruitment. So has Bo Nix, McKinstry's friend and former high school teammate.

"And then there's Bruce Pearl. Auburn's basketball coach has increased his recruitment of McKinstry, who intends to play both sports in college. Auburn has offered McKinstry the chance to do so, but so has Alabama. Auburn has made a good run at the state's top recruit, but again, so has Alabama. It's never easy to sway the state's No. 1 player from the Tide, and McKinstry is no exception." — Jeffrey Lee, AuburnSports.com
LSU
"McKinstry, one of the top corners in the 2021 class, has been an interesting recruitment to follow if you're a fan of Alabama, Auburn or LSU.
"Those three schools made the cut as his final choices and at varies times throughout his process each school was believed to be the leader. As far as the nation's No. 2 CB and LSU, well, LSU cornerbacks coach Corey Raymond has been building that relationship for years now. And if McKinstry were to pick the Tigers of Baton Rouge, Raymond would be a big reason why.

"However, that seems like a long shot at this time. All of the chatter has been about Alabama recently. This one seems like an in-state battle with LSU running third." — Julie Boudwin, TigerDetails.com
THE VERDICT
"While many thought this was trending Auburn for a long time, I'm going with Alabama because of their tradition of defensive backs in the league and how much Saban covets him. Usually what Saban wants at DB is what he gets." — National Recruiting Director Mike Farrell