Making the Case: Brandon Smith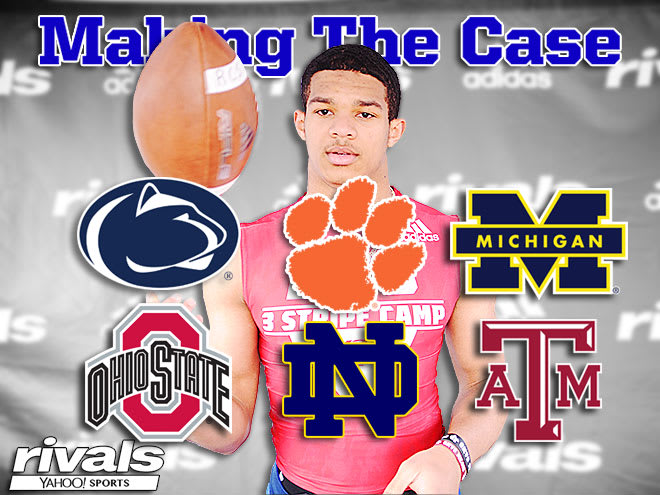 THE SITUATION  
Smith's rise as a prospect hit another gear after the 2017 Rivals 3 Stripe Camp presented by adidas in Charlotte. Since then he has taken visits to schools all over the country. While Smith never really announced a short list, there are a half-dozen programs that have emerged as the teams most likely to land his commitment on Monday.
CLEMSON 
"The odds appear stacked against Smith choosing Clemson, as his last visit came in late January and he has been to other suitors more prominently mentioned in his recruitment multiple times since.

"So the Tigers' hope would be built upon little more than this: Smith's efforts to control his recruiting narrative and mask his intentions were more effective than people thought. Defensive coordinator Brent Venables has shown Smith to be a priority, as the Tigers have at least seven linebackers coming off the books in the next two years. Clemson has scored a few big recruits in recent cycles in which the Tigers slid under the radar before getting them. Still, Clemson's chances look slim." – Paul Strelow, TigerIllustrated.com

MICHIGAN 
"Michigan is recruiting Smith as a linebacker, and it just happens to have one of most linebacker-friendly defensive units in the country under Don Brown. Undersized missile Devin Bush looks like a potential first-round draft pick in next year's draft because of Brown's scheme, and three-star athlete Khaleke Hudson has been used as a blitzing machine and is starting to find his way onto draft boards as well. Brown, along with young linebackers coach Al Washington, really sold Smith on his role in UM's dominant defense and Smith loves the idea of how he'd be used.
"Smith named Michigan, Ohio State and Penn State as likely official visit destinations after already taking one to Texas A&M, indicating that his interest in the Wolverines is real. He also said that Michigan is putting a ton of effort into recruiting him and because of that, he likes the Wolverines a lot." – Brandon Brown, TheWolverine.com

NOTRE DAME 
"Smith has been to Notre Dame multiple times since last summer, including most recently in early April for a spring practice. The Irish impressed Smith during both trips, and Smith has built a strong relationship with defensive coordinator and linebackers coach Clark Lea throughout. Lea has also stopped by Louisa County several times during the process to continue showing Smith he is a top priority for the Irish staff.
"The Rivals100 linebacker is one of Notre Dame's top targets this cycle defensively to follow up a talented linebacker group signed in 2018, one that included three Rivals250 prospects in Jack Lamb, Bo Bauer and Shayne Simon. Will the Irish's efforts be enough to add Smith? That remains to be seen. The momentum is not with the Irish at this point, however.
"Smith is the top target for Notre Dame at linebacker this class, but the Irish also sit in a good position for Rivals250 linebacker Osita Ekwonu and three-stars Nick Henrich of Nebraska and Spencer Lytle of California. Adding Smith would be a big win for the Irish on the recruiting trail, but the linebacker position appears to still be in good shape moving forward if Smith does not head to South Bend." – Corey Bodden, BlueandGold.com

OHIO STATE
"Ohio State has made Smith a priority over the past year, and has done so during a cycle in which the linebacker position isn't a very big need with only one senior on the roster at the position.

"Smith has made three unofficial visits to Columbus and has built good relationships with position coach Bill Davis and head coach Urban Meyer. The number of unofficial visits certainly seems to indicate serious interest from Smith, and Ohio State has prioritized him as much as any player at that position. Ultimately though, the timing looks good for Penn State, as Ohio State was looking to get an official visit early in the fall. With the timeline getting moved up, it would seem to favor the Nittany Lions on the 21st." – Marc Givler, BuckeyeGrove.com

PENN STATE 
"Penn State hosted Smith for the first time in March 2017. He's taken four additional visits to University Park since then, which is more than any other school. Right from the start, Smith and his family built a strong relationship with James Franklin and his staff, and that's only grown stronger over the years. He's also a great fit from an academic and character perspective. I expect Smith to end up a Nittany Lion." – Ryan Snyder, BlueWhiteIllustrated.com

  TEXAS A&M  
"The reason Smith should choose the Aggies is quite simple: He can read a depth chart. A&M runs a 4-2-5 scheme (with another linebacker usually serving as a rover), and they have redshirt senior Otaro Alaka and junior Tyrel Dodson handling the two linebacker slots. Behind them are budding sophomore star Anthony Hines and redshirt freshman Santino Marchiol. And that's it. Smith can come in and play immediately at A&M, and be part of what is again becoming a pretty formidable defense." – Mark Passwaters, AggieYell.com

  THE VERDICT  
"I'm going with Penn State for a few reasons. It's close enough to home for his family to see him play, he likes the coaches and the way he fits into the defense and he has an overall feeling of home there." – Mike Farrell, Rivals.com National Recruiting Director