LSU, Alabama going head-to-head for these 15 prospects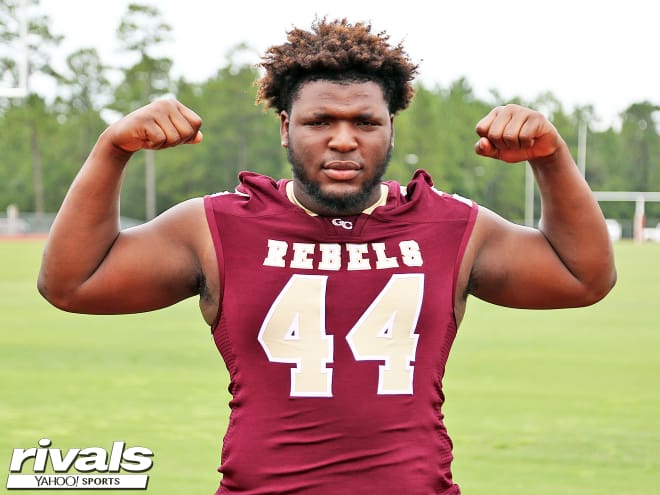 Boutte has been committed to LSU for more than a year and was one of the early priority targets for this Tigers' staff. I'm told passing-game coordinator Joe Brady is obsessed with Boutte's speed and the different element he would add to LSU's passing attack.

In October, Boutte told Rivals he was 50-50 between LSU and Alabama, and had not yet watched Alabama play a single game. That changed when the Rivals100 receiver took his official visit to Tuscaloosa on Oct. 26 and is now expected back in town for the hyped LSU-Alabama contest. Sources in Boutte's camp suggest he's solid to the Tigers, but he insists he's split and won't make a decision until February. - Texas & Louisiana analyst Sam Spiegelman
There has been so much discussion about Burch staying closer to home with Clemson and Georgia being the favorites, but the five-star defensive end doesn't do many interviews, so a lot of that chatter is complete speculation. Burch recently took a visit to LSU and it was a semi-surprise that went really well, and so the Tigers are definitely a contender now. He will be at the LSU-Alabama game this weekend and the feeling is that the Crimson Tide are moving up as well. - National recruiting analyst Adam Gorney
Crawford, at one point, has been committed to Baylor and then Arkansas. He's decommitted twice and is now one of the top uncommitted offensive tackles in the country. That position remains one of need for both LSU and Alabama.

Crawford has frequented Baton Rouge on multiple occasions since June and Alabama put an offer on the table as well. Alabama is doing its research on Crawford and the interest is mutual. You have to think the Tigers might be the team to watch here, but don't sleep on Alabama getting heavily involved late down the stretch. - Spiegelman
Eaton is one of the recent high-profile Texas decommitments that is garnering attention from college football bluebloods all over the country. He officially visited Oklahoma in October and has officials set for both LSU and Alabama over the next month or so.

The four-star is taking close looks at both of these SEC West schools, largely because of their proven track record of developing cornerbacks and putting them into the league. Corey Raymond and Karl Scott are going head-to-head for Eaton, but the Sooners might be their biggest competition. Eaton expects to make his decision in February. - Spiegelman
Where will the nation's top running back wind up? It may depend on the day or time you asked. Over the past six months, Georgia, Alabama, LSU and Texas A&M have all had some momentum with Evans. At one point, Georgia was in line to nab his commitment. That never transpired and again, it's seemingly boiling down to an LSU-Alabama battle for Evans.

Evans was in Tuscaloosa for the Tennessee game, then officially visited LSU for the Auburn tilt. The Tigers, who have yet to pin down a running back in their top-ranked 2020 class, are trending for Evans, but as we have seen time and time again, that momentum could easily shift again by the end of November. - Spiegelman
Gibbs is a running back in Georgia that has taken visits to Alabama and LSU recently, and both schools could be in line to receive official visits. The soon-to-be four-star running back is committed to Georgia Tech, so the Crimson Tide and Tigers are working to take him away from an in-state school. Both schools still have Evans high on their board too, so that is a factor in this recruitment. Alabama may have a slight edge over LSU in this race, but this one is far from over. - Southeast analyst Chad Simmons
In one of the most surprising recent commitments, Gilbert picked LSU over Alabama, Clemson, Georgia and others recently and it was a shocking pledge because many people believed he was headed to the Crimson Tide. The five-star is a special prospect who could play in-line or split out and so Alabama is not going to give up recruiting him. It might be tough to flip Gilbert especially since he just made his commitment and LSU's offense is doing so well but Alabama won't give up. - Gorney
LSU was the first to offer Guillory after his freshman year at Alexandria. The rest of the SEC followed suit, including Alabama, and in what has become a trend since Nick Saban took over the Tide, the two SEC West rivals are going head-to-head after a blue-chip defensive lineman from The Boot.

In 2020, Coach O has won these head-to-battles over Jaquelin Roy and Jalen Lee, and the biggest remaining question mark is Guillory. The Rivals250 tackle took his official visits to LSU and Alabama in the summer and has been to Baton Rouge on multiple occasions this fall. He'll choose between the Tigers and Tide on Dec. 20. My gut says LSU, but there's still some time to go. - Spiegelman
Hill is a one-time Alabama commit, and the Crimson Tide are still in pursuit. Both schools are very much in play for one of the top prospects in Mississippi. Hill was in Baton Rouge for the Florida game and he is likely to be in Tuscaloosa this weekend. LSU may have a little more momentum than Alabama at this time, but both could be chasing in-state school Mississippi State. - Simmons
Jackson's recruitment is going to go all the way to February, so this is not close to ending. He has taken his official visit to Alabama and he has visited Tuscaloosa as much, or more than any other school on his list.

He will be back in Tuscaloosa this weekend. He has already visited LSU for a game this season as well. Some may have forgotten that Jackson was committed to LSU early in the process, so he has a strong connection with the Tigers. This race is extremely tight, and both schools will be in this to the end. - Simmons
The five-star receiver has been committed to LSU since late April - and when he made that pledge it did come as a surprise - but Alabama is seriously pushing him and Jarrett has taken a few visits to Tuscaloosa. He was on campus last weekend for his official visit and things reportedly went well as Jarrett sees an opportunity to come in and be next in line after Jerry Jeudy, DeVonta Smith and Henry Ruggs. Jarrett is now only considering Alabama and LSU and he did tell BamaInsider.com that "it ain't over until it's over." - Gorney
McClellan is often forgotten about. That's the case when you've been committed to Oklahoma for two-plus years. While he has never waved from his Sooners pledge, McClellan has remained in contact with several schools, namely LSU and Alabama, who are anxious to add the Rivals100 back to their respective classes.

McClellan will be in Tuscaloosa for an official visit on Nov. 9, and if there's one team that can get him to rethink his Oklahoma commitment, it might be the Crimson Tide. Still, I like Lincoln Riley's chances of holding on here. - Spiegelman
Ricks has been committed to LSU since Christmas and there are no serious signs of cracks in that decision, but the five-star cornerback made big news in the last few days as he figures out his upcoming visits. No longer will the Bradenton (Fla.) IMG Academy standout visit USC as he only focuses on trips to LSU, Alabama and Ohio State. The Buckeyes might actually have the best chance to flip him, but the Crimson Tide are definitely not giving up. Ricks playing alongside Derek Stingley Jr. is a scary thought - but that's if LSU can keep him. - Gorney
Webb will be back in Tuscaloosa this weekend and a decision is likely within the next month. He is expected to sign in December with Alabama and LSU both being finalists. It is clear that out of these two powers, LSU has more momentum in this race. Could this weekend change that? Time will tell, but LSU may be the favorite to land Webb. He took his official visit to Baton Rouge over the summer, he returned for the Florida game and he has really bonded with that staff. Alabama has some ground to make up. - Simmons
Williams was an underclassman in focus out of The Boot a few years ago, collecting more than 40 offers as a sophomore and junior. Now, we're approaching the final stretch of his recruitment. LSU and Alabama are among the four-star safety's finalists along with Tennessee and Kentucky.

Williams has frequented LSU's campus more than any other school over the years and he has relationships with several of the Tigers' 2020 commitments on board. However, Alabama views Williams as one of the big missing links in its 2020 haul. He camped there over the summer and nearly committed in June when he brought his mother to town. Pete Golding is leading the charge here and will have Williams in T-Town for an official visit for LSU-Alabama. A strong visit here could seal the deal for the Tide. - Spiegelman