Lone Star showdown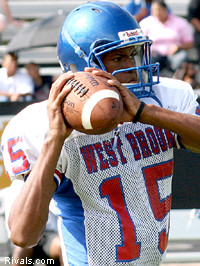 The Lone Star state has never been short of high school football talent. In the past, the NIKE Training Camp has featured those future college and pro stars at the always big event in Texas and this year looks to be no different.
Those quarterbacks already have multiple options in regards to scholarship offers.
Lee has offers in hand from Arizona, Kansas State, Texas A&M, Texas Tech, Nebraska, Oklahoma State, and Wisconsin just to name a few. The in-state schools are currently battling out-of-state teams like the Huskers for his services.
Chaisson has gone from one to many in regards to offer count. Baylor, Indiana, Iowa State, and Tennessee are currently on the table but Texas programs could be getting involved soon.
Dick could be adding more offers soon, but does hold one from SMU. Dodge looks to be just another highly recruited quarterback in the long line at Carroll.
Brooks currently holds offers from Florida, LSU, Oklahoma, Nebraska, Texas A&M, and others. However, he continues to talk about a possible offer from Texas.