Rivals100 Five-Star Challenge: Lamont Wade makes a statement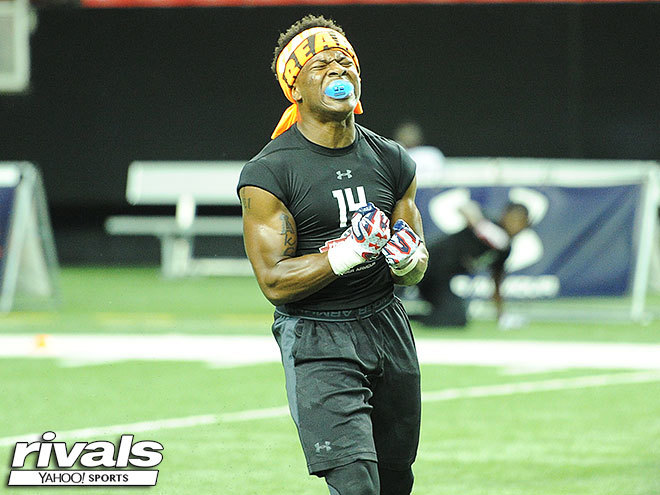 ATLANTA – Aiming to be the nation's top cornerback, five-star Lamont Wade went searching for tips and decided to send a direct message to Levonta Taylor, the Florida State signee who finished atop the position rankings last recruiting cycle.
Taylor offered up his thoughts privately on Twitter and Wade took it to heart.
"I was just thinking in my head that I want to be the best cornerback in the country," Wade said. "I want everybody to know I'm the best cornerback in the country.
"A while back I hit Levonta Taylor up, last year, and one thing he told me was, 'You're going to win some reps and you're going to lose some reps. Just make sure they feel you.' I lost some reps but I won some, too, and I definitely made sure they felt me and that's what it's all about."
The Clairton, Pa., prospect was determined and unrelenting Saturday at the Rivals100 Five-Star Challenge Presented by Under Armour, playing especially well in the evening's 7-on-7 tournament. Wade earned defensive back MVP honors and led his team to the championship.
Clemson commit Hunter Johnson won QB honors. Alabama pledge Najee Harris was the running back MVP. Four-star Tyjon Lindsey took wide receiver MVP. On the offensive line, the MVP was Alabama commit Alex Leatherwood. Top-rated prospect Marvin Wilson was the defensive line MVP, and four-star Jacob Phillips won it at linebacker.
As players wore down after two grueling sessions, Wade seemed to gather more energy. His ankle hurt, his knee hurt and he was cramping, but Wade battled through it all to knock down more passes and shut down his side of the field.
The words of advice from Taylor, the top-rated corner and No. 10 overall in the 2016 class, rang true throughout the evening.
"He was the top dog last year and I wanted to ask him techniques and stuff to really get down, to really be the best," Wade said.
Knocking down passes, stepping in front of balls and making plays over and over again got Wade noticed. So did the neon orange Clairton T-shirt he wrapped around his head like a makeshift headband.
"I have to rep my city wherever I go," Wade said.
He sure did that. After some early struggles in the one-on-one portion of camp, the five-star corner really stepped it up in the second session. He defended small receivers, tall receivers, battled on every pass and showed that quick-twitch athleticism that's just so rare.
"Once he gets in that team competition, Wade comes alive," Rivals.com National Recruiting Director Mike Farrell said. "It was what we saw last year (at the Five-Star Challenge), although he was better in one-on-ones last year. His competitive nature just sort of brings out a different Lamont Wade and he was absolutely all over the field. I had him with double-digit pass breakups and an interception."
A slow start didn't burden Wade. Instead, he used it as motivation to take over in 7-on-7 play.
"I was slipping and falling (in one-on-ones), all types of stuff, busting up my ankle and everything so I just wanted to come out 100 percent and really get after it," Wade said.
"I tweaked everything. I'm honestly hurting right now. I messed my knee up. I messed my ankle up, I'm cramping everywhere, but it's all worth it."
Wade was not done. During the awards ceremony, the Clairton standout worked out a cramp before walking up for his trophy. Later, he helped Rivals staffers turn around signage so more pictures could be taken. In one, he's kissing his award. "This is a big deal," Wade said while walking away.
Family and friends in the Georgia Dome took more pictures from the stands. Wade, shoes off, night done, was smiling, holding trophies and living it up.
Someone shouted, "We're in here."
Wade certainly was. He had a great night, a great showing - and the five-star who's rated second-best at cornerback made an argument on this hot, muggy night in Atlanta that maybe no one is better at his position this year.