La. state ranking loaded with talent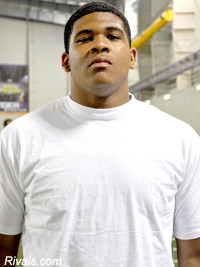 float: right; width: 220px; margin: 6px">
Pick a State
Arizona
Arkansas
California
Connecticut
Delaware
District of Columbia
Georgia
Hawaii
Illinois
Indiana
Iowa
Kansas
Kentucky
Louisiana
Maryland
Massachusetts
Michigan
Mississippi
Missouri
Nebraska
Nevada
New Jersey
North Carolina
Ohio
Oklahoma
Oregon
Pennsylvania
Rocky Mtn. states
Texas
Utah
Wisconsin
The lofty status of Louisiana's top five prospects may be striking to observers around the country but most within the state that follow high school football have been watching this class develop for years now. Even as freshmen, players in the class of 2011 were emerging and showing signs of becoming a special crop of talent. Led by the top state's top five, those signs have materialized in a big way.
"This year is going to be as deep of a year as any we've seen in the state in some time but what's remarkable is the level of talent at the top of the list," said Rivals.com Southeast Recruiting Analyst Barton Simmons. "To have five players that are in legitimate conversation for five-star status in a state the size of Louisiana is just phenomenal. There are probably six or seven players that would normally have a strong case for the state's top player that won't get that title at the end of the day."
"LSU is pushing really hard for Gregory Robinson and there are some out there that think he may even be the best lineman in the state," Simmons said. "They've yet to make a serious push for Ethan Hutson but if that push did come late and they were to add both of those in-state guys to their class, that'd be a hard offensive line class for anyone in the country to top."
[rl]