Isaiah Wilson performs beyond his years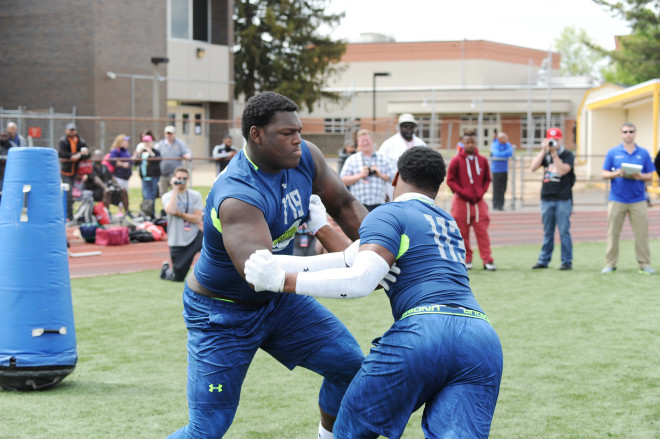 PISCATAWAY, N.J. – Isaiah Wilson grabbed his offensive line MVP plaque with his huge mitts, smiled for some pictures and then overheard some light-hearted heckling from some other campers about him looking 30 years old.
"Who said I was 30?" Wilson asked as the Rivals Camp Series Presented by Under Armour wrapped up. "I'm 17."
One look at the five-star offensive tackle from Brooklyn Poly Prep and that's hard to fathom. Wilson is so massive, so all-consuming, that he has the looks of an NFL starter right now.
He's just… huge.
"He's one of the top 10 most physically impressive tackles I've seen," Rivals.com National Recruiting Director Mike Farrell said.
"He's not as tall as Seantrel Henderson and reminds me more of D.J. Fluker. He's not quite as big as Fluker but similar when it comes to physical presence and looking good coming off the bus."
Walking in to the camp wearing a SpongeBob SquarePants backpack immediately tips anyone off about Wilson's age. Maybe he looks 30 years old but he's still a kid who admitted he was "very impressionable" early in the recruiting process.
Some years later and Wilson has it down pat. The savvy of a New York City kid – no nonsense, all business – the five-star has weeded things down to six schools as Michigan, Alabama, LSU, Georgia, USC and Rutgers have taken the lead in his recruitment.
When pressed whether the Wolverines are the team to beat, Wilson said he has no frontrunner.
Beyond his recruitment, Wilson is mainly focused on dominating everyone who dares test him. He knows other players are gunning for him at every event and the top-rated offensive tackle likes it. For the Poly Prep standout, it's exactly what he's looking for.
"Having a target on my back makes me a lot hungrier," Wilson said. "There are people out there who are like, 'I don't see why he's this big deal.' I have to go out there and show why I'm a big deal.
"Everybody says 'Oh there's the five-star kid,' and sometimes it gets to me so I make the effort for them. I just ball. I just love the game."
Effort is absolutely no issue. Wilson, No. 5 in the class and tops in the New York state rankings, started the day of camp at offensive tackle, played right and left, and swallowed up every defensive end that tried any kind of move on him. Then the five-star moved inside to guard and did the same.
Once again, Wilson put together a stunning performance as he used his size and athleticism to take over.
"He's going to start off at right tackle and he could move to left tackle after a year," Farrell said.
"He could play in the interior but I think he's special enough with his patience, length and footwork to play tackle. It's going to take him a little bit to handle the speed off the edge but he has the athleticism to do it."
Wilson proved that on Saturday at the Rivals Camp. He backed up his ranking, dominated everybody, showed why he's a top-five player in this class. Nobody could do a thing against him.
With that, he grabbed his MVP trophy and Rivals100 Five-Star Challenge invite, his SpongeBob backpack and headed home.