Is SEC already boosting Mizzou, Texas AM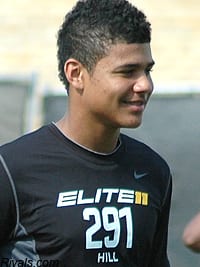 The answer seems obvious.
Membership in the conference that has produced the last six national champions is clearly the reason why each school is recruiting so well, right?
Well, that's certainly part of it. 
But it doesn't quite tell the whole story.
As much as Hill touted Texas A&M's membership in the SEC, he also credited the hiring of Kevin Sumlin as a major reason for his decision. Plenty of other Texas A&M recruits also have said the new coaching staff was every bit as much of a factor in their decision as the possibility of playing in the SEC.
While Texas A&M is benefiting from a coaching change, Missouri is capitalizing on momentum. 
"The talent is deeper in the state of Missouri than I've ever seen," Rivals.com Midlands recruiting analyst Brian Perroni said. "They have a ton of in-state pledges. That's a big thing that's helping them. I'm sure the SEC angle is helping as well, but the in-state talent is the big reason for their high ranking right now."
Texas A&M's top finish ever in the Rivals recruiting rankings was eighth in 2005. Missouri has ranked in the top 25 just twice, including a best-ever 21st-place finish in 2010.
Pinkel cited Missouri's graduation rate and recent success on the field as other factors. Missouri generally ranked at or near the top of the Big 12 in football graduation rates, and the Tigers have won at least eight games each of the last six seasons.
Texas A&M, on the other hand, is coming off a 7-6 season that resulted in the firing of Mike Sherman. That hasn't stopped Sumlin's staff from winning over recruits, even ones who never expected to play for the Aggies.
Wilson originally wanted to play away from his home state and had his eye on the SEC. Then he started thinking about how it would be tough for his mom to see him play if he lived so far away. Texas A&M's move to the SEC provided the best possible scenario, as Wilson would get the chance to face the nation's best competition while his mother would have an easier time watching his games.
But he still might not have picked Texas A&M if Sumlin hadn't taken over the program. Wilson appreciated Sumlin's straightforward approach and liked the idea of playing for him.
"If Coach Sumlin wasn't there, I doubt I would have committed," Wilson said. "And if they weren't in the SEC, I doubt I would have committed."
Other Texas A&M recruits also mentioned the importance of the new coaching staff.
"They obviously have 'SEC' embroidered on everything and it's hanging up everywhere," Gustafson said, "but the coaching staff as a whole didn't really talk about it a whole lot."
A look at the Texas A&M and Missouri classes shows the two schools haven't necessarily expanded their geographic reach since joining the SEC. They're just doing a better job of protecting their base.
Missouri doesn't have a single 2013 commitment from a traditional SEC state, but the move to the SEC has helped the Tigers fare better with in-state recruits.

To take the next step, Missouri probably will need to land some quality players from traditional SEC states. 
But landing most of the nation's top in-state recruits is a pretty nice start.
"There's no question about it," Pinkel said. "Kids now in the state of Missouri, this part of the country and Big Ten country like Illinois, Iowa and Nebraska, those kids have great respect for the SEC. Our location puts them in a position where they have a chance to play in the SEC and get a chance to compete. That's a real positive for us. 
"There's no question in the state of Missouri and the surrounding areas, the SEC has been tremendously positive -- the stability, the winning, all that goes with the SEC and the respect that they have,'' Pinkel said. "We're just getting into the Southeast recruiting. We signed a couple of kids out of Florida [in 2012]. We're going to get into Atlanta, get into south Georgia and things like that. We will eventually put a footprint in there."
Maybe that will happen with Texas A&M as well.
And many of those other recruits are intrigued by the Aggies' coaching change and conference switch.
"Anytime there's a new staff, there's always excitement over the unknown," Perroni said. "New staff. New conference. There's a buzz."
Which of those new elements has proved more beneficial in luring recruits? That's up for debate. 
"I think it's both," Gustafson said. "I know that everybody loves the coaches. Coach Sumlin really put together a great group of guys. Everybody loves the coaches. But also, all the commits committed because of the SEC. Everyone I know that I've talked to, they want to play the best, same as I do.
"I think the combination just sold it for me. I can't imagine a better place for me."

[rl]