Irish Invasion: Several prospects boost stock at ND camp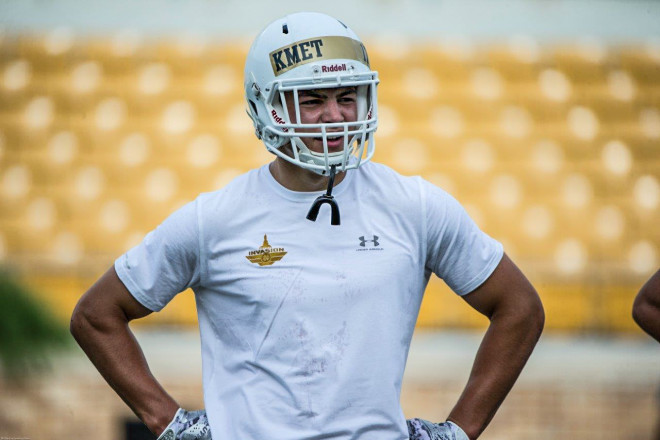 SOUTH BEND, Ind. –- The annual Irish Invasion Camp attracted prospects from as far away as California and Rhode Island, and yielded two commits for Notre Dame. Although lasting less than two hours in total, several prospects used that time to make an impression.
I WAS IMPRESSED BY ...
The progression of four-star tight end Cole Kmet over the last 18 months has been impressive. The Notre Dame commit played his sophomore season at just 6-foot-2 and 200 pounds. By the time last summer rolled around he was north of 6-foot-4 and 220 pounds. Kmet now looks like the 6-foot-6, 240 pounds he has been listed by his school this off-season, and he also may be more explosive than at any point previous that we have scouted him. Physically and athletically, Kmet is developing into a really special tight end prospect and his showing Saturday -– and willingness to compete despite already being committed -– were very impressive.
The other prospect I would put on Kmet's level as far as Saturday's performance was concerned was Hamden (Conn.) Chesire Academy four-star running back C.J. Holmes. A powerfully built back who can run inside as well as outside, Holmes displayed ridiculous ball skills in the one-on-one portion of the camp, even pulling in a one-handed catch where he had to adjust to a poorly thrown ball and still brought it in with a defender on him. He looks and plays like a running back, but Holmes proved that even when he was just running passing routes, he has outstanding playmaking ability.
Two wide receivers who deserve mention because of their performances were Gurnee (Ill.) Warren Township 2018 Micah Jones and Fort Wayne (Ind.) Snider three-star 2017 Mac Hippenhammer. Jones is a tall and lean receiver at 6-foot-5 and 196 pounds who is silky smooth and has no trouble getting separation. Due to his height and frame, many will try to peg him as a future tight end, but do not write him off as a wide receiver yet. Hippenhammer also has dual-position ability, but here we are talking slot or outside. The 6-foot, 170-pound pass catcher was so quick in and out of his cuts and stood out –- even amongst a talented group -– due to his speed. Notre Dame has not offered yet, but Penn State and Wake Forest both did on Sunday.
I WAS SURPRISED BY ...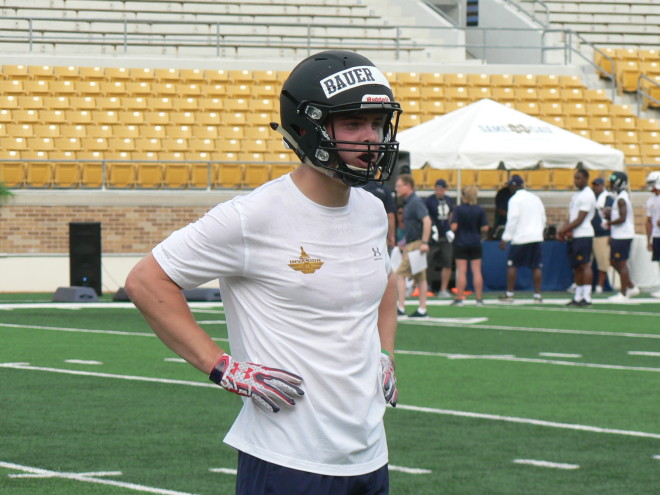 Having seen Erie (Pa.) Cathedral Prep four-star 2018 linebacker Matthew Bauer several times over the last year-plus, he was a guy I targeted for my team at the Rivals100 Five-Star Challenge presented by Under Armour earlier this month. And, it paid off as Bauer came up with several key pass break-ups and an interception in the 7-on-7 contest. Saturday's performance from Bauer, though, was probably the least impressive of all previous times I had seen him. The 6-foot-3, 202-pound linebacker looked a little out of sorts and undisciplined in both drills and competition. Considering the previous times I have covered him and how impressive he has consistently been, I look at Saturday's performance as an anomaly.
I was surprised there were so many positive reviews of the quarterbacks from Saturday night's camp. Granted, with just over an hour of action, I probably keyed in on the top guys a max of 3-4 throws, but my take on the two main guys was this: Avery Davis has plenty of potential, but is raw. I saw Malik Zaire extensively in high school and there are going to be comparisons made there because of similar size and style, but Davis has a long way to go to get to Zaire territory at the same stage. Santa Ana (Calif.) Mater Dei 2019 quarterback JT Daniels, meanwhile, has a very long delivery with a lot of moving parts. That will take some work to get sorted out, but again I only keyed in on each guy a few times, so those are not full evaluations.
While the skill positions looked to be as populated as last year's camp, only nine total linemen ended up working out. Among them were defensive end commit Jonathan MacCollister, Boston College defensive end commit Kwity Paye and state of Illinois defensive ends Josh Maize and Jackson Perkins. Rivals100 offensive tackle Foster Sarell of Washington and Atlanta four-star Andrew Thomas were in attendance, but did not work out.
OTHER NOTES
Wide receiver Jordan Pouncey of Winter Park, Fla., was the first of two commitments coming off the Irish Invasion Camp. He informed head coach Brian Kelly of his decision immediately after the camp ended. Pouncey is a good-sized wide receiver listed at 6-foot-3 and 182 pounds. His route-running was powerful and precise on Saturday and he showed a strong pair of hands.
Indianapolis Cathedral class of 2018 running back Markese Stepp also committed to Notre Dame coming off the Irish Invasion camp. Stepp did not work out Saturday, bit was on the sidelines with teammate Pete Werner, another Fighting Irish commit. We have seen plenty of Stepp over the last year and 6-foot, 205-pound running back's stock has consistently been rising this spring, but he found his fit early in South Bend.
The players watching Saturday's camp from the sidelines made up a pretty talented group. Among those in attendance, but not participating, were five-star Texas linebacker Baron Browning, Detroit defensive backs Ambry Thomas and Jaylen Kelly-Powell, class of 2018 Rivals100 athlete Houston Griffith, and Werner and Isaiah Robertson, a pair of four-star ND commits.