Introducing 2017 stars from the West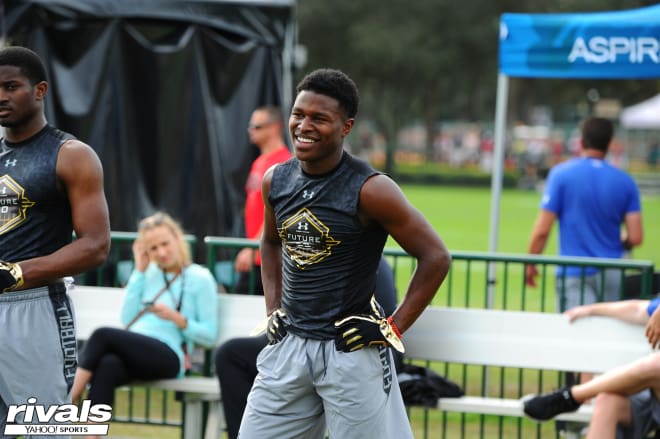 Scouting report: Holmes is rated as the second-best cornerback in the class, and after some outstanding performances this offseason, he is pushing for that No. 1 spot. Holmes is getting bigger and thicker and he's so quick-twitch he can break on any pass to knock it down. The five-star is also much more physical near the line of scrimmage and no receiver can beat him deep.
Recruiting breakdown: Stanford and UCLA seem like the top two for Holmes but he's visiting Nebraska again this weekend, seems to be intrigued by Texas A&M and Tennessee is getting more involved. Ohio State, Washington, Arizona and Alabama are some others remaining in the mix.
Prediction: Stanford
Scouting report: Davis plays offensive tackle in high school because of his excellent athleticism even at 6-foot-3 and 328 pounds, but he will almost definitely move inside at the next level. That's fine with him, because the five-star is super physical, tough, strong and, even though he's one of the nicest kids off the field, Davis plays with a mean streak that is great to see from someone in the trenches.
Recruiting breakdown: Davis is a national prospect who has landed offers from all over the country. Over the last year or so, the St. John Bosco prospect has taken multiple trips to see schools, so he's starting to get a much better feel for what he likes, and doesn't like. Auburn is his most recent offer but Alabama, UCLA and some others seems to be standing out more at this point.
Prediction: Alabama
Scouting report: Lewis has gotten bigger and stronger in the last year but has also kept his impressive speed. The best thing about Lewis' game is his hands since he can catch the toughest passes and make it look easy. Now that he has a bigger catch radius and is more physical against smaller cornerbacks, the five-star has the ability to take over games when he wants to.
Recruiting breakdown: Lewis is a national recruit with almost every offer he's wanted and the players from Los Angeles Hawkins are planning some trips this offseason to Washington, Tennessee and possibly other destinations. His teammate, Greg Johnson, just committed to Arizona, but it really sounds like Lewis is USC's to lose right now.
Prediction: USC
Scouting report: Sarell is a massive left tackle who seems to easily open up huge holes in the run game and he has the ability to hold his blocks when his quarterback is looking to throw deep. For someone his size, 6-foot-7 and 322 pounds, Sarell moves impressively well and he looks best in run blocking where he can take over his side of the field and allow his running backs to glide right by.
Recruiting breakdown: Washington looks like the prohibitive favorite here but there's no question Stanford, Notre Dame, Oregon and many others are pursuing the four-star offensive tackle. Sarell has not officially narrowed down his list, so he's essentially still open to every program, but the guess is he stays closer to home.
Prediction: Washington
Scouting report: Lindsey is a nightmare in the slot because he's not only super fast and athletic but he doesn't slow down one bit when he's making cuts in his routes. The four-star has excellent timing, he doesn't rush his routes and he's awesome at setting up cornerbacks to think he's going one way and then he breaks another. He's undersized but Lindsey has tremendous hands and never drops passes.
Recruiting breakdown: Lindsey, who recently transferred from Las Vegas Bishop Gorman to Corona (Calif.) Centennial, is still wide-open in his recruitment. A recent offer by Auburn has definitely piqued his attention but the thinking is USC is in much better shape now that he's local again. Texas A&M is a legitimate possibility since he's so close with Aggie quarterback commit Tate Martell, Ohio State has always intrigued him and Oregon cannot be counted out because the offense fits him so well.
Prediction: Texas A&M
Scouting report: The four-star lefty has tremendous accuracy, is calm in the pocket, delivers the ball all over the field and he usually puts it only where his receivers can get it. What's overlooked sometimes in Tagovailoa's game is his outstanding running ability and his skills in making things happen with his feet. Sometimes, dual-threat quarterbacks are questioned as to their accuracy but Tagolavailoa throws an excellent ball and he's very accurate.
Recruiting breakdown: USC and UCLA are the two clear frontrunners in the recruitment of Tagovailoa, but the four-star said he's still intrigued by other offers and will consider other programs because he's nowhere near making a decision. Still, the word is that the Trojans will be very difficult to beat and that's where his recruitment looks headed.
Prediction: USC
Scouting report: Jackson is an athletic, lean offensive tackle who could easily add 20-30 pounds to his frame and still move better than most. The four-star prospect isn't overly physical but with the added weight and muscle he could dominate because he already has the athleticism down. Jackson also plays on the defensive line but he could be a pro at offensive tackle so that's his long-term position.
Recruiting breakdown: Jackson has been relatively quiet about where his recruitment stands, but it sounds like USC, Texas A&M and especially Arizona State look good early in his recruitment. That's an interesting mix because some of those teams run pro-style and others are spread teams and at his weight right now, a spread offense might suit him better.
Prediction: USC
Scouting report: Lenoir is a physical, lockdown cornerback who doesn't easily let receivers off the line and then in coverage he's excellent against double moves. The four-star proved at the Las Vegas Pylon 7v7 he could also easily move to safety and be an impact player there as well. He has good athleticism but most of all he's a physical kid who covers like a blanket.
Recruiting breakdown: This could be one of the more interesting recruitments in the West. Lenoir has talked about LSU being a dream school and the Tigers recently offered. He's intrigued by Oklahoma, Michigan, Louisville, Texas A&M, Miami and others. But then there is the pull of the local schools with UCLA, Oregon, Washington and the like. Right now, his recruitment is really wide open and completely unsettled.
Prediction: UCLA
Scouting report: Banks is a massive offensive tackle at 6-foot-7 and 305 pounds and he's great in run and pass blocking. He moves really well for his size, can get to the second level to make blocks and likes to pound people into the turf. The four-star has fast enough feet that he can handle the edge rush and he's certainly physical enough to not let them inside.
Recruiting breakdown: USC and Oregon seem like the two early frontrunners for Banks but he's going to take his time with the recruiting process and he really hasn't narrowed much down yet. Cal and Washington might play a factor and it sounds like Michigan has caught his attention a little bit early on.
Prediction: USC
Scouting report: Gebbia is a lean pro-style quarterback with a big-time arm. From a physical standpoint, it doesn't look like he could put serious velocity on his passes but he does and he's also very accurate, which is most important. Gebbia doesn't move around much but he can make all the throws, is smart in the pocket and knows how to lead a team.
Recruiting breakdown: Nebraska and Ole Miss look like the two frontrunners but Gebbia also has Washington, Washington State and West Virginia in his top five. Over spring break, the four-star from Calabasas, Calif., is supposed to revisit Ole Miss and head to South Carolina as well.
Prediction: The guess needs some context. If Gebbia decides in the next couple weeks, Nebraska could be the pick. If he waits longer and the Huskers land a quarterback, then Ole Miss is definitely way out in front.