Introducing 2017 stars from the Mid-Atlantic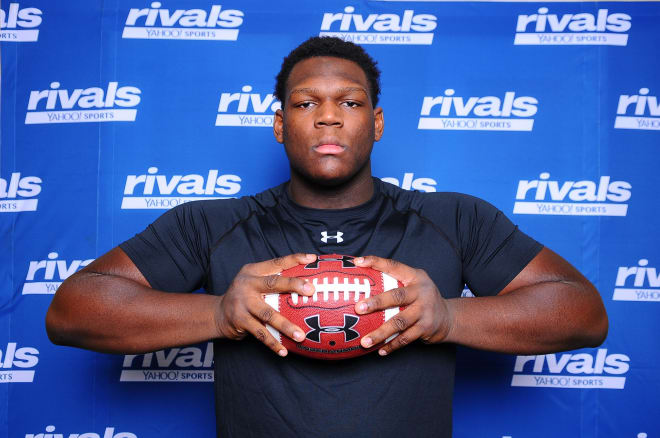 Only a handful of the top prospects in the Mid-Atlantic have already committed but the large majority of the highest rated players remain on the market. Here are the players you'll be hearing about most as we head into the heart of the offseason.
RELATED: 2017 Midwest stars | 2017 Southeast stars

Scouting report: Wilson is a man among boys on the field. He is too big, strong, and fast for any of the defensive linemen he comes across. There are only a few offensive linemen that are at his level as a run blocker. He is improving as a pass blocker exponentially every time he shows up at a camp. Once he masters that, Wilson will be truly unstoppable.
Recruiting breakdown: Alabama, Ohio State, Georgia, Michigan, and LSU are what Wilson calls his final five. Michigan was in great shape early in the process, but it has since faded. Alabama and Ohio State are at the top of Wilson's list and they will likely be battling each other all the way until Signing Day. Don't be surprised if Wilson takes his recruitment into the upcoming season and commits after only a few official visits.
Prediction: Alabama
Scouting report: Even though Wade is a little vertically challenged, he is by no means small. He looks like he was chiseled out of a block of granite and plays with a chip on his shoulder. He has elite speed and instincts along with very crisp footwork. Wade's nose for the ball helps him come up with big play after big play.
Recruiting breakdown: Pittsburgh, Penn State, and Ohio State are the three schools that have the early lead. As the offseason progresses, Wade will take visits to schools in the south and on the west coast, so expect teams like Tennessee, Florida State, Alabama, UCLA, and many others to come into play. There is a long way to go in Wade's recruitment, but it looks like a toss up between Ohio State and Pittsburgh.
Prediction: Ohio State
Scouting report: Laborn is one of the most natural athletes in the country and he is just beginning to scratch the surface of his potential. His burst and vision are exceptional and he is a very powerful runner. Laborn refuses to go down on the first or second hit and is major threat as a receiver.
Recruiting breakdown: The two major players for Laborn are Florida State and Virginia Tech. He almost committed to the Seminoles at the end of last season but decided to hold off. Virginia Tech has really closed the gap and it looks like the Hokies are the family favorite. Laborn is also interested in seeing some schools on the west coast, but he will likely pick a school on the east coast. A commitment could come early in the upcoming season.
Prediction: All depends on how Virginia Tech's season goes this year. Florida State for now.
Scouting report: Swift has been on the scene for a long time and his skills are very refined. He is a powerful runner between the tackles and has the ability to beat fast defensive players to the corner. Not only can he pick up big chunks of yards as a one-cut, downhill runner, Swift is also a major threat in the passing game. He runs great routes, is very explosive out of his cuts, and has soft hands.
Recruiting breakdown: There are a lot of schools involved with Swift, but he plays his recruitment close to his vest. Alabama and Penn State were two schools that were rumored as leaders early, but most of that talk has subsided. Clemson, Florida State, Georgia, and a few others have caught his eye.
Prediction: Georgia
Scouting report: Singleton is built like the ideal outside linebacker prospect at about 6-foot-4 and close to 220 pounds. He has great speed running sideline-to-sideline and is an asset in pass coverage. Singleton has the size and athleticism to cover tight ends or running backs. During the season, he proved to be a punishing hitter and a quarterback's nightmare as a blitzer.
Recruiting breakdown: Michigan was the early favorite and many will still have you believe the Wolverines are in the driver's seat, but the real leader is Clemson. The Tigers came very close to landing Singleton's former teammate, 2016 No. 1 prospect Rashan Gary, but Clemson started earlier and has made a bigger impression on Singleton. A commitment could come before the season starts, but a number of different schools will continue to recruit Singleton all the way until National Signing Day.
Prediction: Clemson
Scouting report: Hunter started out as a pure safety prospect, but as he continues to grow, he is starting to look more like a linebacker. He is very fast, has a big frame, and a good nose for the ball. Hunter is a pretty physical player that has no problems playing near the line of scrimmage. It's hard to project how he will develop physically, but Hunter is a very skilled and will make an impact.
Recruiting breakdown: Hunter continues to say there are double digit schools involved with his recruitment. That's true, but Alabama, Georgia, Virginia Tech and Clemson seem to be the ones with the best shot. Hunter has visited Alabama and Virginia Tech more than the rest of the schools, but look for Georgia to make a push. There is still a long way to go before Hunter makes a commitment.
Prediction: Alabama
Scouting report: The thing that's so attractive about McFarland is his versatility. He has the strength and power to effectively run between the tackles, but also has the speed to score on outside runs and is a major threat as a receiver. McFarland has great toughness and plays with a real sense of urgency.
Recruiting breakdown: McFarland was all Georgia until Mark Richt was fired. Now Maryland is a much bigger factor than it was and the Miami Hurricanes have become serious contenders. Maryland has the momentum, but McFarland will take a lot of offseason visits and wants to take all his official visits. He is going to try to hold off on a commitment until the Under Armour game.
Prediction: Maryland
Scouting report: Foster is a massive linebacker that is best suited for a 3-4 scheme. He runs well and has good range, but could stand to get faster. Foster is a fantastic hitter and does a good job of anticipating the play. The way he plays the run is exactly what needs to be done at the college level. Foster does a pretty good job in pass coverage and uses his length to his advantage.
Recruiting breakdown: There have been a lot of schools in the mix for Foster and he's already taken a lot of visits. Clemson, Tennessee, Georgia, South Carolina, North Carolina, N.C State, Alabama and many others are in good position. Clemson has had the most meaningful contact with Foster and visits to Tennessee and Georgia made a big impact on him.
Prediction: Clemson
Scouting report: The ceiling on Young's potential is extremely high. He has a great frame and hasn't really filled out yet. Young's production last year against elite competition really speaks to how advanced his technique is. He athleticism, aggressive hands, and the way he plays with leverage made him one of the most effective defensive ends in the country.
Recruiting breakdown: Young hasn't really had much of a chance to delve into his recruitment too much because of basketball season. He blew up with offers during the season and more continue to trickle in. One of the only schools he has taken multiple recent visits to is Maryland. This spring and summer will be filled with visits into Big Ten and SEC country.
Prediction: Shot in the dark ... Maryland
Scouting report: Jones is a defensive back with excellent range and great feet. The bigger he gets, the more he looks like a safety, but he has the footwork to be a very good cornerback. Jones is physical with wide receivers and uses his length to his advantage. Bigger receivers can't outjump him on deep balls and small receivers have a hard time creating separation.
Recruiting breakdown: Schools started jumping on Jones early and he's been on a roll since then. Maryland is in the driver's seat along with Clemson, but Florida, Florida State, and a few others remain in the conversation.
Prediction: Maryland