How things stand with top 5 uncommitted 2022 DTs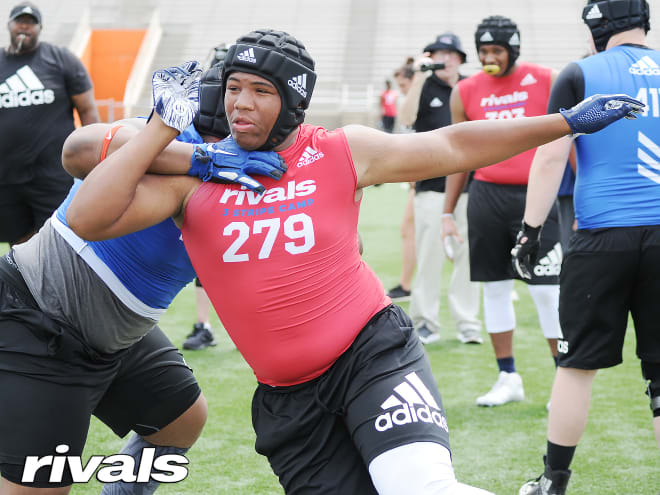 Top contenders: Ohio State, LSU, Tennessee, Alabama, Clemson, Michigan
Recruiting outlook: The top player in the 2022 class, Nolen is keeping all his options open. He doesn't plan on committing until after his senior season, so expect him to take a lot of visits one the dead period is over.

Ohio State is a recent offer but he really likes their tradition on the defensive line. Tennessee will be a big part of his recruitment because his current head coach played for the in-state program. LSU, Alabama, Clemson, Michigan, and many others are prioritizing him as well.
Farrell's take: I'm thinking this will be a battle down the stretch between the powers like Alabama, Ohio State, Clemson and LSU, but he hasn't narrowed anything down yet. The Vols will be in there but play on the field could hurt them. I'm going to take a shot in the dark and say Alabama.
Top contenders: Clemson, North Carolina, South Carolina, Oregon, Georgia, Florida, Tennessee, Ohio State, Auburn, Virginia Tech, LSU, Florida State
Recruiting outlook: Shaw is pretty far from making a decision and he wants to enjoy the recruiting process. He did release a top 13 in September but the major contenders right now are Clemson and North Carolina. Shaw has a ton of connections to each school and his recruitment will likely come down to those two schools.
Farrell's take: I'm going with Clemson here as they are hard to beat for defensive linemen in North Carolina even with the Tar Heels on the come up.
Top contenders: Ohio State, LSU, Oklahoma, Clemson, Texas A&M, Georgia, Texas
Recruiting outlook: Alexander hasn't been too focused on recruiting lately, as he was recently ruled eligible to play at a new school this season. Prior to the season, it looked like Texas A&M, Ohio State, Oklahoma, and LSU were in the best position but that could change once Alexander starts taking more visits. It is still pretty early in the process for Alexander, so a lot could change by the time he is ready to commit.
Farrell's take: I picture Bear at either Texas A&M or LSU for some reason and I have the Aggies with the early edge.
Top contenders: Florida, Auburn, Alabama, Georgia, LSU, Ohio State, Penn State, Tennessee
Recruiting outlook: There are a lot of schools in play for Perry but he is hoping to release a top 10 sooner rather than later. Perry has been chomping at the bit to get out on some visits, so expect him to hit the recruiting trail hard once the dead period is over. A commitment isn't around the corner for Perry but he is getting closer to taking the next step in his recruitment.
Farrell's take: This could end up as an in state battle and it's hard to bet against Alabama right now.
Top contenders: Georgia Tech, Michigan, Cal, West Virginia, LSU
Recruiting outlook: Shepard has a wide range of offers to consider and he'll take his time doing so. The Georgia Tech legacy prospect will surely look at the Yellow Jackets but visits should play a big role in his recruitment. Michigan seems to be prioritizing Shepard and Cal, West Virginia and LSU are keeping in touch with him.
Farrell's take: I'm going with Georgia Tech here as legacy recruits are hard to pull. But it's still very early.