Honey Badger Rewind: How Mathieu became $62.5 million man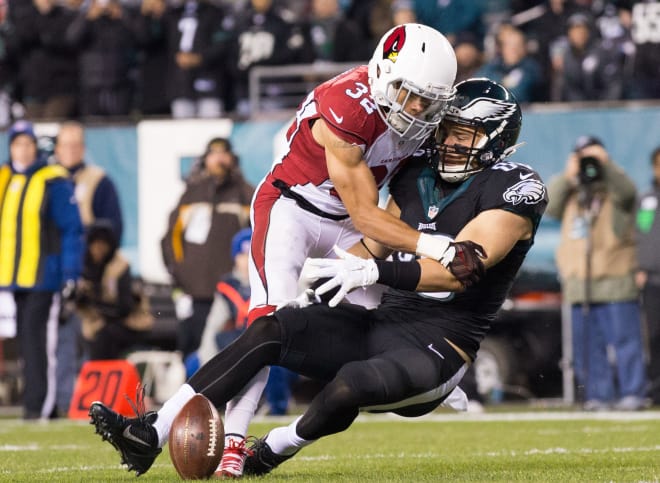 Arizona Cardinals defensive back Tyrann Mathieu – the Honey Badger – landed in the spotlight again last week after signing the largest guarantee ($40 million) for a safety in the NFL. His five-year, $62.5 million extension has become a risk-reward debate over the past week, as recent knee injuries cast some doubt over whether he can continue to compete at an elite NFL level.
Everybody got an opinion on what you make..... How you make it... When you make it.... Lol

— Tyrann Mathieu (@Mathieu_Era) August 4, 2016
Mathieu the multi-millionaire, though, once was Mathieu the overlooked high school prospect.
Last season, Mathieu caught up with Rivals.com to relive the recruiting process that eventually led him to LSU.
Lacking any SEC offers the summer before his senior season of high school at St. Augustine in New Orleans, Mathieu embarked on a summer camp tour. His final three stops were Tennessee, Alabama and LSU, and it was in Knoxville where Rivals spotted his potential ahead of some SEC staffs.
"Back then everyone was either a cornerback or a safety," Mathieu said. "They weren't really looking for that hybrid type of player. So if you needed a cornerback, I didn't really fit the bill of being a 6-foot cornerback and I couldn't really fit in most schemes.
"Most teams liked to play Cover 2 and they need those big cornerbacks, and I never really fit that. Me not being 6 feet definitely played a part in me not getting any of those offers. I was pretty good at being a cornerback and covering guys, but I never fit most coaches' schemes. That's why I think I never got recruited highly."
Rivals national recruiting director Mike Farrell was in Knoxville for that camp and remembers Mathieu's outstanding performance.
"He was more than pretty good at covering as a cornerback," Farrell said. "He was outstanding. I remember how loaded that camp was with wide receivers like Markeith Ambles and Jarvis Landry, both five-star guys, and this unknown kid blanketed both of them. Victor Beasley was at that camp as well and a ton of elite big guys, but Mathieu was the story of the camp. I will admit even after his great performance I had questions about his size as a corner. He just wasn't a physically impressive kid, but technically he was as sound as they come."
He earned a fourth star with Rivals, but did not earn an offer from Tennessee.
"I wasn't sure I was seeing a guy who would get that big offer because after Tennessee passed, I thought everyone would think he was too small and skinny," Farrell said. "But we pushed ahead and ranked him as a four-star without that BCS offer. People say it's all about offers with rankings, but it's clearly not. Mathieu could have ended up at Louisiana-Monroe and we still felt he'd be a star. But everyone will admit that we had no idea he'd have such an impact on the college football landscape. Heisman finalist? No way, no how. But he was a natural, simply always around the ball."
LSU came through with that elusive offer after Mathieu camped there, and the defensive back committed shortly thereafter. Head coach Les Miles was one of the major reasons LSU was Mathieu's choice.
"He has a strange way of using his words," Mathieu said of Miles. "His word placement isn't always correct at times, but he's a very charismatic guy. You definitely know when he's in the room. He definitely played a large part of my recruiting process. He made me feel at home and welcome once I got to LSU."
Mathieu excelled despite his size, forcing turnovers and returning punts. His 'Honey Badger' nickname spread quickly across the college football landscape as he proved being undersized at cornerback did not mean a player could not compete in the SEC.
"Going back to the Tennessee camp, that week going up against some of the best receivers in the country, those guys having four or five inches on me, that helped my confidence going forward," he said. "Even when I got to LSU, I knew I could compete with the bigger guys and better guys. Just knowing that you might not be 6 feet and you might not be what coaches are looking for, I think that puts a chip on your shoulder because you want to prove everyone wrong. You just want to make plays on the field."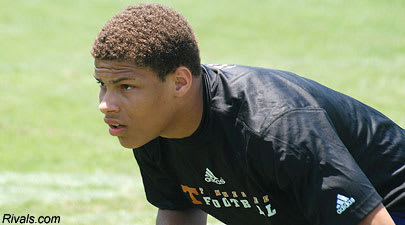 After a spectacular sophomore season that saw him finish fifth in the Heisman voting, Mathieu was dismissed from team in August of 2012, reportedly for failing multiple drug tests. Mathieu sat out the season, then entered the draft, where the Cardinals selected him in the third round. He's been one of the top defensive players in the NFL and was a candidate for the league's defensive player of the year last year. His injury, however, ended those hopes.
His rise through college and now the NFL is quite a contrast from where he stood as a high school prospect.
"I wasn't highly recruited, I wasn't what anyone was really looking for and suddenly I was the epitome of what everybody should be," he said. "It was different. It was a drastic change, but it was a great experience. Some things I handled great, other things I didn't handle well, but to just have that experience at such a young age I was really grateful for it because it's really helping me right now as I get started with my NFL career. Everything plays a part when you think about the big picture."
While Mathieu's recruiting process never got crazy, he was around the big-time college game long enough to see how everything works. With what he learned, experienced and witnessed, he is very comfortable in giving some advice to today's top recruits.
"Don't get caught up in it," he said. "I'd probably let my parents handle it or my coach, people who I feel comfortable speaking on my behalf. I really wouldn't indulge in it too much. I mean taking visits and going to all of the different camps is fun, but you still have to be a kid and not get caught up in trying to be a professional just yet.
"You're still a student-athlete right now, so just don't get caught up in the perks of it rather than putting in the hard work every day. Football is a tool that will open up other doors for you and it might not be the NFL so just always keep that in mind when you're going through the recruiting process and I think you'll be OK."
I have to thank GOD for everything!!

— Tyrann Mathieu (@Mathieu_Era) August 7, 2016