Helmholdt's Takeaways: Ohio State's Friday Night Lights Camp
COLUMBUS – Ohio State's annual Friday Night Lights Camp has become one of the most star-studded camps in the Midwest, and the 2017 edition did not disappoint. Midwest Analyst Josh Helmholdt details his biggest takeaways from the event, along with some bonus takeaways from a big 7-on-7 near Columbus on Saturday.
MORE: Remember me? Former Rivals250 offensive standouts primed to re-emerge
ALPHA DOGS
While Friday Night Lights is a great event for the Ohio State University, for the players that get a chance to be involved and for the fans who are granted free admission and get to see a bunch of recruits they read about in-person, it really is a difficult event to cover from an analysis standpoint. The primary problem is being on-campus, Ohio State coaches are not allowed to cater to the media, which includes getting rosters. Half of the three-hour event, then, is spent trying to identify who is who. I say that because there are going to be prospects who had good performances who we just never were able to identify. And, other prospects in attendance you want to read about may not have been evaluated because we did not see much of them or identify them early enough.
Most of the top dogs, though, we did identify and identify early and it was apparent that defensive line was where many of the top performers were, and probably featured the overall alpha dog: five-star defensive end Micah Parsons. I watched defensive coordinator Greg Schiano pull Parsons out of drills early, only to have him reappear at wide receiver! I captured a couple of his reps on film, but even though they show his athleticism they were among his lesser reps at wide receiver. The 6-foot-3, 235-pounder is definitely a freak athlete.
Freak athlete also describes Huber Heights (Ohio) Wayne four-star Blue Smith, the No. 1 ranked athlete prospect in the 2018 class. Do not expect Smith to be listed as an athlete much longer, though. Between Friday night's camp and then getting to see him at a 7-on-7 Saturday morning, the 6-foot-5, 215-pounder has a clear position: wide receiver.
Other alpha dogs on the defensive line were four-star Brenton Cox, four-star Ani Izuchukwu (who goes by King Ani: Alpha Male on Twitter) and four-star Jayson Oweh. Wide receiver was also deep, with 2018 four-star Jahan Dotson, 2019 four-star Isaiah Williams and 2019 four-star David Bell and 2019 three-star Mershawn Rice. At quarterback you had five-star Emory Jones and 2019 four-star Dwan Mathis both throwing well. Four-star Chris Oats looked good at linebacker, as did 2019 three-star Dezman Cooper. On the offensive line four-star center Tyrone Sampson and 2019 four-star Doug Nester both looked good, but the best performer was 2020 Oak Park, Mich. guard Justin Rogers, who got a lot of attention from the coaching staff.
READING BLUE SMITH
Among the most watched recruitments in the country over the next month will be that of Smith, the No. 31 ranked prospect in the 2018 class. Here is what we know for sure after talking with Smith and others close to the Rivals100 prospect: he will announce his decision Aug. 27 in Huber Heights Wayne's nationally televised season opener against Pine-Richland (Pa.) High. Cincinnati, Kentucky, Michigan State, Ohio State and Tennessee are the top five, though not necessarily a final five – he is not closing the door to any teams. Final visits to Cincinnati and Kentucky before Aug. 27 are highly likely, with visits to Michigan State and Tennessee also possible.
Now for the reading of tea leaves. The expectation is that this is a Kentucky-Ohio State battle. If there is a dark horse it is Cincinnati, and Blue made a compelling case for why the Bearcats should be given greater respect in his recruitment. Still, a choice other than Kentucky or Ohio State would be a surprise, but both of those schools have compelling cases for why they could land Smith. I have been hesitant to pick against Ohio State because of how successful they usually are with in-state prospects they target, but I would not be forthcoming if I didn't say that I came out of this weekend with a stronger respect for Kentucky's chances – and that was after an event at Ohio State.
IN CONTENTION FOR OFFERS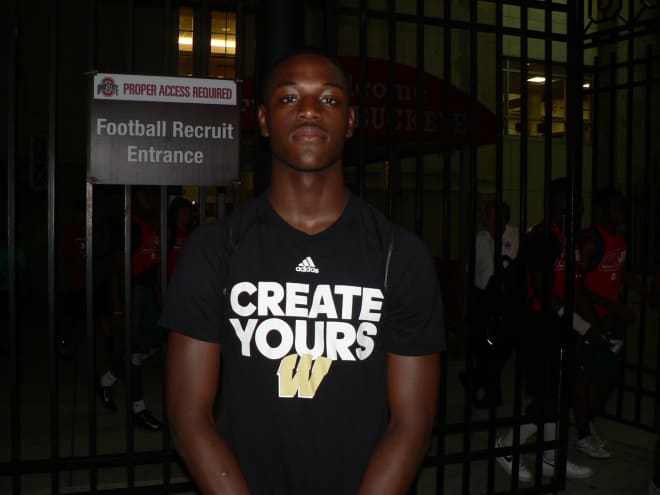 There were several 2018 prospects who were aiming for late offers from the Buckeyes off their showings at Friday Night Lights, particularly Indianapolis defensive backs Julius Brents and D.J. Johnson. From our vantage point, though, if Ohio State did not offer previously then Friday's performances are not going to lead to those new offers. We have seen both perform better at other events.
Prospects more likely to get offers based off Friday's performances are underclassmen. There are four prospects I am going to highlight here, and three come from the state of Michigan. Ohio State has already offered 2019 offensive tackle Devontae Dobbs, and is looking at his Rivals100 teammate Julian Barnett. Ohio State is evaluating the 6-foot-2, 180-pound Barnett as a defensive back, which is the position Alabama offered him for after he camped in Tuscaloosa earlier this month. We still feel wide receiver is the position Barnett has the highest upside at (he had a spectacular catch/route while running a couple reps there Friday), but Barnett showed plenty at defensive back to intrigue Ohio State coaches.
Four-star 2019 quarterback Dwan Mathis has now camped at Ohio State twice this summer, and appears close to an offer. We mentioned his teammate, 2020 offensive guard Justin Rogers, and based on the way Ohio State coaches were working him out – they kept sending top defensive linemen like Parsons, Cox and Izuchukwu against him and he was more than holding his own – he appears close to an offer. Finally, Rivals100 wide receiver David Bell out of Indianapolis was his impressive self again on Friday. He was supposed to have a follow-up call with wide receivers coach Zach Smith that we thought might be his offer conversation, but I cannot imagine an offer is too far off for the Warren Central wideout.
This prospect is not going to get an offer from Ohio State, but he does deserve more offers than he currently has. Cleveland Glenville used to be the top talent-producing program in the state of Ohio, but has fallen on a talent drought lately. With fewer coaches through the school, then, defensive back Jamel Hamm has fallen through the cracks. Miami (Ohio) finally came through with his first offer this summer, but the 6-foot-4, 181-pound prospect is worth Power Five looks this fall.
SIDELINE SPECTATORS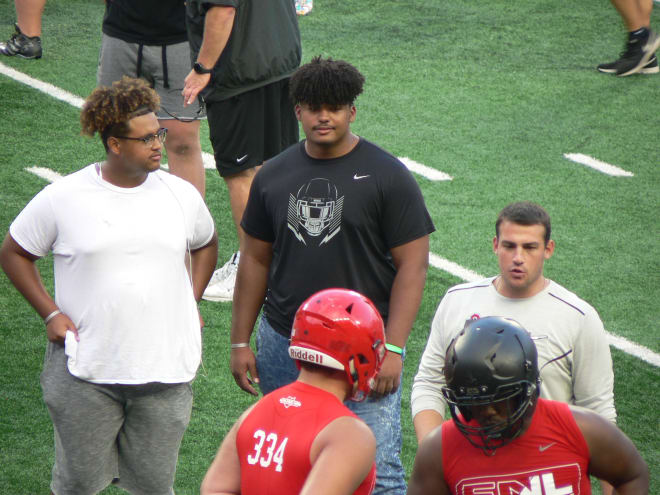 Even more talented than the collection on the field was the group of players who were in attendance but did not participate. While quarterback commit Emory Jones, defensive end commit Brenton Cox and running back commit Brian Snead participated in the camp, their fellow Ohio State commits Jeremy Ruckert, Jaelen Gill, Master Teague, Josh Proctor and Jaiden Woodbey watched from the sidelines. Additionally, uncommitted prospects like five-star offensive tackle Jackson Carman and four-star 2019 prospects Devontae Dobbs and Zach Harrison watched the event in street clothes.
Speaking of Proctor, he was in Columbus for the long weekend with his parents. As recently as the Rivals100 Five-Star Challenge presented by adidas in June he stated plans to take additional official visits, with the home-state Oklahoma Sooners among the most likely to get one of those trips. On Friday, though, he was much less committal about taking more trips and seemed wholly uninterested in the idea compared to a month ago. His response may simply be due to being wrapped up in his weekend visit to Ohio State, but it will be worth watching to see if the Buckeyes firm up his commitment and those visits are foregone after the weekend.
BIG ZACH HARRISON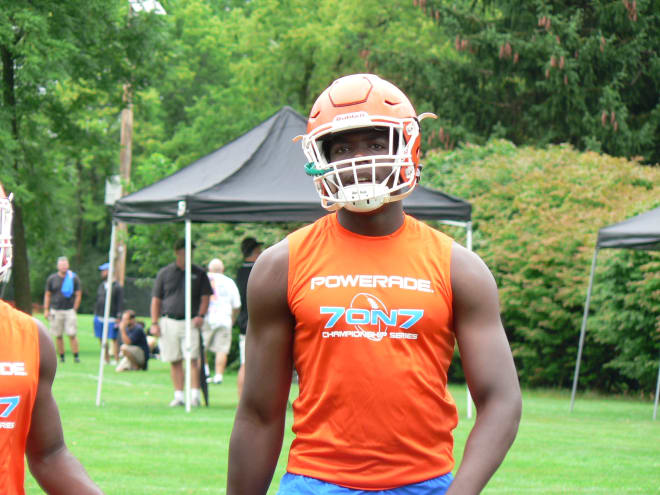 As a bonus takeaway, I stayed in the Columbus area through Saturday to check out a big 7-on-7 event at Dublin Coffman High School. Twenty-eight teams took part in the all day event, featuring top prospects like four-stars Jaelen Gill and Blue Smith and three-stars Ty Van Fossen, Mershawn Rice, Dezman Cooper, Antwuan Johnson, Kory Taylor and Cameron Phillips.
The most intriguing player in attendance for me, though, was Rivals100 class of 2019 defensive end Zach Harrison. Harrison is going to start out as the No. 1 ranked prospect in the state of Ohio's 2019 class, and he was playing tight end for his Olentangy Orange team on Saturday. He is a freakish athlete who looks every bit of his listed 6-foot-5 and 245 pounds, but also has 4.6 40-yard dash speed and rare athleticism for his position.
Talking recruiting with Harrison in between games, he just came off a visit to Penn State earlier this month where he spent time with Antonio Shelton, a current Nittany Lion who is also from the Columbus area. Although he did not elaborate too deeply about his trip, it is obvious Penn State is a legitimate contender here after the visit. Harrison has also visited Michigan and Notre Dame this summer and he was a sideline spectator at Ohio State's Friday Night Lights Camp. If those four schools ended up being his final four I would not be shocked, but a decision is still a long way off for Harrison. He said summer visits are now done and his focus is squarely on his upcoming junior season.