Head of the class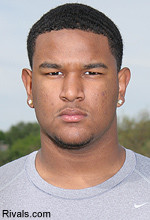 Every once in a blue moon a position will be so loaded with talent throughout the nation the class has the potential to reshape the landscape of college football because it's so stacked.
Clausen, the amazing junior from Westlake (Calif.) Oaks Christian is the third and likely the best from the Clausen clan. He was potent as a sophomore, leading his team to a perfect 14-0 record by passing for 3,665 yards and 58 touchdowns with only six interceptions.
"Jimmy's dad always said that his youngest would be his best, and we know how successful Casey and Rick were on the collegiate level. So when you hear that, you know that he's special."
With offers from virtually everybody in college football already, it's very clear Clausen will be an interesting recruiting battle to watch in 2007.
"His accuracy is excellent and he has a bit of mobility, he just needs to handle pressure a bit better and use his quick release to combat blitz packages. Obviously learning from his father (Phil) and brother (Chris), Matt is ahead of many other quarterbacks when it comes to the little things that are hard to teach."
What would a story about great quarterbacks be without mentioning a stud from Pennsylvania?
Last year as a sophomore Bostick completed 188 of 315 attempts and threw for 2,278 yards. He tossed 28 touchdown passes while throwing only eight interceptions. His coach says he has a chance at being one of the best in the nation.
"Make no mistake about it, he will be a national recruit."
Rivals.com first saw him in person at the Nebraska elite quarterback camp last year when he won the long throw competition. He just missed throwing the ball 80 yards at the camp heading into his sophomore season, and also had strong showings at Michigan, Texas and Arkansas' camps this year.
"If I go to a school in Washington that can get me to the NFL, then that's where I'll go," Mallet said. "I think that's every kids dream. If you're getting recruited out of high school you know that you probably want to continue your career on at that level.
"My mom is a teacher though, so I know the importance of a good education. If football turns out not to work, I need to get a good education. She's always taught me that."
When looking for the top talent at the running back class of 2007, you have to start in the Southeast.
Once again the Southeast headlines the 2007 offensive line class with Florida leading the way.