Gustin very impressed with ASU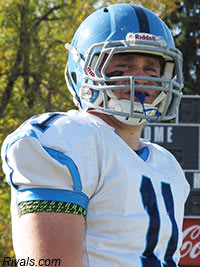 When the five-star inside linebacker left the desert Monday, with his recruitment in the final stages, he knew the Sun Devils had only made his looming decision even more difficult.
"It was a great visit," his father, John Gustin, said. "One thing that staff has done from the get-go is that they are very organized and detail oriented. It was very clear they have done their research. They hit on all the things Porter would be interested in, from the practice facilities, to the weight room and even getting players involved."
Gustin's father said he felt as if head coach Todd Graham built the visit schedule like he would scheme for a game, filling every minute with something efficient and productive.
"They went through all the things they know would impact his decision," John Gustin said. "It was like they had scouted their opponent."
"They see him as their Devil backer," John Gustin said. "It's multi-faceted position that plays to the weakness of the offense. He could come off the end on one play, rush the A-gap on the next, then blitz the C-gap -- it's a very attack minded spot. What's intriguing is that it's always downhill. He would always be going after the quarterback, putting pressure on the backfield and pursuing the ball carrier. That's enticing to Porter because it's primarily what he would like to do at the next level."
"ASU was very impressive," John Gustin said. "Brady did a fantastic job showing them around and it was very impressive all around. There are some special things going on there that you just can't ignore. They should be in the preseason top 10 next fall, and that catches Porter's interest. Wherever he goes, he wants to be part of a program that is in a position to win a national championship. ASU is one of those programs that will be there."
"I can't imagine what it's like for a 17-year-old kid to be going through the process," John Gustin said. "These are mind-blowing opportunities and these kids are making decisions that will impact their lives at such a young age. The actual factor might not even be about football. It might be weather, which schools feels like home, the campus or something else that tips one school over the others."