Graham tops Michigan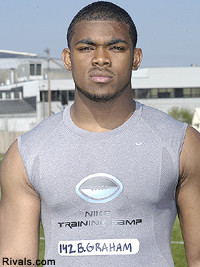 From players who already have made a name for themselves to players who will soon stand out to those who already have a great name, it is a solid year, top to bottom, in Michigan.
Five-star linebacker
Brandon Graham
, who already has verbally committed to play for the home-state Wolverines, leads a pack of prospects that features a nice blend of skill position players and linemen. All total, 14 players in the 2006 preseason Michigan Top 25 are skill position athletes.
Click
HERE
to go to the 2006 Michigan preseason Top 25.
Rivals.com recruiting analyst Josh Hemholdt, who along with SpartanMag.com's Matt Dorsey put together the list, feels that Graham is the prototypical middle linebacker.
"(Graham) can run sideline-to-sideline and he can hit you," Hemholdt said. "Plus, he's physically ready to play in college right now."
Athlete
Jeff Lindsay
is the state's second-ranked prospect. Lindsay, who already has committed to Purdue, is a versatile prospect who likely will fit in at a number of positions with the Boilermakers.
"He's big and can run," Hemholdt said. "I could see him playing strong safety or even outside linebacker."
Dorsey feels that wide receiver
Adrian Cannon
, the state's third-ranked overall prospect, is the state's top offensive player.
"He's a guy that will be going to several summer camps," Dorsey said. "If he performs well, it wouldn't surprise me if he picked up several additional offers."
Currently, Cannon has offers from Illinois, Iowa State, Kentucky, Maryland, North Carolina and Toledo.
Tight end
Charlie Gantt
from Birmingham is the state's No. 4 prospect. Gantt (6-foot-4, 233 pounds) ran a 4.44-second shuttle and bench pressed 185 pounds 41 times at the Ann Arbor NIKE camp on May 7 at the University of Michigan. He has offers from Duke, North Carolina, Bowling Green and Eastern Michigan.
Traverse City is not known as a hotbed of talent. In the Class of 2006, however, two Division I-A prospects are located there. Tight end/defensive end
Patrick Rigan
and linebacker
Eric Gordon
are the fifth and sixth-ranked prospects in the top 25.
Rigan is a physically impressive prospect, according to Hemholdt.
"You look at him and you think he's a linebacker because he's so well put together," Hemholdt said.
Gordon, who ran a 4.57 40-yard dash and a 4.25 shuttle in Ann Arbor, has offers from Indiana, Missouri and Central Michigan.
"Eric Gordon is a great athlete," Dorsey added.
Wide receiver Andre Rison Jr., the son of the well-traveled NFL wide receiver and former Michigan State star bearing the same name, rated No. 20 on the list.