Gorney's Takeaways: Under Armour All-America practice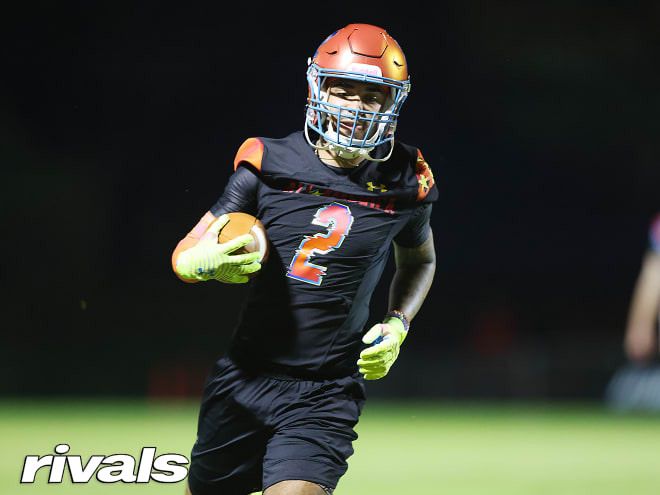 LAKE BUENA VISTA, Fla. - The first practice of the Under Armour All-America Game is in the books and there were a lot of impressive performances and standouts. Here are some thoughts from the opening workout:
THE DEBATE AT DT
The top three defensive tackles are working out here and right now the rankings order is Texas A&M signee Walter Nolen, North Carolina signee Travis Shaw and then Georgia signee Keithian Alexander.
After the first night, Alexander definitely made a case to move up. Of course, it was one practice and it was limited one-on-ones but Alexander moves so well at his size, he has basically no bad weight and he won almost all his reps. Of the three, Nolen had the most burst and speed off the ball which made him very difficult to stop. Shaw had his moments as well and backed up his ranking but I thought Alexander and Nolen stood out the most.
*****
WIDE RECEIVERS IMPRESS
Alabama signee Aaron Anderson is listed at 5-foot-8 and 187 pounds so he's definitely tiny but, man, can he fly. The New Orleans (La.) Edna Karr standout is so dynamic, defensive backs couldn't even keep up with him to hold on as he burned basically everybody during one-on-ones. Get him in space and he's unstoppable. There's very little catch radius but every route he ran, especially deep, he just burned everybody and he's going to be a huge weapon in the Crimson Tide offense.
Penn State signee Kaden Saunders doesn't have that level of speed but he continues to get open against everybody and make every catch. The four-star had arguably the nicest catch of the night on a call that was thrown behind him across the middle where Saunders reached back with one hand to grab it.
Other receivers we liked on Night 1 were five-star Missouri signee Luther Burden, Clemson signee Antonio Williams, Alabama signee Shazz Preston and Texas A&M signees Chris Marshall and Evan Stewart. Marshall beats defensive backs with his length down the sideline and Stewart is incredibly fast even through his routes, just a dynamic athlete.
*****
OTHER THOUGHTS
... Oklahoma signee Robert Spears-Jennings played defense in the first practice and the high three-star athlete definitely had his moments breaking up passes, looking good in coverage and he won the Fastest Man event by edging out Evan Stewart at an announced time of 4.49 in the 40. The Broken Arrow, Okla., prospect has speed, size and ranginess and looked good during long stretches of the first practice.
... Georgia signee Branson Robinson looks like a professional bodybuilder so he was the best-looking running back but four-star Jovantae Barnes was not far behind. The Las Vegas (Nev.) Desert Pines standout who will choose from Oklahoma, USC and Florida State at the Under Armour game keeps getting bigger and stronger and definitely looked the part.
...Michigan signee Keon Sabb could be special. His length, timing and feel for the defensive back spot is elite and he had at least two nice pass deflections during one-on-one or 7-on-7. Fellow Michigan signee five-star cornerback Will Johnson was outstanding as well. He's physical when that's called for but he can also turn and run with receivers and his length helps tip balls away. Other defensive backs that looked good included Georgia signee Daylen Everette and Alabama signee Trequon Fegans.
...On the offensive line, I really liked Texas A&M signee Patrick Williams Jr. Listed at only 240 pounds, the Dickinson, Texas definitely has room to fill out his frame but he handled his business against edge rushers during one-on-ones and definitely impressed. Texas signee Neto Umeozulu was also super physical, LSU signee Emery Jones is bigger than I imagined and then Texas signee Kelvin Banks Jr., five-star Devon Campbell and Texas A&M signee Kam Dewberry all showed special qualities.