{{ timeAgo('2022-09-09 09:50:48 -0500') }}
football
Edit
Gorney's biggest weekend recruiting visits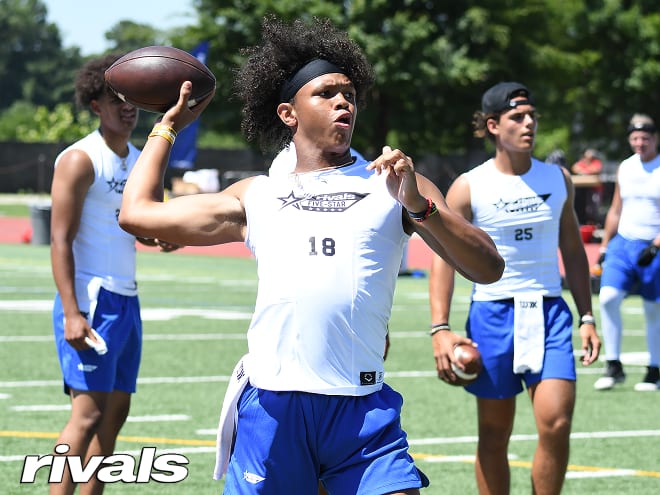 The Alabama-Texas game is the headliner but there are many intriguing matchups this weekend and a lot of top prospects will be on the road. Here are 10 visits I'm watching closely.
1. Jadyn Davis - Michigan
He's baaaaaack. The 2024 five-star quarterback from Charlotte (N.C.) Providence Day is returning to Michigan for another visit and this will continue to be important as the Wolverines are considered to be the frontrunner right now in his recruitment.
Georgia is going to stay involved here and Davis might not be ready for a decision yet but Michigan should torch Hawaii and the environment should be good. It will be interesting if the two-quarterback system concerns Davis at all but Michigan has made him a huge priority and that's important to the five-star for sure.
RELATED: Davis previews visit
SHARE YOUR THOUGHTS WITH MICHIGAN FANS AT MAIZEANDBLUEREVIEW.COM
*****
2. Jalen Hale - Texas
This is a huge visit for Hale – and for the Longhorns – since Texas and Alabama are considered the top two for him and the Crimson Tide could be surging in his recruitment. I still feel like Hale would love to play with five-star Texas QB commit Arch Manning and that's a significant draw. But a recent visit to Alabama with his family went really well and coach Nick Saban can be very convincing.
Part of visits is envisioning the future and if Texas can hang with, or beat, Alabama, that could go a very long way for the four-star receiver.
SHARE YOUR THOUGHTS WITH TEXAS FANS AT ORANGEBLOODS.COM
*****
3. Keon Keeley - Florida
By all accounts, Keeley had a phenomenal visit to Ohio State last weekend and the Buckeyes have emerged as a serious contender in his recruitment along with Alabama and Florida after the five-star defensive end backed off his Notre Dame pledge. This will be an unofficial visit for Keeley to Gainesville although he plans to maximize his time there over the weekend and coach Billy Napier is pushing for his official to be for the LSU game in October.
Two trips to Florida could be big. Alabama will also get a visit as those three schools battle it out for now.
SHARE YOUR THOUGHTS WITH FLORIDA FANS AT 1ST AND TEN FLORIDA
*****
4. DJ Lagway - Florida
Texas A&M is going to be tough to beat in Lagway's recruitment and he was back in College Station last weekend but the 2024 four-star quarterback from Willis, Texas, keeps going back to Florida and keeps showing interest in the program.
Lagway was there over the summer and he had to see what QB Anthony Richardson did in the Gators' win over Utah last weekend. In some ways, their size and play style is similar so that could be intriguing as he returns to The Swamp.
SHARE YOUR THOUGHTS WITH FLORIDA FANS AT 1ST AND TEN FLORIDA
*****
5. Jeremiyah Love - Notre Dame
Notre Dame feels like the team to beat for Love and so this visit to South Bend is crucial as coach Marcus Freeman and his staff try to wrap up the St. Louis (Mo.) Christian Brothers standout. The Irish already have commitments from Dylan Edwards and Jayden Limar but Love would be an even bigger back option. He also has the ability to flip to defensive back as well.
Michigan and some SEC schools are also in this but it feels like this trip could further put Notre Dame in the driver's seat.
SHARE YOUR THOUGHTS WITH NOTRE DAME FANS AT INSIDENDSPORTS.COM
*****
6. Samuel M'Pemba - Georgia
The five-star from Bradenton (Fla.) IMG Academy will be back in Athens this weekend as Georgia continues to not only look strong in his recruitment but could be edging up to be the frontrunner at this point. Tennessee is definitely a contender and Miami is making up serious ground, with Notre Dame still sticking around (M'Pemba lived in St. Louis before going to IMG).
But the Bulldogs' defense, his relationships with the coaching staff and Georgia's ability to develop and put players in the NFL all stand out. M'Pemba should see another dominant performance against Samford this weekend.
SHARE YOUR THOUGHTS WITH GEORGIA FANS AT UGASPORTS.COM
*****
7. Tomarrion Parker - Clemson
Clemson, Florida and Tennessee are the three frontrunners for the former Penn State commitment and the four-star defensive end will be at Clemson this weekend. It's a huge visit as Parker continues to develop his relationship with coach Dabo Swinney and assistant Lemanski Hall and also soaks in the atmosphere there.
Parker will take other visits and take his time before deciding again but this is a crucial trip.
SHARE YOUR THOUGHTS WITH CLEMSON FANS AT TIGERILLUSTRATED.COM
*****
8. Duce Robinson - Texas
I've been hearing USC might not be the lock it once was and so this trip to Texas makes things even more interesting – especially if the Longhorns put in a good showing against Alabama. Robinson is developing an even stronger relationship with five-star QB commit Arch Manning. He's going to see a phenomenal environment at this game and the Longhorns might not be trailing as much as some people think.
SHARE YOUR THOUGHTS WITH TEXAS FANS AT ORANGEBLOODS.COM
*****
9. Colin Simmons - LSU
LSU could have the edge in Simmons' recruitment so getting to Baton Rouge will be important this weekend especially as the Tigers take out their frustrations for losing to Florida State on Sunday. There is this feeling that LSU cannot be beaten for the 2024 five-star edge rusher but Florida, Georgia, Tennessee, Texas, Texas A&M and others stay seriously involved here.
SHARE YOUR THOUGHTS WITH LSU FANS AT TIGERDETAILS.COM
*****
10. Hykeem Williams - Pitt
The five-star receiver from Fort Lauderdale (Fla.) Stranahan will be joined by 2024 five-star receiver Ryan Wingo at Pitt this weekend as both have developed a strong relationship with position coach Tiquan Underwood. Could that bond be big enough for Williams to turn down Florida State and Texas A&M to play for the Panthers?
The feeling right now – especially after Williams went to New Orleans last weekend to see the Seminoles beat LSU – is that FSU has surged in his recruitment and is now the team to beat. But Pitt has its chance to impress him this weekend in a big game against Tennessee.
SHARE YOUR THOUGHTS WITH PITTSBURGH FANS AT PANTHER-LAIR.COM