Friedman's Takeaways: Early-season standouts from the road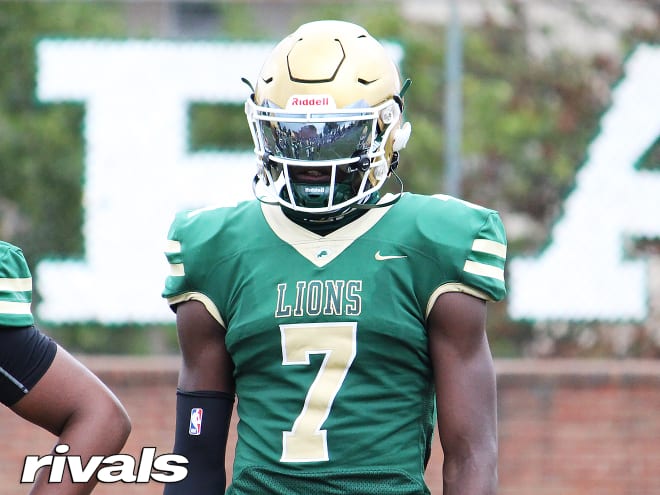 The early part of the season has been jam-packed with great matchups and I've seen dozens of top prospects over the first couple weeks. Here are some quick impressions I came away with.
Five-star Nyckoles Harbor showed flashes of why he's one of the most coveted players in the country but in his first game of the year his performance was a bit uneven. He was in the backfield a lot but the play was almost always going away from him.
Harbor's team could have a hard time getting him the ball on offense even though he doesn't have a hard time getting open.
*****
Michigan commit Evan Link is one of the more fundamentally sound linemen in this class and he has really come into his own. He did well against Harbor for the most part and he'll only become more effective as he physically matures at the next level.
*****
Rico Scott, a 2024 four-star receiver out of Pennsylvania, has the quickness, overall speed and playing strength that should put him among the best receivers in the Mid-Atlantic and Northeast. He has good hands and showed he can be a major threat when he has the ball in his hands.
*****
Philadelphia (Pa.) Imhotep Institute Charter School's combination of elite 2025 defensive end Zahir Mathis and 2024 four-star defensive tackle Jahsear Whittington would be too much for almost every team in the nation to handle.
Mathis looked like a grown man on the field even though he hadn't played football in more than a year. Whittington is so powerful and quick on the interior of the line too.
*****
The rest of Imhotep's defense has top talent at linebacker in four-star Michigan commit Semaj Bridgeman and in the secondary with four-star Rahmir Stewart and 2024 Rivals250 cornerback Kenneth Woseley.
Bridgeman was very active and proved to be a solid tackler, especially between the hashes. Stewart was very physical and can make plays all over the field, even as a running back. Woseley has really good footwork and instincts, and made a few plays on the ball during the game.
*****
Georgia 2025 running back commit Jabree Coleman had a great offseason and began his sophomore season with an impressive performance. He had a couple of long runs and showed impressive long speed. We'll be watching his quickness and explosiveness throughout his development.
Coleman had a lot of success running behind 2024 offensive lineman Zafir Stewart, who has picked up a few offers in the last couple weeks.
*****
Irvington, N.J., has a few big-time players but things almost didn't go its way over the weekend. Rutgers commit Famah Toure had to play quarterback for most of the game. He looked good with the ball in his hands but he'll be more of a receiver or linebacker once he gets to the next level.
Kentucky commit Nasir Addison was very solid, locking down speedy 2025 prospect Lotzeir Brooks. Notre Dame four-star commit Adon Shuler was all over the field. He has good instincts and reacts to the play quickly but could be a more consistent tackler. We'll get a better look at him in coverage as the season progresses.
*****
Standout 2025 offensive tackle Jaelyne Matthews was very good at the Rivals Camp in the spring and now he looks a little more grown up. He lost some bad weight and it has really helped him show off his athleticism. Matthews played on the left and right side of the line and played defensive tackle for most of the game as well.
He is a solid pass blocker but does a lot of things well as a run blocker. He can drive his man off the ball, open running lanes and pull across the line before finding blocks to make at the second and third levels of the defense.
*****
The biggest surprise I saw I saw over the weekend came from St. Joe's Prep out of Philadelphia. The team is loaded with underclassmen talent at the skill positions and it showed over the weekend.
Quarterback Samaj Jones, a 2024 prospect, threw for 380 yards in the first half and seven touchdowns, six of which were more than 30 yards. He also ran for a short touchdown later in the game.
Wide receivers David Washington Jr., Brandon Rehmann, and Elijah Jones, who are all 2024 prospects, proved almost impossible to stop once they got the ball in their hands and each put up great numbers.
Defensive back Omillio Agard, one of the highest-ranked players in the 2024 class, had a fairly quiet game and was just coming back from a minor injury while 2023 West Virginia linebacker commit Josiah Trotter did not play.
This was my first time seeing elite 2025 prospect Anthony Sacca in person and he is very impressive from a physical perspective. He was involved in plenty of plays but the opposing team didn't throw or run toward him much.