Four-star KY ATH Wandale Robinson previews Thursday announcement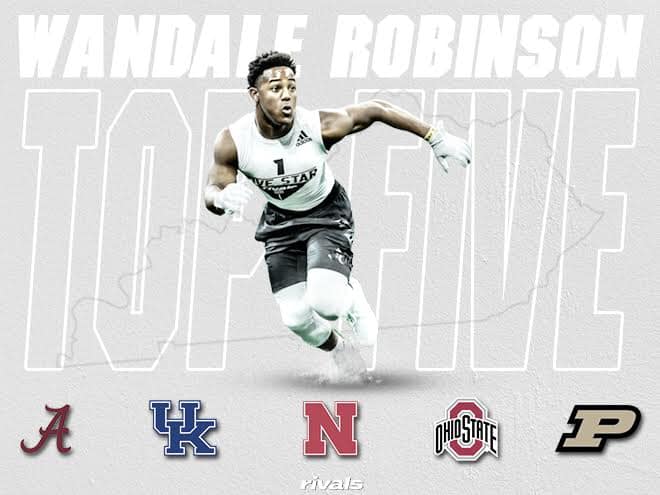 THE LATEST
Class of 2019 four-star Frankfort (Ky.) Western Hills athlete Wandale Robinson will announce his commitment on Thursday in a ceremony at his high school, putting an end to a hotly-contested recruitment that has included several top-notch programs. After taking all five of his official visits and making several other trips, Robinson has limited his choices to Alabama, Kentucky, Nebraska, Ohio State and Purdue. Rivals.com caught up with Robinson to get his final thoughts on the process as well as each of his finalists.
IN HIS WORDS
"I'm ready to make my commitment. This has been something I've thought long and hard about and prayed about and discussed with my family."
ALABAMA
"I had a great time when I went down there for my official visit. They're just trying to add more weapons to what they do in their offense. It's pretty likely, or at least possible, that the three sophomore receivers they have will be gone after next year. That would give me a year to learn and play behind them before stepping in. Jaylen Waddle has been great for them this year and that's who they compare me to. They see me being like him and just being a playmaker while also moving into the backfield at times. It would be really crazy to get to pay with Tua Tagovailoa for a year, seeing what he's able to do with the offense and all the touchdowns he's thrown. He's really blowing up college football right now."
KENTUCKY
"I'm a hometown kid and I see that there's a need for me with their offense. They need playmakers to add explosiveness and they've made it an emphasis that they need me to fill that role. To be able to stay in Kentucky, it would set me up with a great network of alumni because everyone in the state would know me and it would make life after football easier. That's what Kentucky has been telling me, stay home, represent my home state and enjoy life after football here as well. That's really big for them, the life after football aspect. Growing up, I wasn't a fan of any team, I just liked football, so I wasn't a fan of Kentucky or anyone else. I just liked watching great players play so that fan aspect isn't a part of my decision. A lot of people around here wanted me to commit when they first offered me and everyone is still trying to pull me in. I'm just trying to take it all in and make my own decision. There season has been a little bit surprising to me with how well they've done but that's not a big thing for me. I'm trying to find the best fit for me. The record or the season this year doesn't have a whole lot to do with that."
NEBRASKA
"Nebraska has been showing me the same kind of attention for months now, both before I went for the official visit and after. They have always been the school that recruited me the hardest and been up front about how they really need me. Just being a playmaker, they see me doing big things in their offense. Ever since I visited they talk to me a lot and ask how I am and check up on me. As far as how their offense would fit me, the numbers speak for themselves with that offense and knowing they don't have a guy that can do what I can do. They see me playing in the slot and also some at running back. That's something that Coach Frost has emphasized, me being the De'Anthony Thomas type of guy for them. I watched him a lot growing up as a kid and he was one of my favorite players to watch. To be that guy in that offense would be exciting."
OHIO STATE
"The relationship has been good with them and I had a really good visit up there. They're emphasizing that they are probably going to lose KJ Hill and Paris Campbell and they're really going to need someone at that position to come in and have an impact. They've told me that those guys at that position are the main focus of their offense and they think I could really excel there as well. That' been the big thing for them. Come in and be that guy. Going up there for a visit and getting to see a game live, it was crazy. Those are some fans that are crazy. There aren't many places like that around the country to go in and play a game and that's a real good environment as a player."
PURDUE
"Jeff Brohm and his offense is suited for a guy like me. They have told me they see me doing stuff like Rondale Moore but also using me with him and having me getting in the backfield a little more. The two of us together would be a nightmare for defensive coordinators because you would have to figure out which one of us to stop That's really a big thing for me if I were to go there. Knowing that guys would be keying on him if I was going to go there. They really are building something there and they want me to be a part of it."
RIVALS REACTION
Robinson has been through quite a lot during the process, from having Duke to his leader to being to projected to pretty much every school in his Top 5. The question now is, will he surprise and head to one of the out-of-state schools or stay home and be a local legend.