{{ timeAgo('2020-09-30 20:32:51 -0500') }}
football
Edit
Four-star ATH Tysheem Johnson picks Ole Miss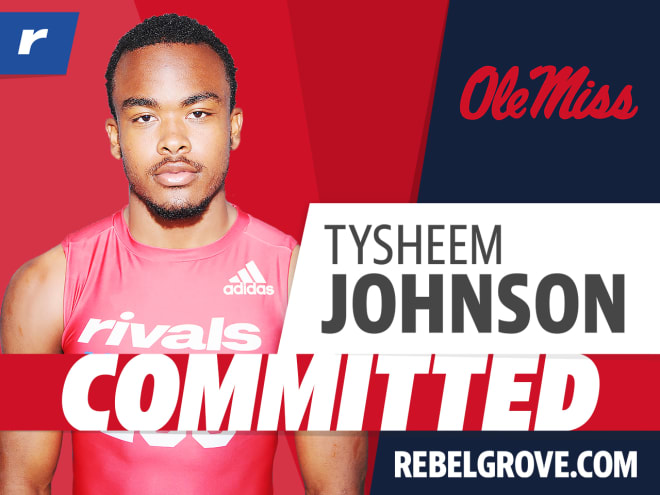 Count four-star athlete Tysheem Johnson among the many 2021 prospects that were hoping to take official visits this fall before announcing their commitment. Those plans fell by the wayside and the Philadelphia (Pa.) Neumann-Goretti star decided to go ahead and commit without taking official visits. Ole Miss was one of the schools Johnson did take a visit to recently and that experience was enough to give Lane Kiffin's squad the edge.
IN HIS OWN WORDS...
"I decided to pick the Rebels because I built a great relationship with coach Partridge," Johnson said. "They play in the SEC. They're young. They're handpicking talent so I'm a priority to them. In the SEC they play against the best competition. I get to come and play early and if I play well it gets my name on the NFL's radar.
"They want me to play a STAR position on defense," he said. "It's like a deep safety or I could be in the box, in the slot, or blitz off the edge. They also want me to return kicks and punts.
"When I had conversations with the people outside of the football program they seemed like great people," said Johnson. "They were nicer than people were where I'm from. I expected it to be totally different.
"I know Lane Kiffin is the head coach now," he said. "They got a whole new coaching staff. They're going to have a chance to upset the best teams in the country every year. That would be a big accomplishment for me."
RIVALS' REACTION...
Johnson is an electric athlete that excels on both sides of the ball in various positions. Arizona State and Maryland, Johnson's two other top contenders, were definitely going to use him on offense at least part of the time but the Ole Miss staff is banking on Johnson's instincts and anticipation skills to translate well to the college game. There is a good chance Johnson proves the Ole Miss coaches right but he'll need to show a lot of physical development before he is ready to be a regular contributor. Johnson's versatility and ability to make plays in man coverage, zone coverage, and as a blitzer could make him a major weapon for the Ole Miss defense.